Lovecraft Country Episode 3, "Holy Ghost," Explained
Not Sure How to Process Lovecraft Country's Latest Episode? Here's an Explanation
Watch out! This post contains spoilers.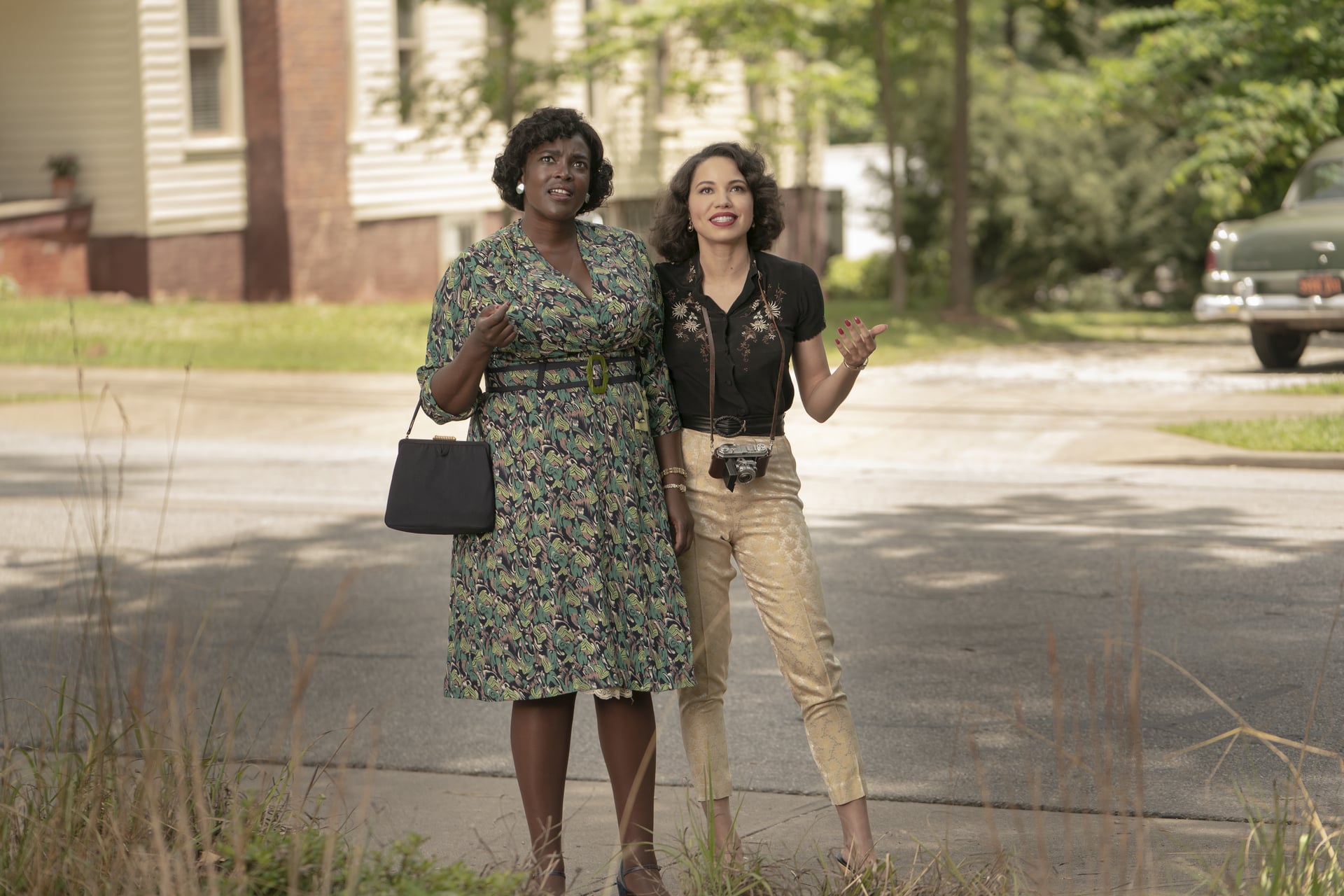 After the traumatic events of "Whitey's on the Moon," including the death of Uncle George (Courtney B. Vance) and the discovery that Atticus (Jonathan Majors) is actually a descendant of Sons of Adam founder Titus Braithwaite, it seems the Lovecraft Country crew are adjusting to life knowing there are monsters out there. In episode three, "Holy Ghost," Letitia (Jurnee Smollett) buys a derelict house on the (predominantly white) north side of town in the hopes of turning it into a boarding house. Racism isn't the only issue Letitia seems to be dealing with in the fixer-upper; there's something supernatural at work. While Letitia tries to uncover the sinister history of her house, Hippolyta (Aunjanue Ellis) is struggling to make sense of George's death.
Throughout the course of the episode, I found myself left with a few questions — including some that might be setting us up for one hell of a confrontation between Atticus and the Sons of Adam. Here are all the answers you may need after watching Lovecraft Country's third episode.
How Much Time Has Passed Since Episode 2?
When Atticus goes to check in on Letitia and her new house, she says the pair haven't seen each other since "George's funeral three weeks ago." Later, when Letitia tries to get Atticus to stay a while, he says that it's been a month since he left Florida for Chicago. So it stands to reason that episodes one and two took place during that first week.
Does Hippolyta Know the Truth About George's Death?
It's clear Hippolyta knows that something is up. She starts the episode off tearing pages from Dracula, which is George's favorite book, almost as if she's in a trance. At the housewarming party, while looking for Dee (Jada Harris), Hippolyta stumbles across a mysterious gold object in an empty room. It seems to call to her and she's just about to touch it as the scene cuts to Ruby (Wunmi Mosaku) singing. Something happened in that room, we just don't know what yet. Hippolyta then has a chance meeting with Montrose (Michael K. Williams) and pushes him for more information, all the while lying about what happened to her copy of Dracula. If anyone is going to tell her what's up, my money is on Montrose cracking first.
Who Gave Letitia the Money?
Letitia's sister Ruby is initially skeptical of how she was able to afford the house. Letitia avoids the answer until she accidentally lets slip that she bought it with money their mother left her in an inheritance. This causes a rift between the two as Ruby would've expected Letitia to split the money between the three siblings. Instead, Ruby believes Letitia was selfish and leaves in a huff. In a conversation between Christina Braithwaite (Abbey Lee) and Atticus at the end, it's revealed that Christina was actually behind the money given to Letitia, as Christina has big plans for the Winthrop house.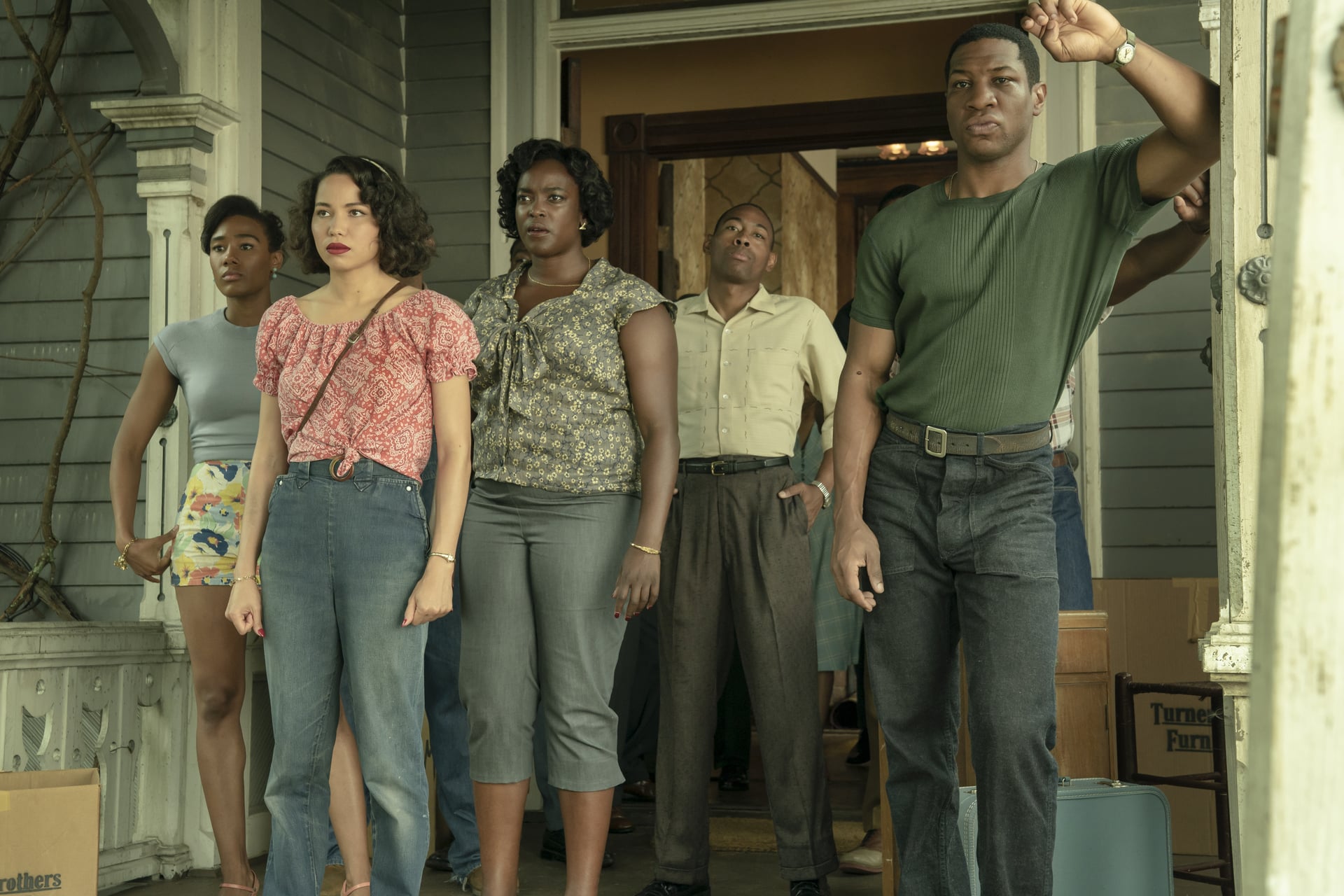 Is George Talking Through the Ouija Board?
Since Dee is deemed a little too young for the festivities of the housewarming, she and a few other kids find a Ouija board in the hopes of entertaining themselves. Of course, in a haunted house, this is probably just about the worst thing they could do. After realizing they may be talking to an actual ghost, one brave kid asks whom they are talking to, and in response they get the name "George." We know that spirits will do anything to be brought over to the other side, so it's possible that one of the restless spirits was trying to trick Dee and her friends. That being said, since there is a Sons of Adam connection to the Winthrop house and George died at the hands of Samuel Braithwaite (Tony Goldwyn), it might actually have been him trying to protect his daughter and her friends.
Is Christina Braithwaite Behind Her Father's Death and the Ritual's Failure?
After his near-death experience ridding the Winthrop house of Hiram Epstein's ghost, Atticus seeks out Christina in order to kill her for everything her family have put his through. Instead of being able to pull the trigger, he finds himself frozen in place as Christina explains that the Sons of Adam are able to create spells. While most aren't actually able to create anything, those who are able to create spells usually only get one in their lifetime. Her father Samuel's spell was that of invulnerability and he had to remove it during the ritual. Seeing as Christina knew this and she was the one that gave Atticus his ring — which was the source of the ritual's demise in episode two — it's likely this was the outcome she wanted all along.
How Is the Winthrop House Connected to the Sons of Adam?
The Winthrop house originally belonged to Horatio Winthrop, who was a founding member of the Sons of Adam. He was banished after stealing pages from the Book of Names, which is the origin of every spell that the group can create. He then tried to develop his own cypher from the stolen pages, with Hiram Epstein being a follower of his. Hiram is the malevolent ghost in Letitia's house. While alive, Hiram performed unethical experiments on Black people stolen for him by Lancaster — the same cop who arrested Letitia and led her to the discovery of her haunted house. The ghosts of these missing people help Letitia banish Hiram from her house and save Atticus from his possession.
Where Does the Secret Tunnel Lead?
After Letitia and the reporter leave the elevator, it continues on its descent well past the basement to a tunnel with magical markings. It's here that we see the bodies of the missing white neighbors, who had broken into the house in the hopes of terrorizing Letitia and vandalizing the place. We also see other unidentified, yet long dead, bodies and a long mysterious tunnel. During her speech about Horatio Winthrop, Christina discusses how Titus Braithwaite kept his deciphered pages of the book in a booby-trapped vault. Since Horatio stole pages and deciphered them himself, my guess is that this tunnel leads to his pages and is also booby-trapped, with all the bodies being Sons of Adam who tried to get the pages themselves.