Lucas Grabeel Interview About High School Musical Series
Wildcat Alum Lucas Grabeel "Comes Home" on High School Musical Series
Image Source: Disney
More than a decade after saying goodbye to High School Musical, Lucas Grabeel is going back to his Wildcat roots with Disney+'s High School Musical: The Musical: The Series. In the upcoming episode, titled "The Tech Rehearsal," the actor makes a fun cameo as he sings along with theater director Miss Jenn in a dream sequence. However, instead of playing his iconic character Ryan Evans from the films, Grabeel is actually playing a version of himself.
As an OG Wildcat, Grabeel has always been skeptical about rebooting the High School Musical franchise over the years, but there was just something about the Disney+ series that felt different. "Over the years, I had heard whispers of possible sequels, television series, or different ideas that Disney was rolling around to continue the franchise, and to be honest, a lot of those ideas I didn't really care for," he told POPSUGAR. "I think all of us — as you put it OG characters — were skeptical as were a lot of the people at Disney and I think that's why it took so long to come up with the right people and the right idea to actually do this."
However, once Grabeel heard the show was a mockumentary, he was immediately intrigued. "I thought it was a really interesting idea for something going down a different path," he said. "I was really happy to find that it wasn't going to be 'OK, we're going to do basically the same story, with a new cast and we're going to add smartphones and social media.' It's really clever and refreshing. Also, the fact that they are putting on High School Musical allows them to put a new take on these old songs that everyone grew with and loved the first time around."
Image Source: Disney
So, when Disney approached him about making an appearance on the show, he didn't think twice about saying yes. Since the series takes place where the original movies were filmed, Grabeel definitely felt nostalgic going back after all these years. "I've made a lot of movies in Utah, so I knew about half of the crew," he said. "It was such a great feeling to go back. It was comfortable and it was family. I actually had a house in Utah for about 10 years, so I've spent a lot of time not working there. It was really nice to come home in a sense." Even though he didn't actually shoot at East High for his scene, being on set with the next generation of Wildcats definitely felt "new but familiar." "They were just so full of passion and drive and excitement," he said. "They were already a family and working well together and so talented and welcoming to me. It was really special."
"It was really nice to come home in a sense."
For many of the new actors on the show, High School Musical was actually huge part of their childhood, something Grabeel is incredibly grateful for. "It's hard to describe," he said about the impact the films have made on fans over the years. "It's been something that's been consistently in my life ever since it happened, but at the same time, it's changed. There are always people coming up to me and talking to me about High School Musical, but obviously in the beginning it was screaming little girls pulling at my clothes and now it's people saying, 'Ah man, you were my childhood and I loved those little dance moves.'"
"In between, it was people saying, 'If it weren't for High School Musical, I wouldn't have followed a passion that I had of art, theater, or music that at the time seemed silly, nerdy, or weird. After [High School Musical], it gave it some sort of clout and coolness, so now I'm accepted by my peers.' Those kinds of things are always so touching and moving to me. I love getting to connect with fans on that level and getting to hear those kinds of stories, because a lot of times as an actor you kind of feel like the job can be superfluous at times and you're not really doing anything to change the world. It's been really helpful for me specifically to hear those kinds of stories to give me confidence that I'm doing something that is affecting people in a good way."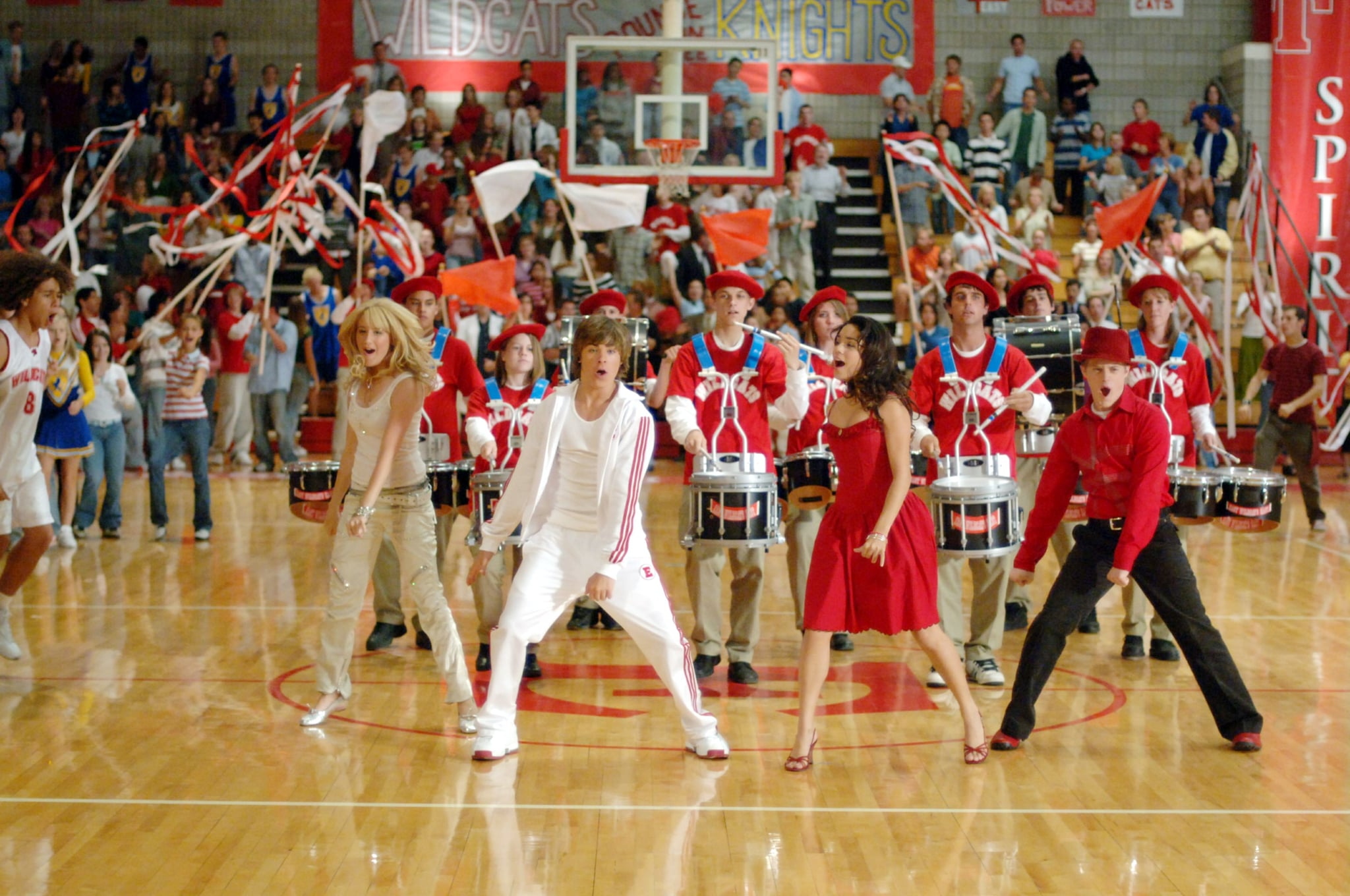 Image Source: Everett Collection
"Connect with people all across the world and share the message of the song: We are all in this together."
So, why did High School Musical resonate with so many audiences? While Grabeel knows there were definitely "intangible qualities" that people were drawn to, he mostly credits director Kenny Ortega. "One of his best qualities is his way of speaking to his team, the crew, the cast members, to inspire people to dig down as deep as they can and pull out the best performances and the best job that they can do on set," he said. "He would always say things like, 'This is going to be on film forever, so you have to bring it right now and forget about the dance moves. Think about the passion and try to reach through the camera and connect with people all across the world and share the message of the song: We are all in this together. Think about what that means to you, think about what that could mean to other people.' When you've got a hundred people around you and the music is loud and everyone is dancing, that really affects you and I feel like there was a lot of magic on the set because of him and because of us getting super passionate about the film and digging deep."
Get a glimpse of Grabeel's upcoming cameo ahead before the episode hits Disney+ on Dec. 27.