Mike Johnson on His New Book, Making the Love You Want
Talking Self-Love, Dating Advice, and the Bachelor Franchise's Diversity Issue With Mike Johnson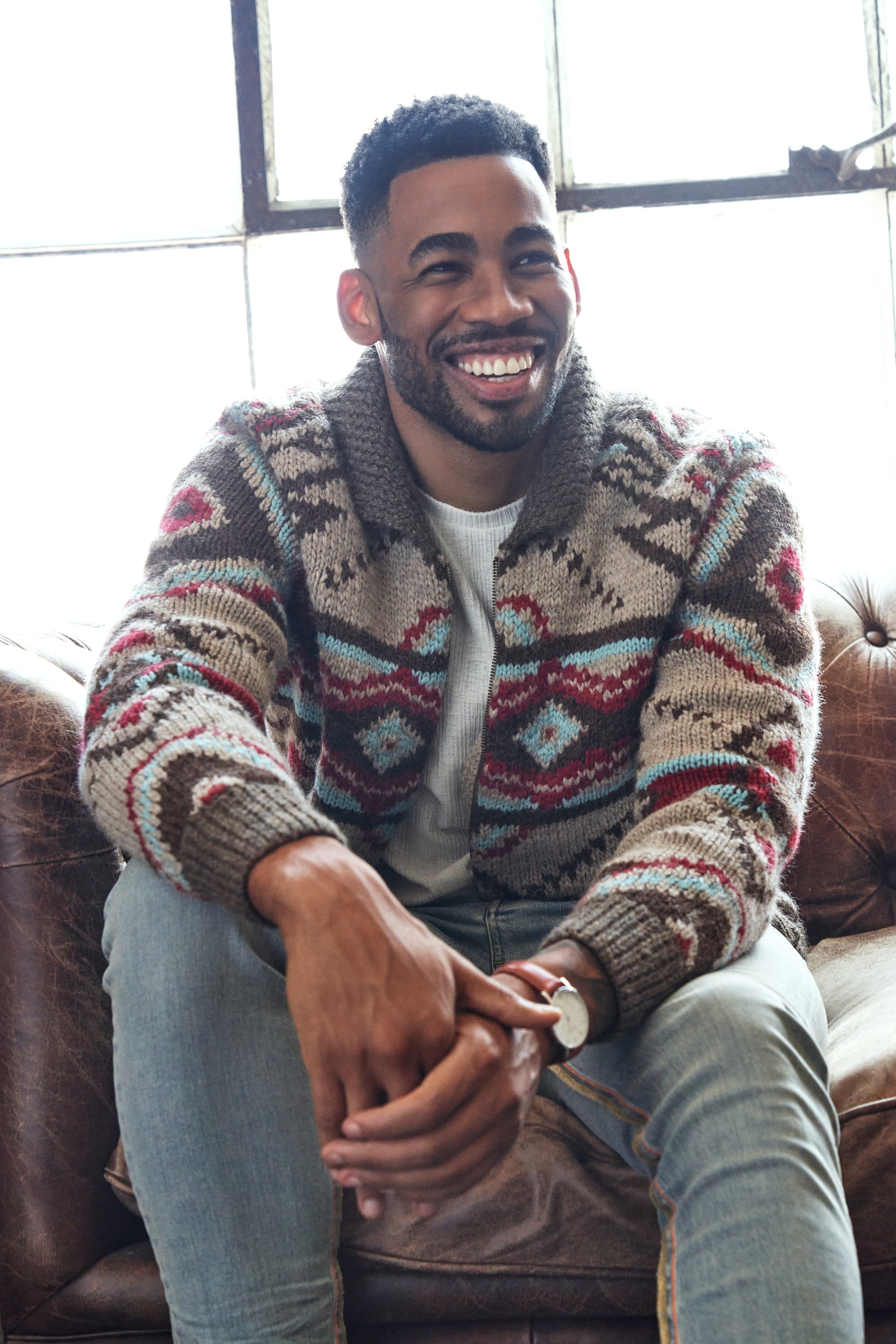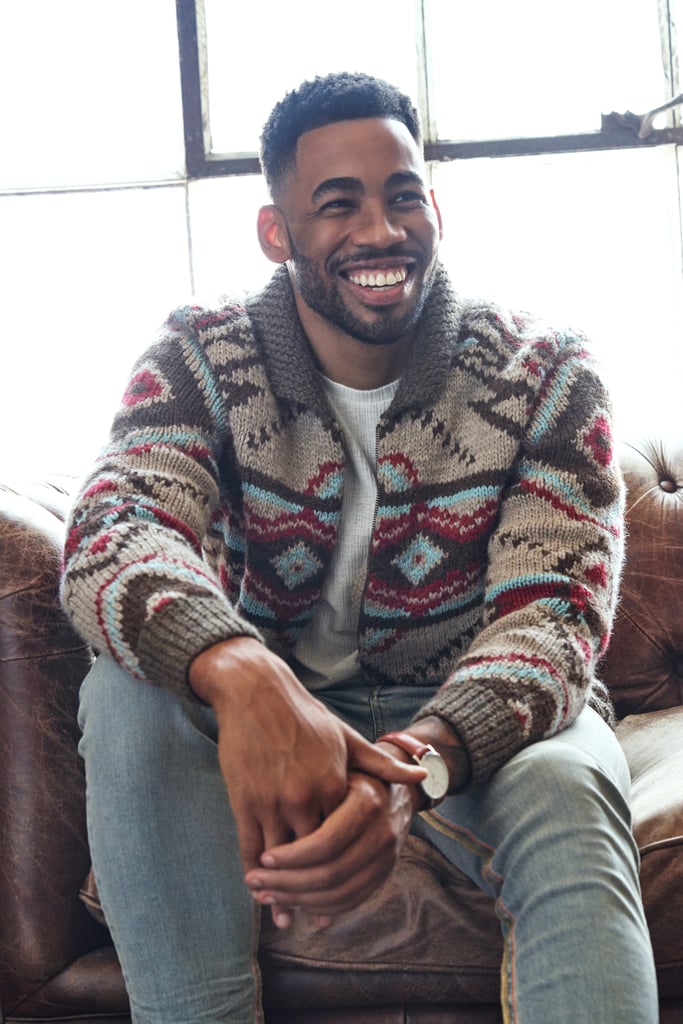 Image Source: The Riker Brothers; Grooming: Crystal Tran; Styling: Apuje Kalu
Mike Johnson is a ray of sunshine personified. With a megawatt smile that just might blind you, the fan-favorite Bachelorette contestant exudes positivity on TV, all across social media, and yes, even over the phone — the latter of which I can personally attest to. I recently chatted with the US Air Force veteran and all-around Great Guy™ about his debut book, Making the Love You Want, which explores Johnson's personal journey to self-love and gives readers concrete tips to achieve the same. It's basically a crash course on learning to love yourself, all written from the perspective of Bachelor Nation's most swoon-worthy stud. Sounds pretty amazing, right?
Johnson has been working on the project for the past 11 months or so, and it's set to release on Oct. 2, which just so happens to be World Smile Day, fittingly. Ahead of his book's official publication, the new author dished on what fans can expect to learn from it, why he thinks "vulnerability is sexy," his tips for people dating in these weird times, and the Bachelor franchise's diversity issue. Oh, and of course I couldn't' resist asking whether he's still open to being the Bachelor in the future (spoiler alert: he's down!). Get all the juicy details ahead, and be sure to preorder your own copy of Making the Love You Want, either in paperback form on Johnson's website or in Kindle form on Amazon.
On What Inspired Him to Write His Book
Johnson's book is the culmination of his varied life experiences: deploying for the Air Force, appearing on one of America's most popular dating series (twice), traveling the world, and coping with his ex's miscarriage. After his stint on Hannah Brown's season of The Bachelorette and on Bachelor in Paradise, Johnson realized that what he was looking for was already within himself. "When it clicked for me — that the best love starts within oneself — I just wanted to continue to share that message with as many people as I can, and the medium happened to be my book," Johnson told me.
"When it clicked for me — that the best love starts within oneself — I just wanted to continue to share that message with as many people as I can."
The best part about discovering and growing your self-love, according to Johnson? It's purely yours. "I just realized that no one could take what's in my heart," he explained. "You can try, but you can't take it away from me. And the stronger, the more powerful the love of self is, it resonates through you . . . it's an amazing gift that we all have within us, but we have to just unleash it." Welp, I couldn't possibly agree more with that sentiment!
On What You Can Expect to Learn From His Book
Johnson summed it up perfectly when he said, "This book is truly a toolbox. If you need the entire toolbox to build a house or you just simply need one tool to put the lightbulb back in, this book has it." But more specifically, it dives into deep topics like breaking free from others' expectations and limitations, how to stop seeking external validation and instead focus on your own growth internally, and how to use past experiences to push you forward rather than hold you back.
"The introduction to my book is like the hardest introduction that you've heard on your favorite album."
Johnson peppers in references to many of his aforementioned life experiences — and it sounds like he certainly doesn't hold back. The 32-year-old teased that his book's first chapter is pretty darn intense. "The introduction to my book is like the hardest introduction that you've heard on your favorite album. It's when that beat drops — that's how my intro to my book is," he analogized. "I speak some heavy stuff about things that my mom didn't even know prior to reading this book . . . there were certain parts, I was like, 'Oh my God, I don't believe I'm touching on this' about my self-loving."
Although the book mentions things Johnson has personally gone through, he wants fans to know it's meant to serve as a handy guide anyone can follow. "[It's] not a memoir; I'm way too young for that," he joked. "This book is encapsulating the steps that it takes for you in your life journey to find out that you are a badass, that you are deserving of everything that you put your mind to — whether it's to get a pay raise, to find the love of your life, and all the things in between. It teaches you how to obtain that thing."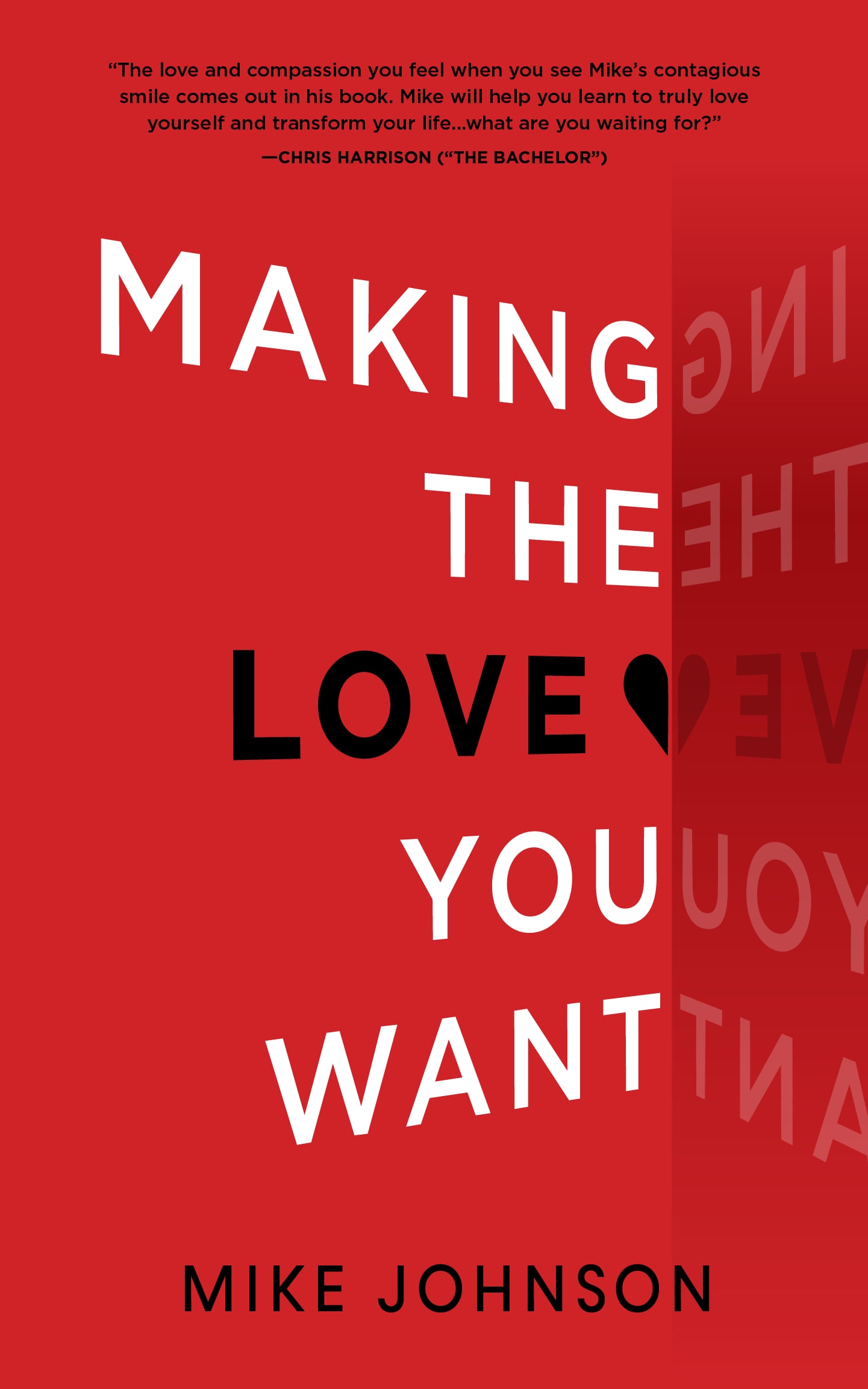 On His Personal Writing Process
Johnson's process for cranking through the book's draft varied day by day, depending on his schedule. Some nights were spent dictating thoughts aloud with a glass of wine in hand, while others were spent with his head down for 15 hours straight, working until dawn. Although vino did help get those creative juices flowing, it sounds like he grew to prefer the latter. "I like starting at nighttime and working through until the sun comes back up . . . if I was up and I felt like the world was asleep, I was able to be more vulnerable."
He wasn't immune to writer's block, though — any time it came along, he saw it as a sign to sit back and take a breather. "I would just stop writing at that moment," he told me. "I've never pushed it because I feel the most authentic things, the things that will resonate the most, will come out just freely."
On What He Learned From Being on The Bachelorette and Bachelor in Paradise
"Those shows just taught me that it's amazing to be who you are. It's amazing to be a goofy-looking dude with a bad haircut and a big ol' smile," he said, seemingly mixing up "goofy-looking" with "incredibly good-looking" like a true humble king. "I can only be Mike Johnson. I can't be Dylan Barbour or Tyler Cameron or Hannah Brown or Tayshia Adams. I'm Mike Johnson," he added. This lesson even inspired him to write the phrase "Mike MF-ing Johnson" on his mirrors at home as a daily reminder to be authentically himself.
"Vulnerability is courage. Vulnerability is bravery. Vulnerability is strong."
His experience on the dating series — or shall I say "journey," to stick with Bachelor Nation-approved lingo? — also proved the beauty of being open with others. "[It was] a reinforcement that vulnerability is sexy. Vulnerability is courage. Vulnerability is bravery. Vulnerability is strong." If that ain't a billboard-worthy statement, I'm not quite sure what is.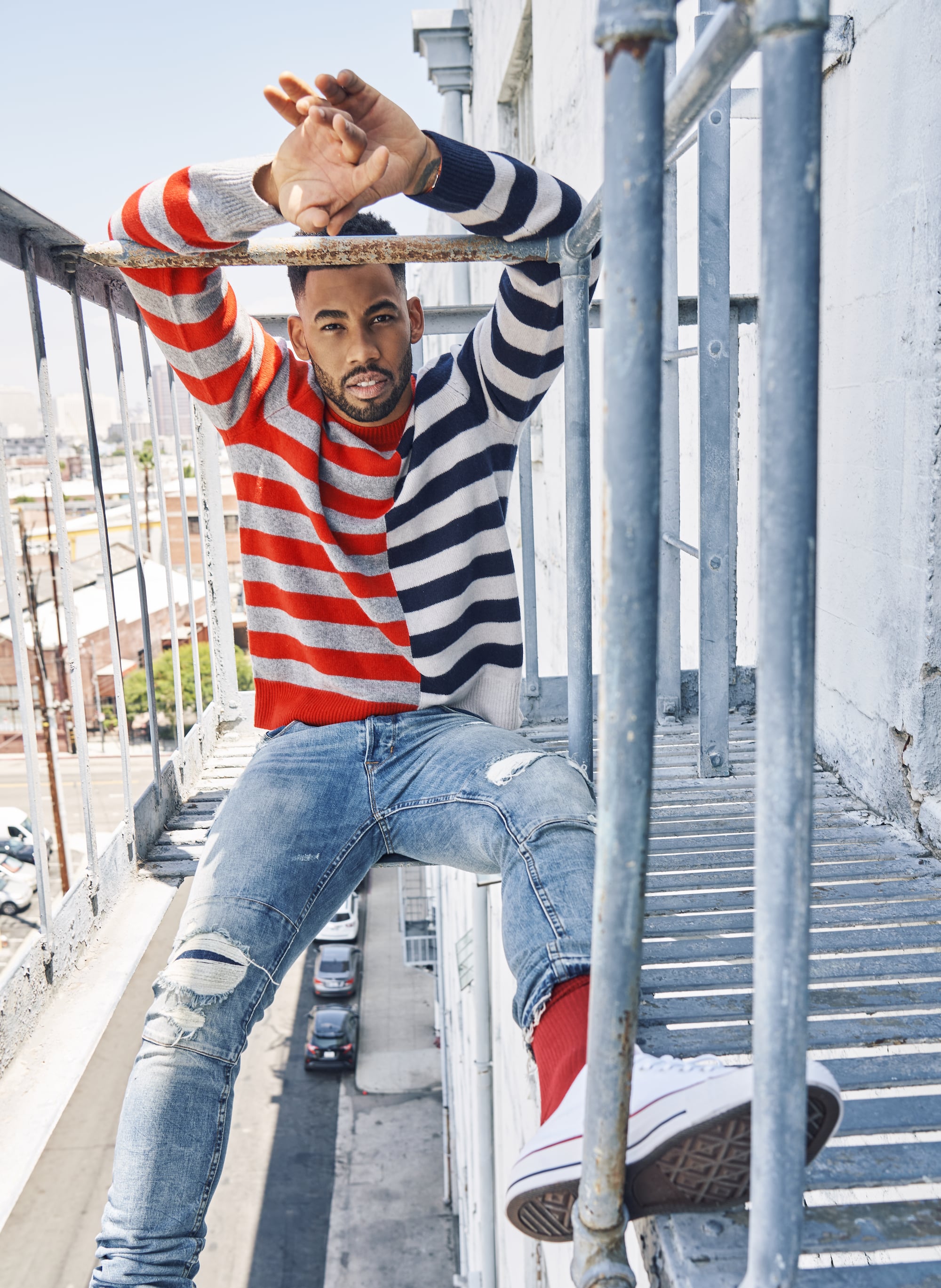 Image Source: The Riker Brothers; Grooming: Crystal Tran; Styling: Apuje Kalu
On the Importance of Being Yourself While Dating
To really illustrate the power of staying true to yourself while dating, Johnson told me to imagine that we're on a date, which I was more than happy to do. On this imaginary outing, Johnson and I are eating buffalo wings — a notoriously messy option. "There's going to be sauce and stuff everywhere," he said, but he prefers to just dive on in without holding back. "When you don't care to impress the other person — obviously don't be all nasty with it — but when you're just doing you and being open, people appreciate that so much more," he said. "And if that person doesn't, they have literally given you such an awesome gift because you don't now have to waste your time with that person."
Johnson continued, "If people would realize it's not about, 'I'm a great person. Man, this person doesn't like me.' It's about, 'Oh, I'm still phenomenal, and they just aren't my person.' That's the shift that we need to have in our heads." I mean, damn — I really could've used this book and his advice a few years ago when I first dipped my toes into New York City's dating scene. I don't know about you, but I'm definitely jotting those quotes in my journal for future reference.
On Whether He's Open to Being the Bachelor in the Future
Following Hannah Brown's season of The Bachelorette in 2019, many fans petitioned for Johnson to be chosen as the subsequent Bachelor, but alas, Peter Weber snagged the title. Johnson's is still up for being the lead man in the future, but he won't be launching any sort of campaign to make it happen.
"I'm definitely moving on with life, but I'm still open to the opportunity. When it's all said and done, if I become the Bachelor in the future, I don't want that to be the top headline. It should be the 57th headline. That's not to be disrespectful to the franchise because I think it'd be frickin' amazing to be a Bachelor. But what I mean by that is there are so many other things that I'm doing . . . I'm not holding my breath for it."
On the Bachelor Franchise's Lack of Diversity
There's no way to sugarcoat it: the Bachelor franchise has a noticeable diversity issue, evidenced by the fact that there's only been one Black female lead, Rachel Lindsay, in its 18-year history. Much-needed efforts for more BIPOC representation have been made this year — between Matt James being named the first Black Bachelor and Tayshia Adams's rumored takeover of Clare Crawley's season — but Johnson agrees ABC still has much work to do.
"We are nowhere near done whatsoever."
"We are nowhere near done whatsoever," he said. "I want to see people of color, of different sexualities, in the boardroom, and the people that make the decisions, the people that create the show and make the show different than what it already has been. I think that it kind of sucks that they had to have an outcry for them to make a change, because there's been amazing people that are Black, that are of color in the past, and that's disheartening, but hopefully they will make it up."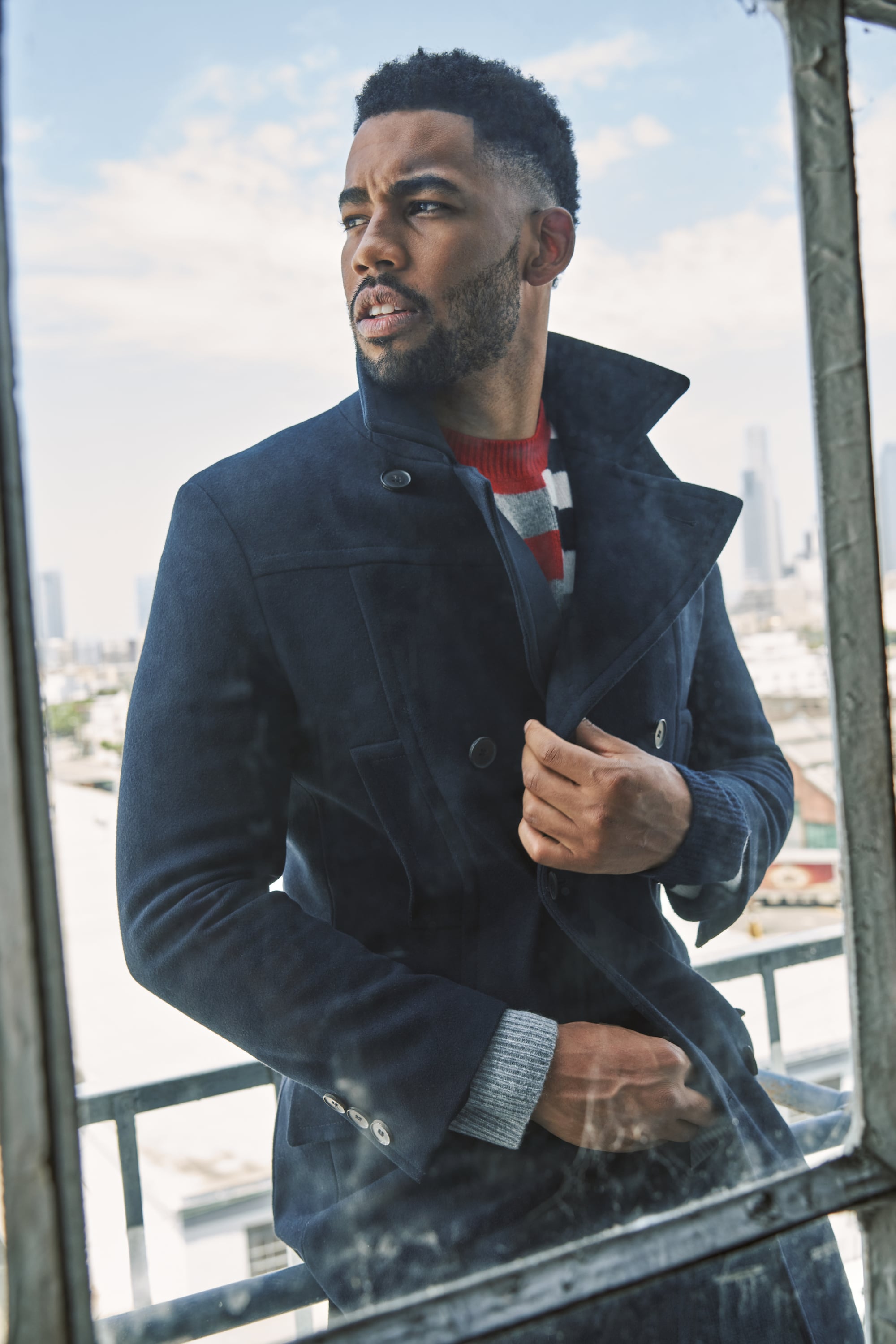 Image Source: The Riker Brothers; Grooming: Crystal Tran; Styling: Apuje Kalu
On How to Make Dating Fun in the Time of COVID
The dating world may be in flux right now, but Johnson said that shouldn't hold us back from finding inventive ways to connect with others — whether you're already in a committed relationship or are single and ready to (virtually) mingle. "If you're in a relationship, do something special for your person. Do something different, something out of the ordinary because right now, we're all over COVID," he said.
As for the single Pringles (present and accounted for!), Johnson said, "Don't think outside the box, but think as if there was no box, there never went a box to begin with. If you never heard of movies and dinner for a date, what do you do?" His go-to suggestion? Share a FaceTime date, and go on YouTube together to listen to each other's favorite songs.
On His Tips For Staying Sane at Home
Johnson credits his routine for keeping him motivated and positive amid the pandemic. "Routine gives us a sense of normalcy. When I first started doing quarantine, I would usually wake up 2 p.m., and then go, 'OK, what the hell do I do now?' And you watch all your favorite shows, you watch all your shows that people tell us online, like Tiger King, all that stuff. You love it, and then the moment goes away because we watch it and consume it in one day. Then we're like, 'OK, what about Tuesday?'" Sound familiar?
Now his days are more structured and involve working out, riding his new bike long distances "like a suburban dad," being there for his Big Brothers Big Sisters of America mentee, catching up with loved ones, self-reflecting, and possibly even dreaming up another book. "I do not think this will be my last," he slyly told me when I asked if he plans on following up Making the Love You Want with another book. You heard it here first, folks.