Sterling K. Brown Teases "Heartbreakingly Beautiful" This Is Us Finale, and We're Already Crying
This Is Us is coming to an end with its upcoming season six, and it sounds like it's going to be an emotional journey for both fans and the cast. While promoting his partnership with Cascade for its witty and sustainable Do It Every Night campaign, Sterling K. Brown told POPSUGAR what lies in store as the Pearson family's story comes to a close. With the season five finale premiering on May 25, Brown teased that you can definitely expect everything that makes up a great This Is Us episode: emotional moments and a few twists and turns. "I don't know how big of a twist we have," he admitted. "The wedding is happening. It's real, and I'm excited for people to see that union. There's always something emotional happening. Even me, I've read the show and I've shot the show, and then it gets me. I'm like, dadgummit, [Dan] Fogelman, how do you do that?"
Since most of the cast already know how the series comes to a close, Brown perfectly summed up the final season with just two words: "heartbreakingly beautiful." "I think that's how I would describe the show as a collective," he added. "It is heartbreakingly beautiful. At the end of the day, there is light. They go through so much, but you know that they come out on the other side even better than the way in which they entered into it."
Over the past few seasons, fans have felt a personal connection to the Pearson family, but we've also fallen in love with the stellar cast. "I feel like the relationship that we have on screen is because we have a real one off screen," Brown said. "We talk to each other all the time, we're texting back and forth. We talk about the serious to the silly. People are having babies being born from Mandy [Moore] to Dan [Fogelman] to Chris Sullivan. It's been wonderful to watch this family expand and grow and just get deeper as time goes by."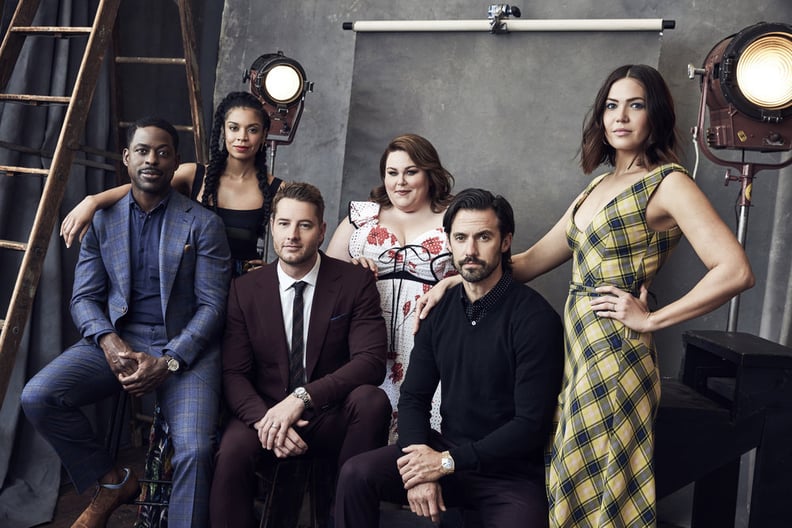 In fact, that's one of the things Brown will miss most when the series comes to an end. "I will miss my family," he said. "I will miss these wonderful actors, these wonderful writers, and the best crew on television. Honestly, it has been such a harmonious experience that when the E! True Hollywood Story story comes out, it's just gonna be a big love fest. There's nothing salacious behind closed doors. It's been a wonderful working experience, and I look forward to what our last year brings us."
He also hopes that "everybody has an opportunity to see themselves" in the characters on the show. "One of the best compliments that I ever got was from my cousin, who is a plus-size woman, who is also an entertainer, who also lives with anxiety, and she said, 'Brown, I don't know which one of you I am. I'm part Randall, I'm part Kate, I'm part Kevin. This show is speaking to my soul in such a wonderful way. It's like I'm being entertained, but I also think I'm in therapy, but maybe I'm in church at the same time.' The idea that she could see herself not just in one of us, but in all of us, I just hope that when people see our show, they see themselves in our show. That would be the greatest legacy that we could leave behind."
It's that exact reason that Brown created his own production company, Indian Meadows Productions, to amplify marginalized voices. With This Is Us and beyond, he hopes people feel front and center in the stories he tells. "I feel if you are a minority, if you're a person of color, if you're African American, if you're LGBTQ, oftentimes you feel like you're the sidekick or the best friend or someone who is relegated to the periphery, and I just want everybody to have an opportunity to be front and center," he said. "I think people learn through exposure, whether that's travel, whether that's changing your environment, or whether that's through media, people learn through exposure. So being responsible for stories that are diverse, that help to highlight marginalized communities, and stories that the mainstream may not know but opportunities for people to see themselves inside of people who do not look like them can only expand empathy and humanity and sort of help to create the world in which I want to live in."