Laura Dern, the Haim Sisters, and More Star in Taylor Swift's "Bejeweled" Video
Taylor Swift cast a dizzying array of famous faces in the music videos for her "Midnights" album. The cameos began in the "Anti-Hero" visual, which arrived on Oct. 21 and features comedians Mike Birbiglia, John Early, and Mary Elizabeth Ellis as Swift's future sons and daughter-in-law, respectively. The music pauses for two whole minutes as the tacky trio hilariously squabble over Swift's will at her funeral, making for quite the entertaining scene.
Several days later, Swift took the star power to the next level for her Cinderella-themed "Bejeweled" music video, throwing in appearances by Laura Dern, the Haim sisters, Pat McGrath, and more. While posting several behind-the-scenes photos from the shoot on Instagram, the Grammy winner wrote, "Bejeweled video is out NOW! Directed by this tired tacky wench. Got to make this with my best friends @haimtheband, greatest of greats @lauradern, icon of burlesque and glamour @ditavonteese, genius and actual dame @patmcgrathreal and my partner in Midnights mayhem @jackantonoff. Love you guys so much. Stay sparkly out there."
During a "Tonight Show" interview on Oct. 24, Swift shared insight into her criteria for selecting celebrities to appear in her videos. "One of the prerequisites when I cast anyone for anything is 'Are they fun and are they nice and are we gonna have a fun time on set?'" she told host Jimmy Fallon. "Obviously talent, that's No. 1, like, do you fit the part? But then there's also this caveat of we're gonna be on set for a while. Is this gonna be a blast?" It's abundantly clear she met all of those requirements for the folks she included in the "Bejeweled" video.
Swift first revealed the many stars set to make a cameo in music videos for her 10th studio album in a teaser trailer dropped on Oct. 20. Between the "Anti-Hero" and "Bejeweled" productions, every celeb she mentioned has made their appearance, save for transgender model Laith Ashley, who's suspected to portray Swift's love interest in an upcoming release.
Read ahead for a full breakdown of the best "Midnights" cameos so far, and then read up on all the music video Easter eggs you might have missed.
Watch Taylor Swift's "Bejeweled" Music Video
Laura Dern in Taylor Swift's "Bejeweled" Music Video
Dern stars as Swift's evil, jewelry-dripping "Stepmommy" who hilariously calls her a "tired tacky wench" and forbids her from attending the ball. After the music video debut, the actor gave Swift a shoutout on Instagram, writing, "Thank you to my director @taylorswift for inviting me to join her party and celebrate her triumph!!" The Oscar winner is known for her roles in the Jurassic Park and Star Wars franchises, "Big Little Lies," "Wild at Heart," "Enlightened," "Little Women," and so much more.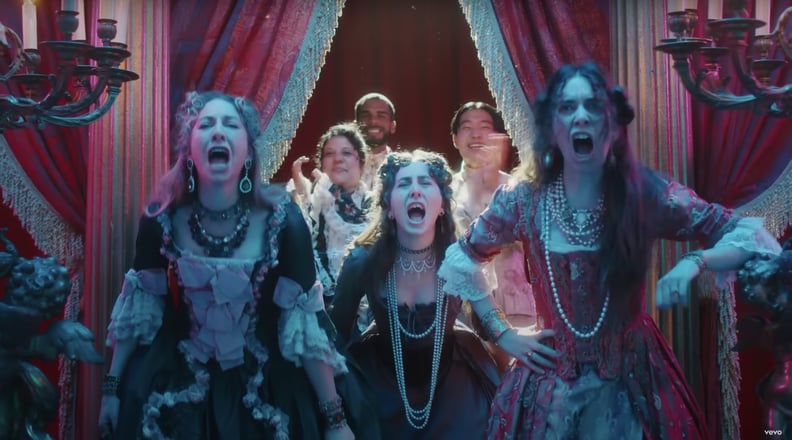 The Haim Sisters in Taylor Swift's "Bejeweled" Music Video
Este, Danielle, and Alana Haim dole out insult after insult while portraying Swift's treacherous stepsisters, but in real life, they're thrilled about their inclusion in the visual. "Hey @taylorswift YOU ALWAYS MAKE THE WHOLE PLACE SHIMMER. WE LOVE U," they wrote on Instagram, sharing a photo of them on set together. The Grammy-nominated trio has been close with Swift for years, even bringing her on stage during a concert in London this summer.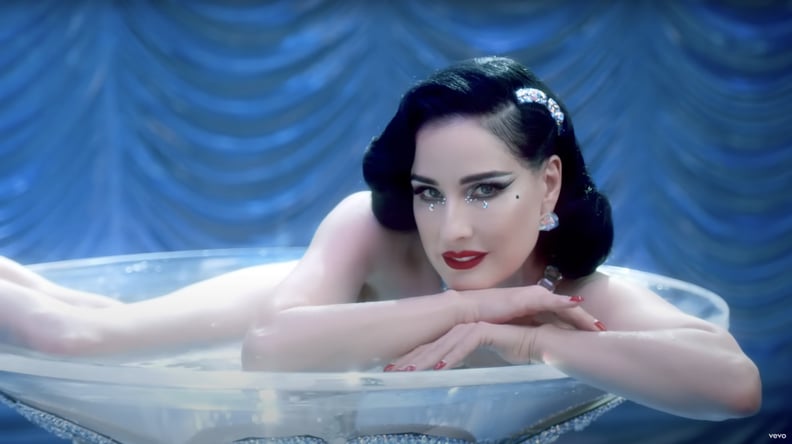 Dita Von Teese in Taylor Swift's "Bejeweled" Music Video
Von Teese shows off her dancing skills as Swift's so-called Fairy Goddess, teaching her a burlesque routine on stage in a super-sized martini glass, naturally. Nicknamed the Queen of Burlesque, Von Teese also recently appeared in the film "Don't Worry Darling."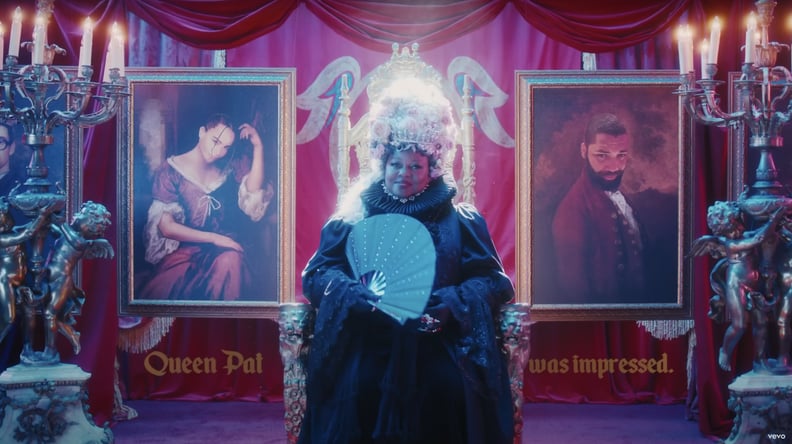 Pat McGrath in Taylor Swift's "Bejeweled" Music Video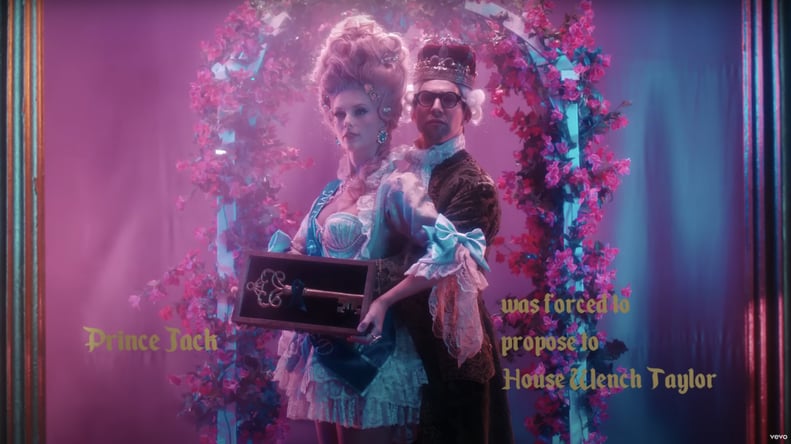 Jack Antonoff in Taylor Swift's "Bejeweled" Music Video
A wig-clad Antonoff gets down on one knee and proposes to Swift as Prince Jack, only for Swift to ghost him and take the castle for herself. Swift referred to Antonoff as her "partner in Midnights mayhem" on Instagram because he helped her produce the studio album.
Watch Taylor Swift's "Anti-Hero" Music Video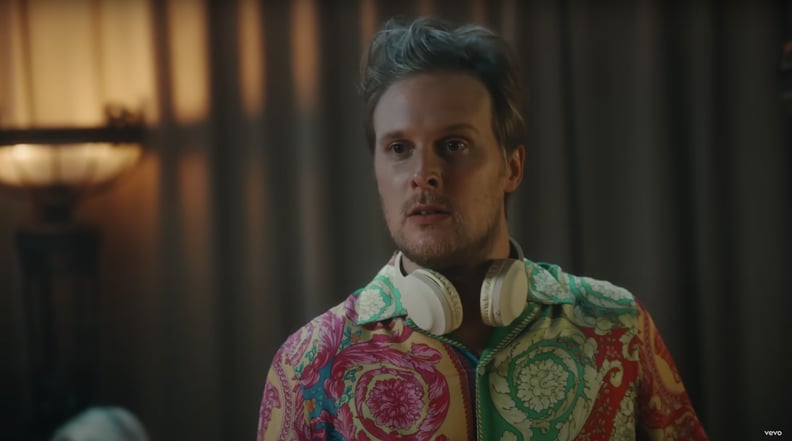 John Early in Taylor Swift's "Anti-Hero" Music Video
Early pops up in the video as Chad, one of Swift's two sons, who milks her fame for his own selfish purposes. The comedian is perhaps most known for portraying the similarly egotistical Elliot Goss in HBO Max's "Search Party" from 2016 to 2022, though he's also made memorable appearances in shows like "30 Rock," "Broad City," "Wet Hot American Summer: Ten Years Later," and "Close Enough."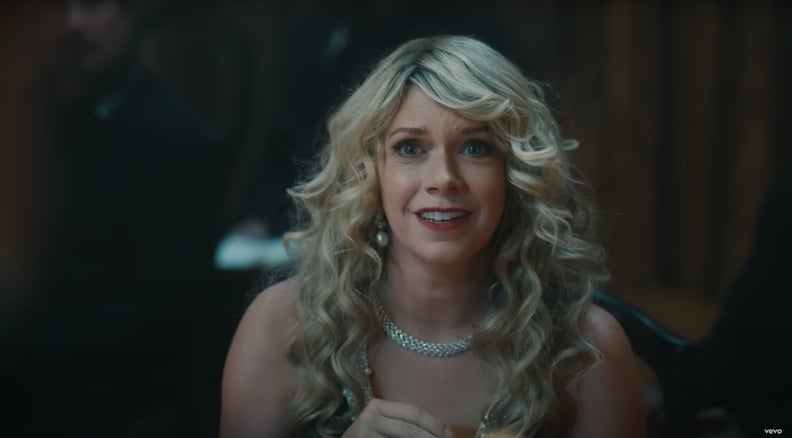 Mary Elizabeth Ellis in Taylor Swift's "Anti-Hero" Music Video
Ellis basically serves as a living Easter egg while portraying Swift's daughter-in-law Kimber, wearing a curly blond wig and the black dress from her 2009 "Fearless Tour." Known to "It's Always Sunny in Philadelphia" fans as the waitress whose name is never revealed, Ellis also played Nick Miller's ex-girlfriend Caroline in "New Girl" and has had recurring roles in "Santa Clarita Diet," "The Grinder," "Perfect Couples," and more.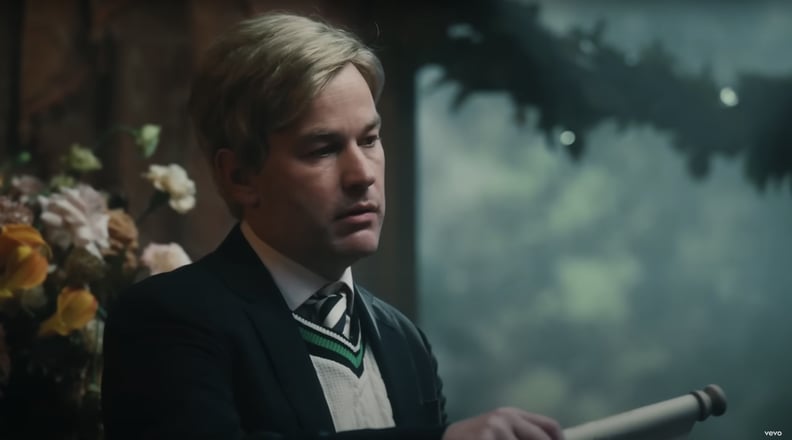 Mike Birbiglia in Taylor Swift's "Anti-Hero" Music Video
Birbiglia shines as Preston, Swift's other son and Kimber's husband, who reads the will aloud at the funeral. The day the music video dropped, the actor raved about the experience on Instagram Stories, writing, "Most fun day ever. We were laughing all day and Taylor is an incredible director. Obv." With several of his own comedy specials through the years, Birbiglia also portrayed Danny Pearson in "Orange Is the New Black," Oscar Langstraat in "Billions," and Tom in "Trainwreck."