What Did Youn Yuh-Jung Sign to Troy Kotsur at the Oscars?
What Youn Yuh-Jung Signed to Troy Kotsur at the Oscars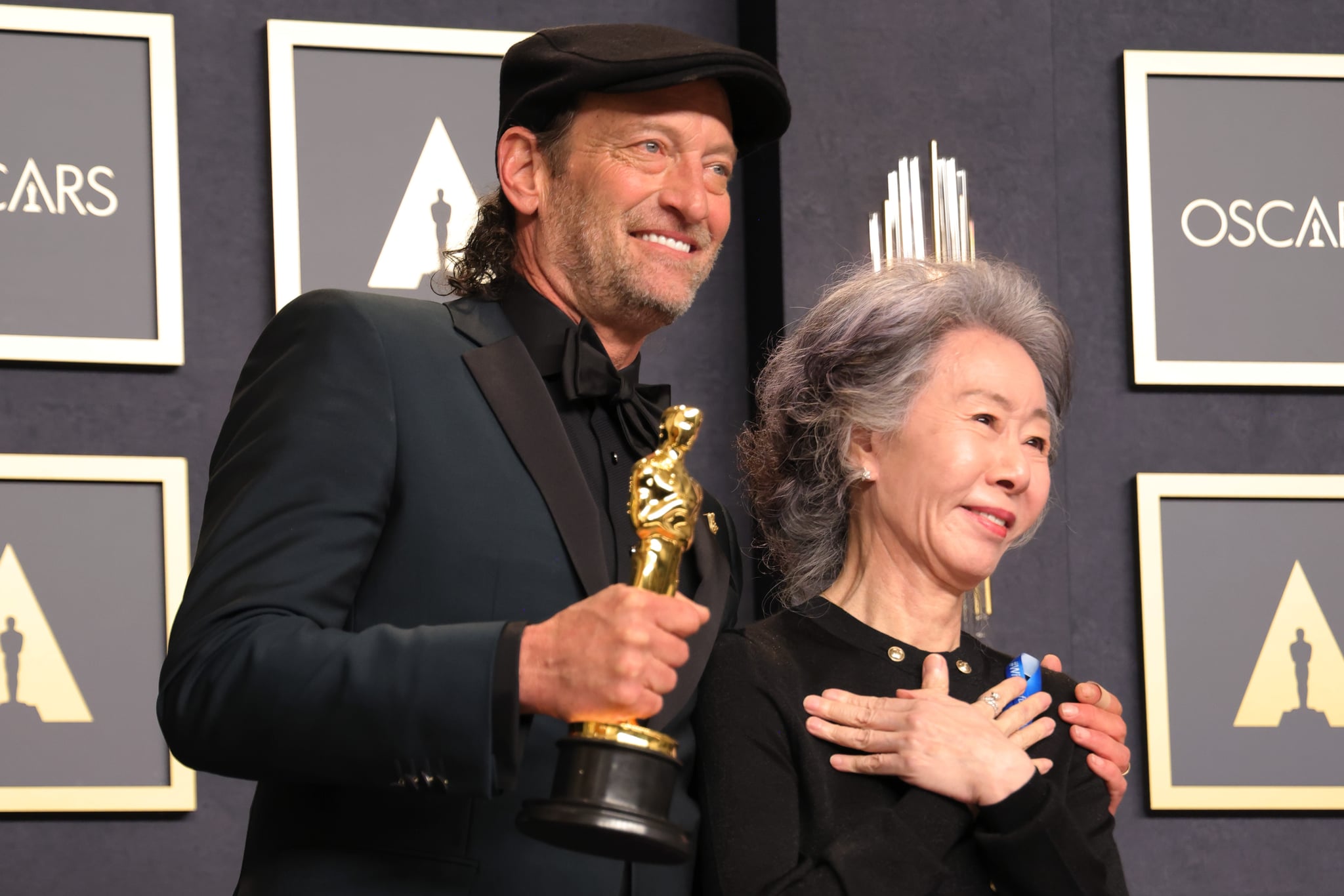 Image Source: Getty / Momodu Mansaray
The 2022 Oscars have already made history. The esteemed awards ceremony included incredible nominees and winners from several different backgrounds, including Troy Kotsur, the first deaf man to win an Oscar in the best supporting actor category at this year's ceremony. Kotsur played the role of Frank Rossi in the acclaimed Apple TV+ film "CODA," which centers on Frank's daughter, Ruby Rossi, the only hearing member of her deaf family.
Korean actress and previous best supporting actress Oscar winner Youn Yuh-Jung presented the Oscar for best supporting actor to Kotsur, and upon welcoming him to the stage to accept his award, she tenderly signed a message to him to show her support. But what did she say?
What Did Youn Yuh-Jung Sign to Troy Kotsur at the 2022 Oscars?
After announcing Kotsur as the winner, Youn signed the words, "Congrats, I love you," to the actor before enthusiastically welcoming him onto the stage. The actress went on to stand beside Kotsur, holding his Oscar for him as he signed his moving acceptance speech. Many took to social media to talk about the tender moment, praising Youn for her conscious choice to sign to Kotsur.
What hit me more is when Youn Yuh-Jung signed 'congratulations' before even spoke Troy Kotsur, I jus knew it's him won the award.

— Colleen Farrell (@cmbfarrell) March 28, 2022
Other viewers pointed out the lack of ASL interpreters present during the Oscars is unacceptable, noting there should be ASL interpreters for all categories and wins, not just categories where movies surrounding deaf characters are present.
Having an ASL interpreter only for the speeches related to CODA as if deaf people who watch the Oscars will ONLY be interested in those speeches is 🥴

— Jaleesa Lashay Diaz (@JaleesaLashay) March 28, 2022
While there are no live interpreters on stage during the ceremony, this year, there was an ASL live stream on YouTube, though it's unclear if the stream will be provided annually.
Troy Kotsur's 2022 Oscars Speech
Kotsur enthusiastically accepted his Oscar by dedicating it, in part, to the Deaf community. "This is dedicated to the Deaf community, the CODA community, and the disabled community," he said. "This is our moment." He also took time to pay tribute to his father, saying, "He was the best signer in our family. But he was in a car accident, and he became paralyzed from the neck down. And he no longer was able to sign. Dad, I learned so much from you; I'll always love you. You are my hero."
Watch the moment and Kotsur's speech below.
The Oscar for Actor in a Supporting Role goes to Troy Kotsur for his spectacular performance in 'CODA.' Congratulations! #Oscars @troykotsur pic.twitter.com/pX3tZGzt2X

— The Academy (@TheAcademy) March 28, 2022