The Marvelous Mrs. Maisel May Be Outrageous, but It's Also Startlingly Accurate
Thanks to The Marvelous Mrs. Maisel, I now have the best, most encapsulating way to describe my family: exactly like the show, except 90 percent less funny. At a time where representation is finally gaining traction in Hollywood, The Marvelous Mrs. Maisel is, for me, TV validation at its finest.
It's one thing to love a show, but it's quite another to find validation in it. Seeing aspects of yourself and your experiences on screen is not only powerful, it can provide insight and offer solace in profound ways. I love the show simply because it is brilliant, but it holds a special place in my heart because I connect to it on a personal level.
You don't need to watch more than five minutes of Amy Sherman-Palladino's latest masterpiece to grasp that the show's titular family is Jewish. Consistently throughout each season, the essence of being a Jewish New Yorker is a narrative backbone of the family, providing texture and planting much of the roots of their humor. At many moments in The Marvelous Mrs. Maisel, I am laughing along with Midge while really lamenting how interchangeable her family problems are with mine.
My own family frighteningly resembles the Maisel-Weissman bunch. The show kicks off in 1958 with Midge's son Ethan at 3 years old, making him exactly the same age as my father, who grew up mere blocks away from the Maisel's fictional address on Riverside Drive. Watching Imogene and Midge on their strolls in Riverside Park, I flash back to when my sister and I were little and my dad would take us there during visits to our grandma's (she lived in that apartment for 60 years). I remember going to Jewish delis like the one where Midge buys her Yom Kippur dinner. I will never forget the black-and-white cookies and bagels with fresh lox.
Those are good memories and I love that they're a part of me. But I also feel, in a very real way, all of the neurotic, noisy, chaotic, judgmental, disapproving energy spewing out of her family. There's the incessant complaining, the holding onto grudges that don't matter anymore, the ceaseless stubbornness that gets passed down from generation to generation, and, of course, the unforgiving ridicule of one another.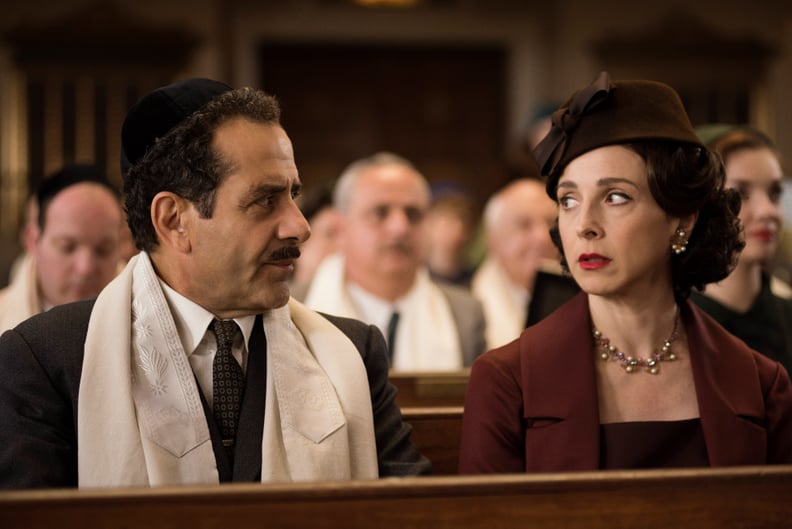 The cultural and historical aspect of being Jewish is integral to the fabric of my family, as it is with Sherman-Palladino's onscreen families. I am not sure if viewers who aren't from a Jewish background pick up on every joke, but I certainly do. I remember Yom Kippur services and not being allowed to smile. The show depicts the true origins of the "Jewish American Princess" and overbearing Jewish mothers in strides. While characters play out these tropes they still remain dynamic and unique. You can see Rose pushing her daughter to marry again ("a nice Jewish boy," of course) but before you can judge her you can tell it's only because she wants the best for her. I often have to remind myself the same thing with my overbearing aunt who only means well.
I keep going back to a moment in the first episode of the recent season three where Rose, Abe, and Midge are arguing in their apartment. The reason for the bickering gets lost very quickly and in the middle Abe is confounded over his wife and daughter's unawareness of Jack Keroac's On the Road. His pretension is on high display as he asks aloud to himself how a daughter of his could be so uninformed. It was then that I immediately yelled "yes" at my Amazon Fire. That was me and my dad.
More than a few people have compared my dad to Abe before, thanks to their shared social awkwardness and fondness for layered sweaters. They both cling to their intelligence and contemporary entertainment. Midge may not have read On the Road, but she's actually embedded herself into the cultural climate in New York. She's friends with the very woke Lenny Bruce, and her feminist stance is ahead of her time. My dad still refuses to know who the Kardashians are and thinks social media is more toxic than a power plant explosion.
Moments of validation like these transcend any awards chatter or ratings or streaming wars. They are magical and rare. Seeing myself through a protagonist like the marvelous Miriam "Midge" Maisel is special. In an age of what I call "identity entertainment," I identify in more ways than one with The Marvelous Mrs. Maisel — and that is something I will always treasure.