How to Keep Kids Safe From Laundry Pods
Before You Do Your Next Load of Laundry, You Need to Read This Now
Currently found in 20 percent of households, liquid laundry pacs — those small, dissolvable "pods" of concentrated cleaning solution that's an easier, more effective option than liquid or powder detergents — are quickly becoming just another part of a family's daily routine.
The only problem? If that family has young kids, the risks that come with such a seemingly simple task skyrocket. In fact, these liquid laundry pacs have caused the deaths of two children since their inception. Safe Kids Worldwide provided a few other startling statistics:
More than 33,000 calls were made to poison centers for laundry pac incidents since 2012. That's one call every hour.
More than 700 children age 5 and under experienced serious effects after getting into laundry pacs in two years alone. That's an average of one child per day.
Children requiring hospitalization have suffered from difficulty breathing, excessive vomiting, vision loss, severe eye burns, and loss of consciousness.
Children deemed to be at the greatest risk are 1- and 2-year-olds.
Although 80 percent of parents don't think their kids can reach their laundry pacs, a national survey deduced that three million households with children under 4 keep the containers on the washer.
36 percent of incidents happen when the product is outside of the container.
Consumer Reports has gone so far as to deem the products too dangerous to recommend, especially when other products on the market provide no such risk. (The reason injury incidents haven't been reported with previous forms of detergents is because "liquid packets are so handy for little fingers," Kate Carr, the CEO of Safe Kids Worldwide, told POPSUGAR. "It's harder for a child to get into a heavy jug of liquid detergent.")
Instead of pulling the products from its shelves, however, Proctor & Gamble, the company that makes Tide Pods, launched a new initiative today aimed at decreasing the incident rate by better educating all consumers — not just parents — who use detergent pacs of any kind. Here's what the campaign wants everyone who does laundry with young children in the house to know.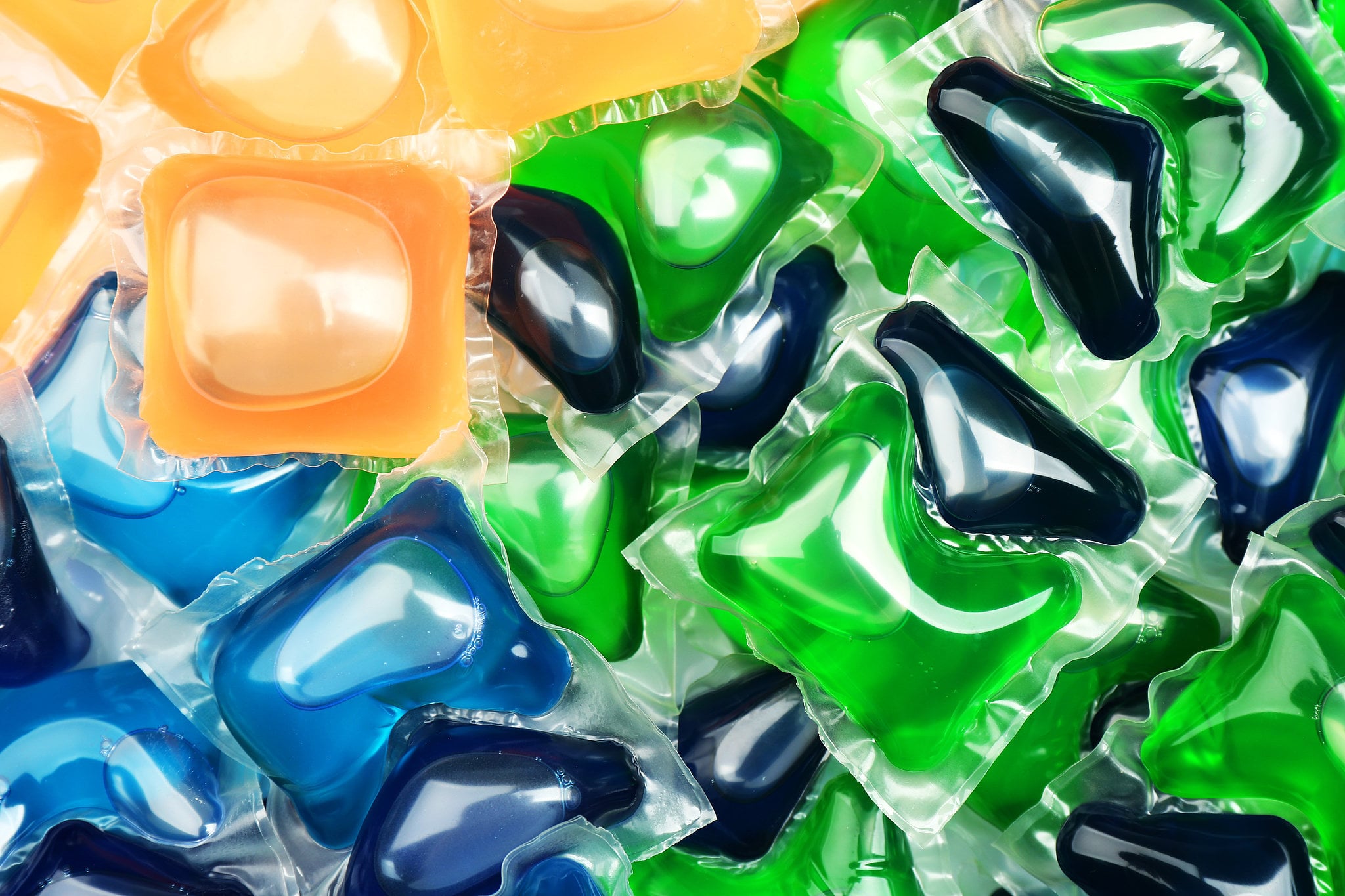 What Kids Will Do
Babies and toddlers explore the world through their mouths and hands.
Mouthing is absolutely normal, even beneficial, in a child's development. In fact, according to the American Academy of Pediatrics, it's one of the developmental milestones for small children.
"While you shouldn't try to get your little one to stop mouthing, you instead just need to be aware and on guard," said Amy Krehbiel, Tide brand manager at Procter & Gamble, in a statement.
What Parents Can Do
Don't neglect safeguarding the laundry room.
"Parents usually think about proofing their kitchens or bathrooms, but the laundry room is often overlooked," Krehbiel said. "Much like many other household cleaning products, laundry pacs need to be handled with great care to prevent unintended exposure."
Keep the products out of the reach of children between every load.
Don't set aside a pac on the countertop that you plan to use next. Instead, after each use, close the container completely and immediately put products away in their appropriate storage location, preferably one with a cabinet safety latch. Tide's new campaign includes a three-step reminder.
Put Poison Control's number in your phone.
If you don't have the number — 1 (800) 222-1222 — already saved in your phone in case of an emergency, do it now.
What Tide Is Doing
Making the packaging safer.
"We've undergone packaging modifications to address the safety concerns," Krehbiel said. "The containers have more secure closures and are opaque, so the contents are not visible."
In addition to hard-case tubs with three-point closures, the brand is also releasing Tide pacs in new child-guard zipper bags. "In our research, we learned that when consumers can easily open a package, they are more likely to close it properly," she added. These packaging updates will be on shelves as soon as early May.
Making the pacs more durable.
Following rigorous testing, the pacs are meant to withstand the average squeezing pressure of a small child.
Making the pacs less enticing to curious children.
Liquid laundry pacs are designed to dissolve in water, which makes the inside of a child's mouth the worst place for them. Studies have shown that candy-colored pacs are no more attractive to small children as ones that are completely clear, so Proctor & Gamble has put its focus into adding, according to Krehbiel, "a bitter taste to the outer layer" of its pacs as an additional safeguarding measure. If the child bites one, they'll likely spit it right out.