How to Treat Hyperemesis Gravidarum
Amy and Kate Aren't the Only Ones: What It's Like to Have Hyperemesis Gravidarum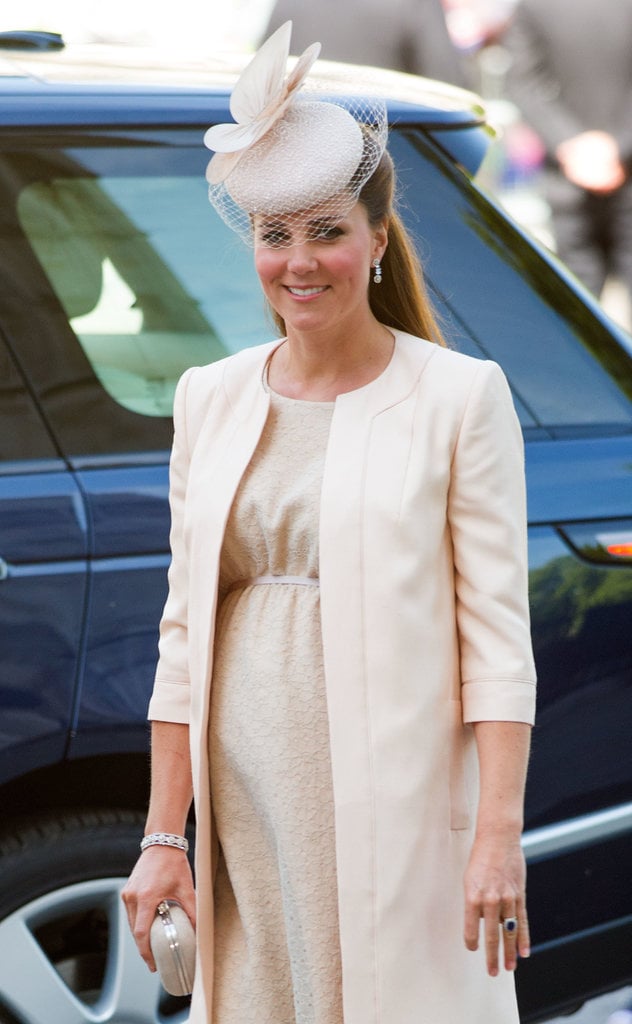 With all three of my pregnancies, I had morning sickness so severe that I vomited 24/7 and needed IV rehydration and other medical interventions. This kind of severe morning sickness, known as hyperemesis gravidarum (HG), is more common than you might think.
Not all moms realize what they are experiencing is out of the norm, but those who have experienced it say that if you're sick enough to wonder, then you probably have HG.
Is It HG or Morning Sickness?
It's a misconception to say that HG is just severe morning sickness. Certainly morning sickness is miserable, but HG can be a life-threatening complication for both mother and baby.
The Hyperemesis Education & Research Foundation (more commonly known among HG patients and survivors as Help HER) provides a comparison chart on its website to help mothers understand the difference between morning sickness and HG.
Some of the more obvious symptoms that indicate HG include:
Rapid weight loss due to excessive vomiting (one to two pounds a week).
Vomiting multiple times a day with the inability to even keep down water.
Vomiting bile and/or blood, sometimes accompanied by excessive salivation.
Dehydration.
Constant gagging.
Headache, dizziness, and/or fainting.
If you are experiencing any of these symptoms, it's very important to talk to your obstetrician before they get worse.
Treatment Options
There are a number of treatment options for HG. Your treatment will depend on how far your HG has progressed, an evaluation your doctor will make not only by observation, but also with lab tests. Treatment is often a combination of therapies, including IV rehydration, medication, nutritional therapy, and sometimes even bed rest.
The medications doctors prescribe vary. Circle of Moms member Lisa G. was prescribed Zantac, while others have been told to take B-12 vitamin in combination with Doxylamine (found in Unisom, the over-the-counter sleep aid), or the more expensive drug Ondansetron (Zofran).
Moms with HG point out that one of the biggest benefits of Zofran is that it comes in many forms. Nicole N. explains that one of the options is an IV form that can be used with a portable pump that administers a steady supply of Zofran 24 hours a day, seven days a week.
Coping With the Emotional Toll
Getting through the emotional effects of HG is almost as difficult as withstanding the physical effects. It can be overwhelming and isolating.

As mom Kate C. so vividly describes her HG symptoms: "Your esophagus is on fire, your stomach hurts, you can't breathe, your whole body hurts, you're starving, and you're exhausted." Add to that the stress of being sick with an ailment that few people understand.
"This isn't just bad morning sickness, and more people need to realize that," emphasizes Erin H. "Dismissing it as being less than it is leads to these women feeling incredibly alone and helpless."
That's where an organization like Help HER can really help you. Not only is it a network of women who are going through or have survived HG, but it's also a research organization devoted to learning more about HG. Its website provides fact sheets for family, friends, and physicians to help them understand what you're going through.
3 Ways to Cope
Reach out to other women with HG: Since HG is so debilitating, get support by joining an online group.
Ask for help: Though they may not understand HG, your family and true friends will see how sick you are. Tell them you need help around the house or with your other children.
Do what you have to do to be OK: If the only thing you can keep down is lemonade and cheese doodles, so be it. If you have to sleep half the day, find a way to do it.
Taking care of yourself is paramount. As Erin points outs, HG can be dangerous: "[Some women with HG] suffer dehydration, malnutrition, and sometimes organ failure." If you don't take care of you, how can you take care of that beautiful baby when it's born?
The preceding information is for educational purposes only. For specific medical advice, diagnoses, and treatment, consult your doctor.