Mom's Warning After Her Baby Rolled Off the Bed
Every Parent Should Read This Mom's Heartbreaking Plea After Her Baby Rolled Off a Bed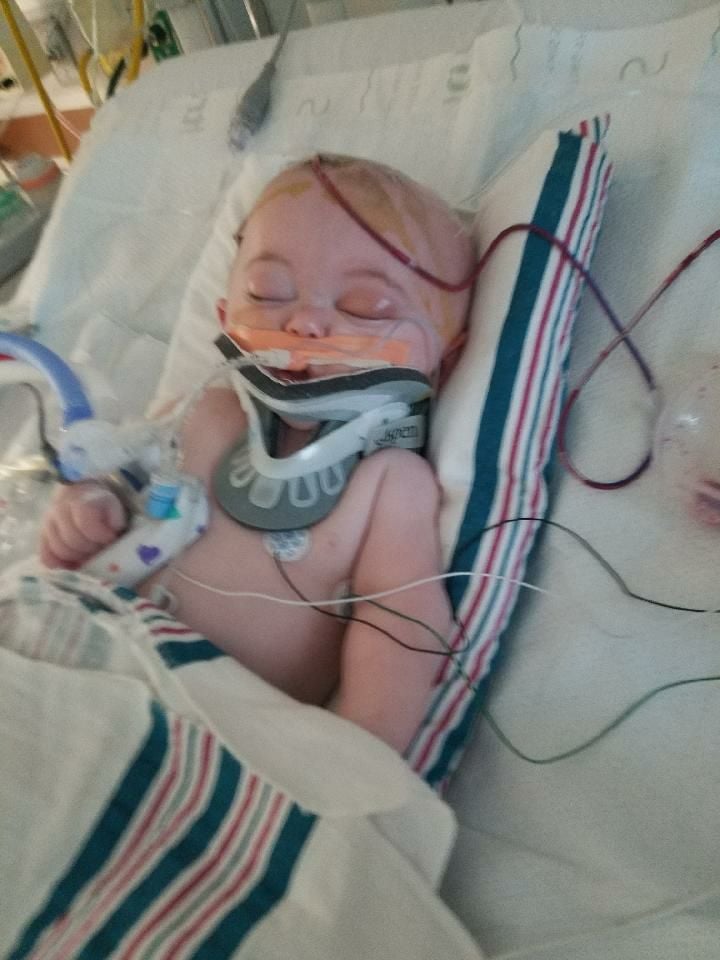 After her 6-month-old son rolled off a bed, Paige Ferguson admits that she definitely had some reservations about posting the details about the accident on social media. But in an effort to help other parents avoid making the same mistake she did, she shared just how dangerous letting a baby sleep on a bed can be in a now-viral Facebook post.
She explained that after putting her son down for a nap in the middle of her friend's queen-size bed surrounded by pillows, the worst thing happened: he fell.
"This is a nightmare . . . I'm going to be blunt here: Colton may not live. Colton may live and never walk or talk, Colton may be fine."
"I need people to realize the seriousness of a head injury," she said. "This started from him falling from a bed that was only two feet off the ground. He had a bump on his head. A bump. He was crying, acting alert, and at one point even smiled. Because we are paranoid parents, we decided to get him evaluated. We thought for sure they were going to say he hit his head, has a bump, and will be fine."
Unfortunately for Paige and her fiancé Blake Linton, that was not the case. As soon as they got the hospital, Colton started to vomit, and the doctors immediately gave him a CT scan. After getting the results, Colton was flown by helicopter to Memphis for treatment. When Blake and Paige walked through the doors, there were already 20 doctors working on their infant son.
Eventually, Paige and Blake finally got the news that Colton had a fractured skull. She told POPSUGAR that to this day, she still cannot believe the magnitude of Colton's injuries. "[I was] shocked to say the least. I was in complete disbelief. I couldn't wrap my head around it. Still, none of us can. My heart was shattered. I'm still trying to put the pieces back together."
And given how severe the trauma was to his head, Colton faced a long, uncertain road to recovery.
"He fractured his skull and bled half of his entire blood volume into his brain," said Paige, adding that the bleeding made her son go into cardiac arrest. "I'm going to be blunt here: Colton may not live. Colton may live and never walk or talk, Colton may be fine, Colton may be delayed. It's up in the air right now and he is still fighting for his life because we are not out of the woods."
Now, it has become Paige's mission to prevent the same injury from happening to other children. She's urging other parents to take head trauma seriously and begs them to stop believing old wives' tales about bumps on your child's head.
"This is a nightmare. I don't want other parents going through this. I don't want any kid to go through this. Please take any hit to the head seriously. I cant say this enough. My heart is broken. Our child is laying in front of us yet we miss him so terribly," she said. "I need you to hear me: get your kids checked out! Please. The old tale of 'if the bump is outward you're safe' is NOT true."
Although Colton is officially out of the hospital, doctors aren't exactly sure how much damage his fall caused. Paige and Blake are relieved that their baby has started to smile again despite facing medical setbacks.
We brought him home a month after his accident. It was amazing bringing him home after having doctors repeatedly tell me he was going to die, but it was very scary. Because his brain lost oxygen during his cardiac arrest from the massive brain bleed, he suffers from cerebral palsy and cerebral atrophy. He also suffers from severe epilepsy. We see many specialists and therapists. We will just continue to do everything in our power to ensure he has the best life possible.