Growing Up With an Invisible Disability Shaped How I Parent
Growing Up With an Invisible Disability Made Me the Person and Parent I Am Today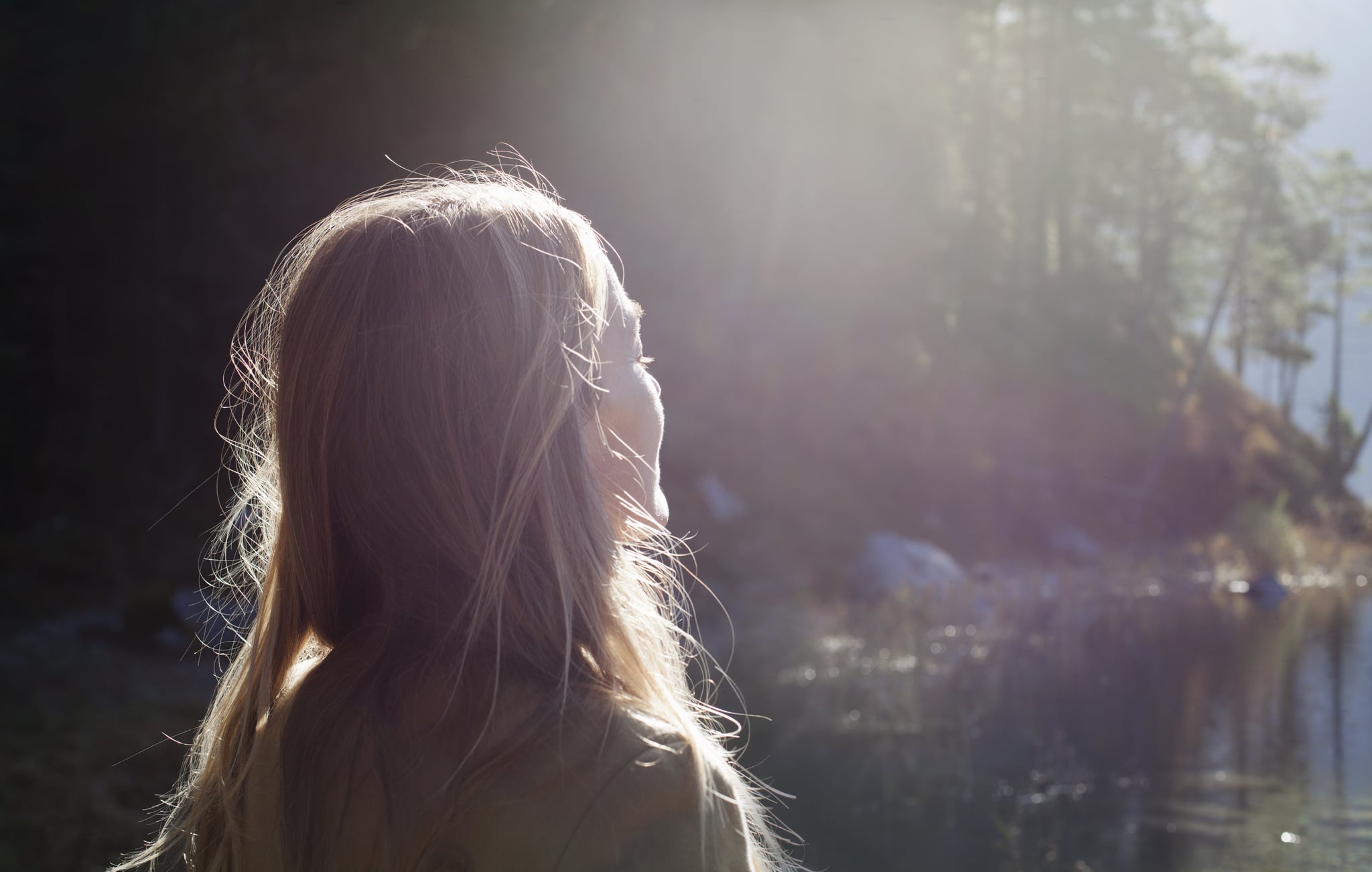 It was late May, and the humid Gulf air was thick and heavy — a sizzling signal of summer's premature arrival in the concrete jungle. I inhaled as deeply as I could against the ever-sharpening tightness in my chest. No matter how hard I tried, I just couldn't seem to get enough air. I soon began to feel my head swimming as nausea and panic consumed my body. I didn't know what was happening to me, and I was freaked out. Not quite as freaked out as my mom, though. Whatever was happening in my body left us both feeling powerless and dumbfounded. I was 12, and my family and I were visiting Houston, TX for the first time for an event at Rice University. Notorious for its humidity, Houston's swampy air envelops its visitors in a torrid blanket that, for me, was quite literally breathtaking. I spent much of that day lying on a bathroom floor, trying to stay cool, breathe as calmly and evenly as possible, and to avoid throwing up. That evening, I was completely exhausted.
Less than a week later, we had returned home. I was shaken and a bit uneasy from what I had experienced in Houston, wondering if it might happen again. We met some family friends at a local park for a picnic. After running around for a while, the world started closing in. I didn't realize it, but this was my first experience of tunnel vision brought on by lack of oxygen. My mom made an appointment with my regular doctor to see if we could figure out what was going on. The night before my appointment, I remember having nightmares of being unable to breathe underwater. I awoke with a jolt to find my mom standing next to me, visibly shaken. She said it sounded like I had been choking. My airways had closed in my sleep.
After meeting with my doctor, seeing a specialist, and undergoing a series of tests, I was diagnosed with a chronic lung condition — one that the Center For Disability Rights considers an invisible disability — that would impact the types of activities and sports in which I could participate in school, whether or not I could go on field trips, and many other unanticipated aspects of my life. I didn't share what was going on with my friends and classmates because the last thing that I wanted was to be treated differently because of it. On the surface, nothing about me seemed different, and I wanted it to stay that way. Beneath the surface, though, I was experiencing psychological and emotional alterations that would compound the symptoms of my lung condition and send me into a tailspin.
The year after I was diagnosed, I was in my last year of junior high and working on a research paper. I had everything outlined, I had done all of the necessary research and readings, and I had taken thorough notes. When it came to writing, though, I just couldn't do it. I became paralyzed by anxiety that I had never experienced before and that exacerbated my breathing issues. For some reason, I thought that the perfect completion of this one research project would have a ripple effect that would ultimately determine what college I got into and whether I would go to grad school or not. I spent several weekends in the grips of anxiety, which often made me antisocial and sick to my stomach. I wrapped myself up in a blanket and tried to stay still. My main comforts were a warm shower and being near my family.
Each Monday, I put on a happy face and went to school, pretending as though everything were perfectly OK. I had lunch with my friends, went to the mall to hang out, went skating, and everything else my friends expected of me. And yet I felt like I was burning from the inside out. Catastrophic thinking became unavoidable for me, and every time I tried to express what I was thinking and feeling, the words caught in my throat like a chicken bone. I was later diagnosed with Generalized Anxiety Disorder (GAD), another invisible disability. Learning to control my lung condition and cope with GAD constituted personal challenges to me. I wanted to be able to go running and swimming and to learn how to avoid the psychological paralysis that anxiety caused. My mom found a therapist who had degrees in both internal medicine and psychology. She was able to help me get my breathing under control through preventive medications and therapeutics, and she also taught me useful coping techniques such as decatastrophizing and grounding to help in moments when I felt encumbered by the weight of catastrophic thoughts and anxiety.
It wasn't until I was almost 20 that I found a talk therapist who helped me to discover the benefits of meditation, mindfulness, and yoga in controlling and coping with anxiety. The deep-breathing exercises also bolstered my ability to stay calm when I had a flare-up in my airways. I felt such a sense of pride and accomplishment to have learned how to cope with these invisible conditions, and I still do to this day. My mom and my family were incredibly supportive of me over the years, and it turns out that both my lung condition and GAD run in my family. One of my siblings also suffers from GAD, and I have been honored to share my experiences and the resilience that I have developed with him. I hope that I can inspire him and others to seek out help in learning how to cope with anxiety. I still have anxiety, and it is a part of who I am, but it no longer defines me as it once did. Rather than respond with panic, psychological paralysis, and physical illness, I now stop, breathe, and think. Taking a moment to pinpoint the root cause of my anxiety, to face it, and to address it rationally bolsters my inner strength and creates occasions for self-reflection. My children may one day experience anxiety, but I will be ready to support them every step of the way.
I have not told my children about my lung condition or my GAD yet. When they are a little older, I intend to share my experiences with them with the goal of teaching them that they can not only survive adversity and challenges in their lives, but can face them head on and learn from them. Hopefully, they will understand that I am here to support them, that they can talk to me about their struggles and triumphs, and that I will help them whenever they need me. Perhaps they will learn to see me not only as a mother, but also as a human with complexity, with faults, with resilience, and maybe even a little wisdom.