What Parents Should Know About Netflix's Jingle Jangle
6 Things to Know Before You Enjoy Netflix's Jingle Jangle With Your Kids
Watch out! This post contains spoilers.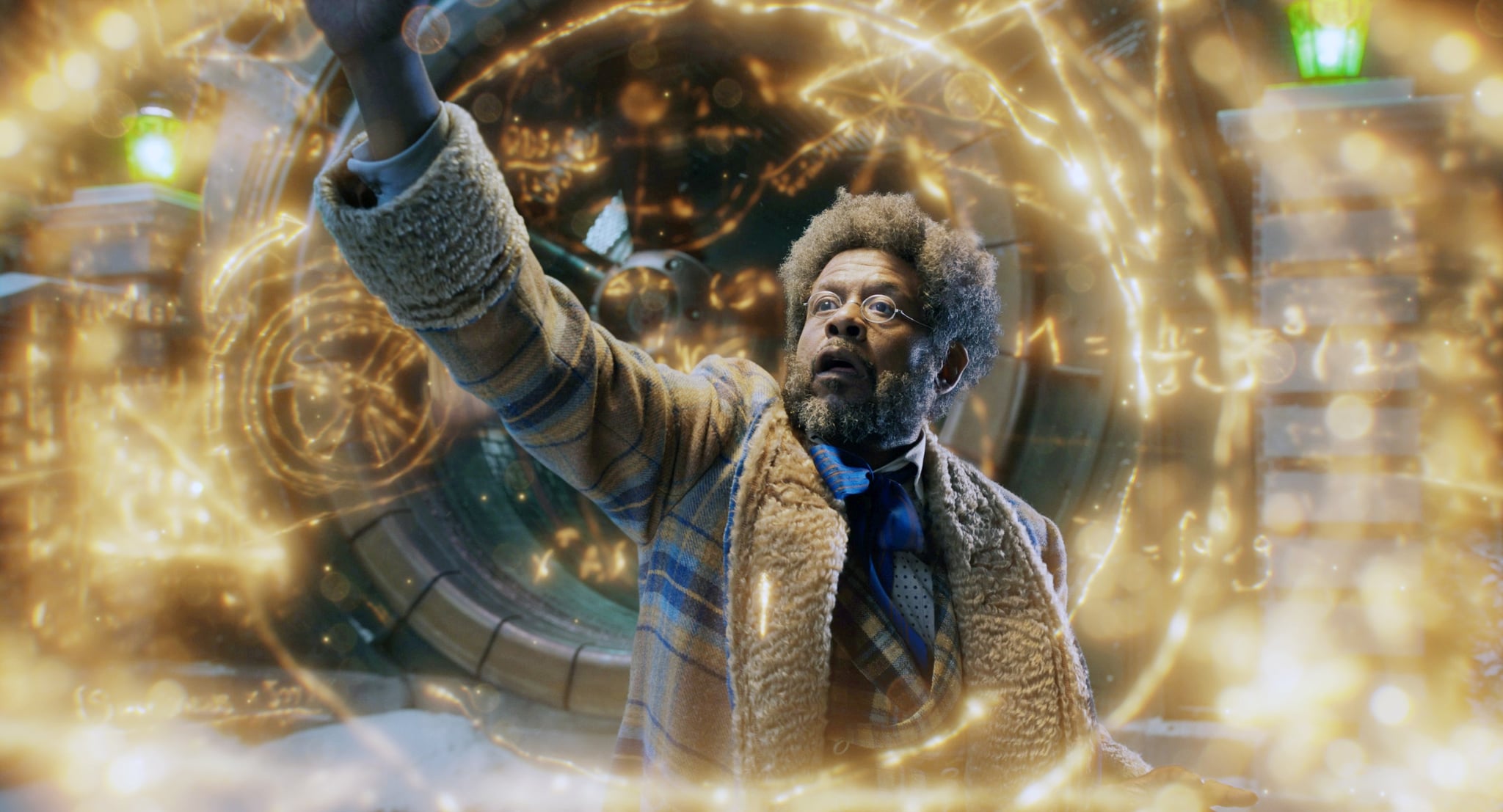 Nothing beats a wholesome Christmas movie, but what about a wholesome steampunk musical Christmas movie? Written and directed by David E. Talbert, Netflix's Jingle Jangle: A Christmas Journey brings on the holiday cheer as it follows the trials and tribulations of genius inventor Jeronicus Jangle. (And no, it has nothing to do with Jingle Jangle from Riverdale!) Taking us along for the sleigh ride are Forest Whitaker, Ricky Martin, Keegan-Michael Key, Phylicia Rashad, and more. Overall, Jingle Jangle is a whimsical and fun PG pick that's appropriate for the entire family. That's said, let's break down some things that you might want to consider or discuss while watching the festive movie with your kids.
The movie has a strong cast where characters of color have meaningful leading roles.
The film's main cast is predominantly Black. Jingle Jangle features a Black family at its center, whose members range from the solemn and grumpy Jeronicus (Forest Whitaker) to his brave and curious granddaughter Journey (Madalen Mills).
The movie is full of uplifting messages.
Jingle Jangle has many positive messages for kids embedded into its upbeat soundtrack. Many of the songs, including "This Day" and "Possible" are focused on trying one's best and being one's self despite the odds. Believing in oneself is an essential part of the movie, embodied by the robot Buddy, who can only function if Jeronicus believes in himself.
Jingle Jangle touches on why being sad is OK.
While the film is uplifting, it explores Jeronicus's grief when he loses his wife and career. It carefully shows how he sets up strict emotional boundaries and slowly opens up throughout the film. Examples of his character arc can be seen in moving songs such as "Over and Over" and "Make It Work Again." The depiction of Jeronicus's depression opens up an opportunity to talk to kids about why being sad is OK.
The characters get into scary and dangerous situations.
The film fosters a healthy curiosity for science — for the most part. However, wild inventions and experiments occasionally go awry, with volatile substances exploding and malfunctioning gadgets flying at people. We also see children dancing on ledges, running around dangerous machinery, and even pushing through giant fan blades.
There's rude humor.
Ricky Martin's animated toy character, Don Juan Diego, is notably vain and hostile, and he smacks and mocks Gustafson (Keegan-Michael Key) with no remorse. Jingle Jangle also features an epic snowball fight — it's all fun and games, but also fundamentally consists of smashing people with snow!
The movie is relatively long.
Jingle Jangle clocks in at two hours and two minutes, with the credits rolling one hour and 54 minutes in. However, it includes plenty of fun costumes, inventive visuals, and catchy musical numbers to keep your little ones entertained throughout its runtime. Plus, you'll always be able to pause Netflix!
Full of quaint gadgets and gizmos, Jingle Jangle is a joyful and magical watch that's appropriate for the entire family, so don't hesitate to queue it up after you've watched all your favorite Netflix holiday movies!