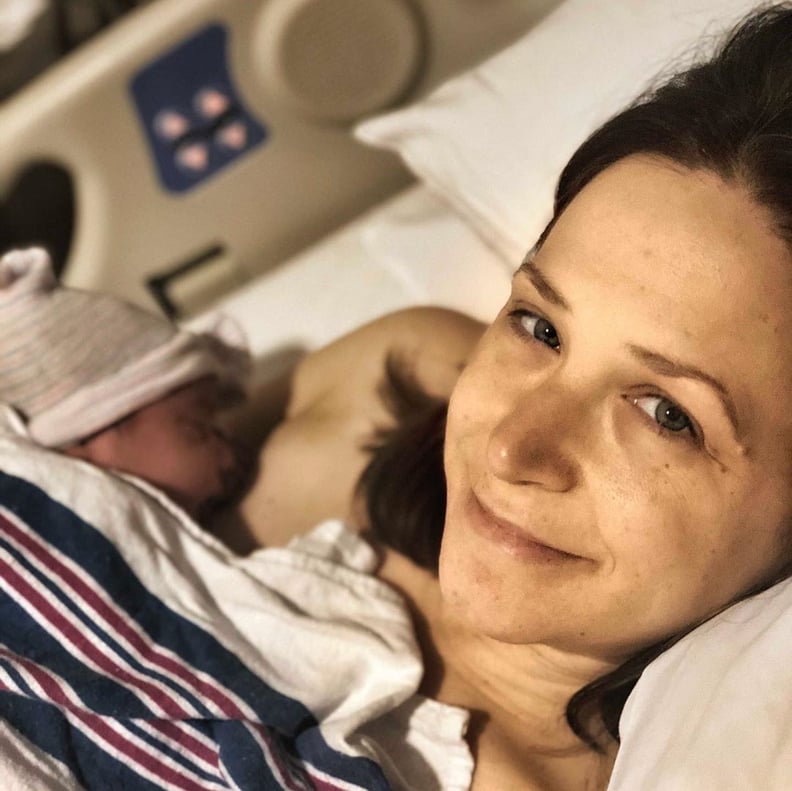 Tovah Haim
Tovah Haim
Tovah Haim, a mom of two and the founder of Bodily — a product-based company dedicated to postpartum care and education — recently welcomed a healthy baby girl amid the COVID-19 outbreak in New York City. Although childbirth is stressful enough on a good day, Tovah found herself navigating a new world of uncertainty. Now, she's opening up about her childbirth experience and what she wants other expectant parents to know.
"One of the main things I asked my doctor before my baby's due date was if it would be safer to give birth in a hospital outside of New York City, and what the pros and cons of going somewhere else where the doctors didn't know me were," Tovah told POPSUGAR. "My doctor advised against going to a new hospital and provided many compelling reasons why — but ultimately said it was my choice. She also said that it's very likely that there would be someone on the labor floor with COVID-19 when I give birth, so I should prepare for the possible reality of that happening."
Despite her initial hesitation, Tovah didn't have much of a choice. Her doctor sent her to the emergency room after an appointment because her blood pressure was extremely high and she was anemic. When she walked through the doors, she immediately sensed a feeling of anxiety as the hospital was preparing to go into a lockdown state.
"It was a little desolate in the waiting room downstairs where the hospital entrance is usually buzzing," she shared. "People were sort of staring at each other and keeping their distance — as were my husband and I. We were careful not to get in an elevator with anyone else and didn't touch the buttons. Everyone was practicing social distancing. Doctors, nurses, and laypeople were mostly wearing masks, and those who weren't made me a bit nervous."
"I avoided breathing on my baby for 14 days. I washed my hands compulsively."
Within a few hours, Tovah learned that she needed to have a C-section due to a preeclampsia diagnosis. Although she was hoping to have a vaginal birth, Tovah was grateful that her ob-gyn acted as quickly as she did. As she was preparing for the procedure, she noticed that some hospital workers weren't wearing masks or gloves. Regardless, Tovah had to give birth for her body's sake.
"Since I was admitted in an emergency situation, my labor and delivery were rather quick," she explained. "I was there for two nights and was in and out in less than 48 hours with a C-section and not totally stable vitals, which is definitely not normal, but the doctors didn't want to expose us to the virus."
At the time, Tovah was allowed to have her husband in the room while her daughter was born. While some private hospitals had announced spouses and partners would be banned merely days later, Gov. Cuomo reversed the decision. Although she was grateful her husband could be present, she had to turn other family members away.
"The discharging process was quicker than expected, and we were thankful for it."
"At that point, the hospital had a 'no visitors' rule, but spouses or partners were allowed," she said. "My father drove up from Florida to visit and see the baby, and we had told him not to come."
Despite the fact that Tovah had a difficult birth, she was happy to be released from the hospital earlier than usual. "The discharging process was quicker than expected, and we were thankful for it," she said. "I had a feeling of relief when I was sent home. I left with staples in and went to my doctor's to get them out two days later. My doctor wasn't taking any in-person visits at that time, so I was the only patient in the office, and that was only because I needed to have my staples out."
Unfortunately, being at home with her newborn daughter came with some scary challenges for the first two weeks. "I had difficulty breathing when lying down, and while my doctors believed that it was likely due to the anemia, or possibly pulmonary edema, I was, of course, terrified that it could be COVID-19," Tovah explained.
Terrified of unknowingly infecting her family, Tovah took as many precautions as possible. "I avoided breathing on my baby for 14 days. I washed my hands compulsively. I also had fears that my son might have it as a few days later he woke with a low-grade fever," she said. "So for 14 grueling days, we feared for [our older son] terribly. We also had to keep him away from his new baby sister, which was just heartbreaking."
"She's 3 weeks old, and no one's met her except for us. It's crazy to think about that, but it definitely makes me feel way safer."
Given her role at Bodily and extensive knowledge about the postpartum experience, Tovah did whatever she could to be prepared amid the COVID-19 pandemic, which meant getting supplies beforehand.
"I was aware of the things that could go wrong ahead of time," she said. "I made sure we had all of the newborn and postpartum supplies we needed, like a blood-pressure cuff, an adult thermometer and infant thermometer, plenty of diapers, formula, a newborn scale, and soft measuring tape (for virtual pediatrician appointments)."
Because of her preparedness, Tovah was less anxious about scheduling virtual appointments with her pediatrician. "All of these tools are really useful in communicating information to a doctor that can enable them to better help you," she explained. "Virtual connectivity and appointments have worked really well for us, and I have far less anxiety about them now that we've done so many. What I have found is that with the right tools, virtual visits are actually very effective."
Although Tovah and her family have been making the most of Zoom visits, her extended family has yet to meet her new baby. But Tovah knows in her heart it's for the best.
"[My father] still hasn't seen the baby. My sister gave birth three days before me, so he went and saw her and her baby, but at this point, we don't feel comfortable having anyone with our daughter," Tovah said. "Now, she's 3 weeks old, and no one's met her except for us. It's crazy to think about that, but it definitely makes me feel way safer."
To learn more about Bodily and its postpartum products and educational services, head to its website.