On the surface, Chrissy Teigen is untouchable. Her house is something you'd make using a bunch of cheat codes in The Sims, her husband is one of 13 people in history to claim EGOT status, and her career seems to be predicated on checking items off a bucket list. But somehow, she can strip all that away with observations and confessions so relatable, you could have said them yourself. Suddenly she's not Chrissy Teigen, supermodel/television personality/bestselling author, she's a friend sitting cross-legged on your couch in fluffy socks from the dollar aisle of Target, watching Vanderpump Rules and shoveling Cheetos in her face.
Chrissy is at her unbridled best when she's talking about her kids, Luna and Miles, and the impact they've had on her life. She consistently shows us that when it comes to parenting, it doesn't matter where you're from or how much money you have. Our joys, our insecurities, and our moments of sheer embarrassment aren't so dissimilar after all.
Here are just a few of the lessons Chrissy has impressed upon me in Parenting 101.
01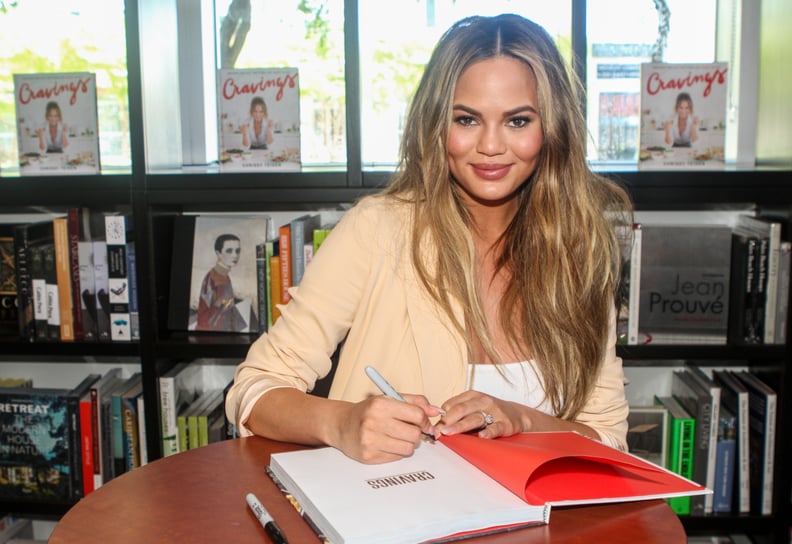 Lesson: Don't apologize for wanting more.
I love being a mom. My son is the coolest, and raising him is the most important thing I will do with my life. Still, several months into the gig, I started to feel uneasy that my identity was now wrapped up in motherhood. I wanted more, and the guilt of that realization weighed on me like a rhinoceros sitting on my throat. Then I looked at moms like Chrissy, who take to heart the idea of filling their own cups first.
In addition to holding down more entertainment jobs than Ryan Seacrest, Chrissy's built a budding empire around her passion for cooking. And yet, she remains a powerful presence for her family. Yes, she does all this with a lot of help, and the average mama has neither the time nor the resources to hang with LL Cool J and prepare a gourmet meal before tackling a mountain of laundry. But consider yourself 100-percent seen if you sometimes long to feel like more than "just a mom."
I'm slowly recapturing the rest of myself by reengaging my creative side: writing, baking, auditioning for community theater productions, and more. Some days are harder than others (looking at you, teething), and some days self-care is watching garbage television instead of showering, but I definitely feel better when I take time to check in with myself.
02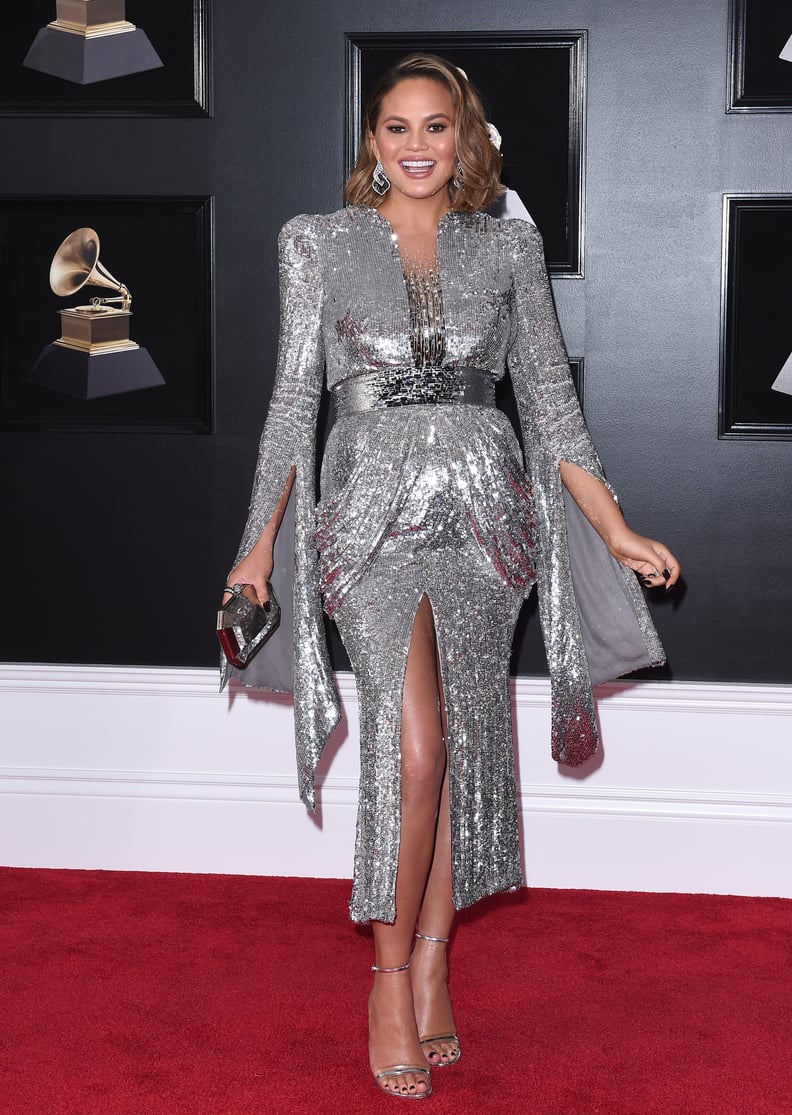 Lesson: Mom-shaming says more about them than it says about you.
When my son was 6 months old, my husband and I took him out to an early dinner. The lighting and music immediately threw him off his game, and he burst into tears. Even though we calmed him down within 30 seconds, one patron chose to express her displeasure by glaring at us for the rest of her meal. Her judgy eyes haunt me to this day.
Mom-shamers are the backseat drivers of the parenting world, ready to put you on blast for your approach to every aspect of your child's life. As one of the world's most-followed social media figures, Chrissy is a prime target for such bullying — and she's here to throw a middle finger to mom-shamers from Massachusetts to Malaysia. Her clapbacks are downright scrumptious, and they act as a salve for the burns heaved our way by cruel strangers, know-it-all relatives and well-meaning friends.
03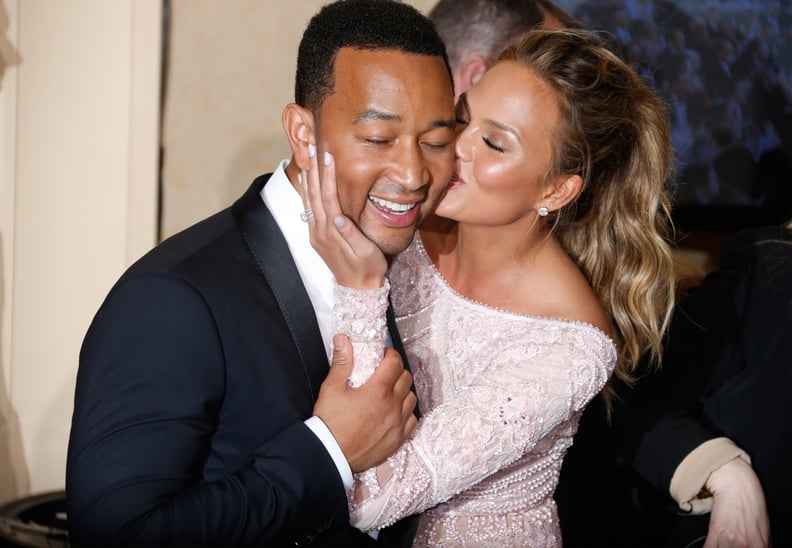 Lesson: Parenting is a partnership.
Chrissy is married to some dude named John Legend who is pretty good at making music. But according to Chrissy, he's also pretty good at coparenting. "He would wake up with me every single time I would wake up just so I wouldn't feel like I was alone in it during those first few months of having a baby," she said on stage at POPSUGAR Play/Ground. "He would just sit there and he would read me New York Times articles as I was pumping or breastfeeding. He was just always present, always there. He never made me feel bad about it. You could thank him for it, but he'd be like, 'Don't say thank you, it's just what I'm supposed to do.'"
Motherhood can be the loneliest job in the world, and although my husband can't carry a tune to save his life, he tags in without a second thought to change diapers, cook meals, wash bottles, and assure me I'm not a terrible mother for needing help. Shout out to all the partners who make us feel like we're not flying solo.
04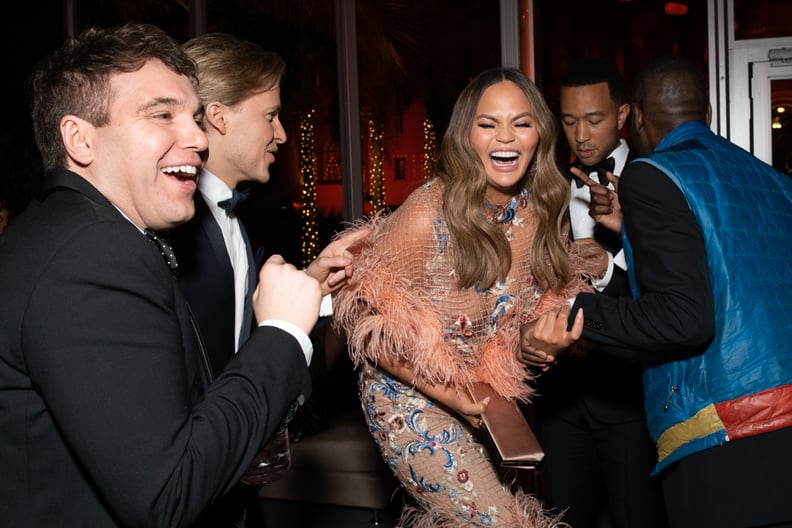 Lesson: You can still be a hot mess sometimes.
One of the hardest pills to swallow as a new parent is the feeling that the carefree part of yourself is gone forever. You scroll through your Instagram feed from bed at 8 p.m. on a Saturday, jealously frowning at your slobber-covered phone.
Sure, you're probably not tearing up the town like you used to, but Chrissy shows us that there's no shame in a little messy game. Need a night out? Take it. Get so drunk you forget you put on a giant possum head, then wake up the next day and embrace the unique hell of hungover parenting.
Following Chrissy's lead, I recently had my first girls' weekend since the birth of my son. I put on real pants and makeup and, yeah, I drank a little too much. And you know what? It didn't make me a bad mom. Purging all the pent-up frustration and resentment that can come with parenthood was amazing for my mental health and a reminder that the sky is not going to fall if I turn up every now and again.
05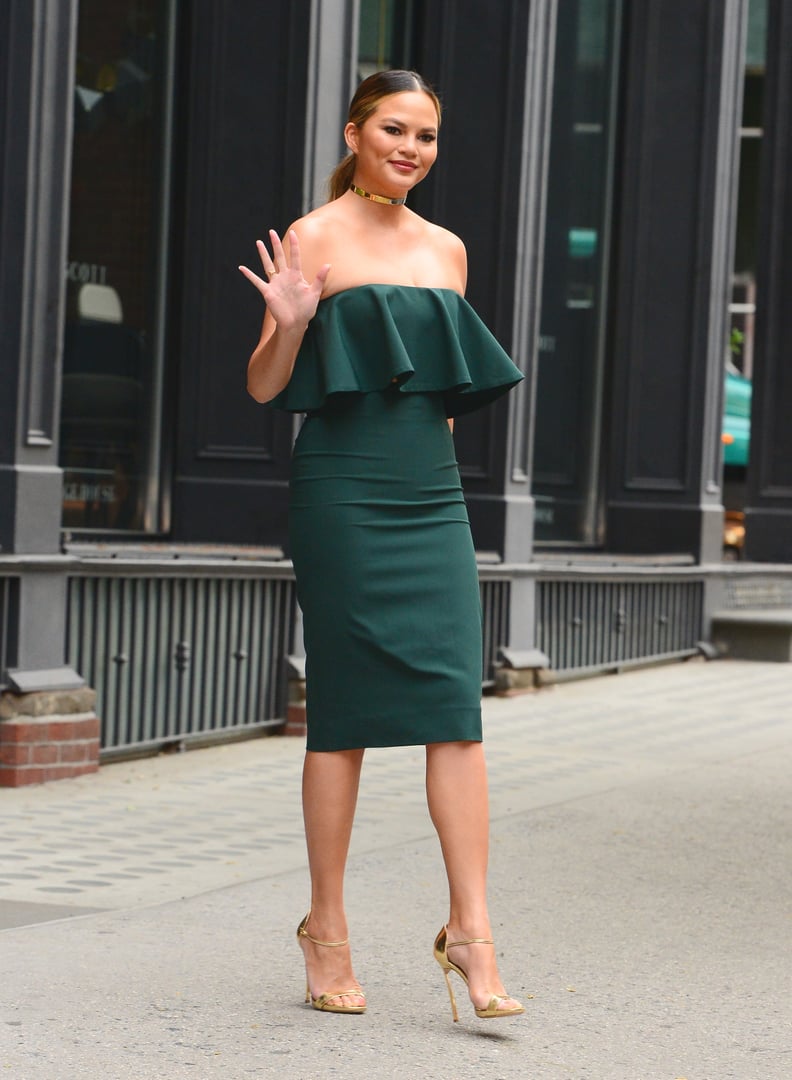 Lesson: It's OK to not be OK.
Lots of people will tell you that motherhood is hard; what fewer will say is that it sometimes packs a chemical punch that consumes your mind, body, and soul. So when Chrissy, one of the most joyful and blessed people in the universe, came forward in 2017 to talk about her struggles with postpartum depression and anxiety, people took note.
"My wish for moms is that they know they aren't alone, and they are supported by the more than 500,000 women who share their experience each year," she said when she announced her partnership with the Allegheny Health Network to educate and support families who might be facing the same hurdles. "Imagine if we can get as many people talking about postpartum depression and anxiety as those experiencing it, and let them know help is available."
And with that, she added one more title to her resume: Chrissy Teigen, superhero.