As POPSUGAR editors, we independently select and write about stuff we love and think you'll like too. If you buy a product we have recommended, we may receive affiliate commission, which in turn supports our work.
Gabby Windey, 31, and Rachel Recchia, 26, kick off ABC's "The Bachelorette" in a joint season 19 that was announced by host Jesse Palmer during "After the Final Rose," leaving fans curious as to how the show structure will work and whether the women will be vying for the same men. While the July 11 premiere should shed some light on this prospect, one thing is for certain: their expertly curated wardrobes, sourced by longtime TV stylist Cary Fetman, with the help of Krystine Couch. Windey and Recchia had their choice of incredible pieces for dates, challenges, and rose ceremonies, with glamorous gowns from Randi Rahm, cocktail dresses from The Attico and Amur, and casual wear sourced from a wide range of retailers, including Intermix.
"You want to look back on this in a couple years and be like, 'Oh my god,' not be like, 'What was I thinking?'"
Recchia broke down the process to POPSUGAR via phone interview: "In the beginning, we had a bunch of racks of clothing, and we would go through and pick out things that we liked. After our initial fittings, [Fetman and Couch] got an idea of how we liked to dress, then they would shop from there," she said. "By the end, I think they knew what we were going to pick before we picked it. We have different body types, too, and everything we wore was so different. It was really cool that we got to express two different styles." As seasoned professionals, Fetman and Couch know what looks good on camera and offered expert tailoring advice during filming while also taking into account each woman's personality.
While Windey and Recchia consider themselves casual dressers in their everyday lives, typically keeping up with the latest trends, "The Bachelorette" was an opportunity to test the waters and up the ante, specifically for event dressing. "I think both of us had a ton of fun with our gowns and maybe stepped out of our comfort zones a little bit," Windey said. "When else do you get to shop such beautiful clothes and have amazing outfits every day?"
While she veers toward the more adventurous side (Recchia compliments her friend by saying she could wear a paper bag and Bachelor Nation would still be begging for the link), Windey admitted she consciously tried to choose clothes that are timeless. "You want to look back on this in a couple years and be like, 'Oh my god,' not be like, 'What was I thinking?' It was hard for me in the beginning because you want to keep up with the trends that are relevant on social media now," she explained.
Recchia, on the other hand — who you'll see in plenty of dresses and heels for one-on-ones with potential partners — is described by Windey as classic and demure and is noticeably more conservative. The one thing they can agree on? "Gabby and I both love a heel," Recchia said. "[Viewers] are not going to see us in flats that much. They're like, 'It's cobblestone in the rain.' And we're like, 'Perfect. Give us a platform.'"
Ahead, get details on the duo's first few outfits from season 19, some of which are still available to shop. Check back here for even more to come, including, but not limited to, a favorite black-tie ensemble from Recchia that she teased as "sheer" and "covered in feathers" and a chain-mail dress by Windey that she called "the least comfortable thing you'll ever wear."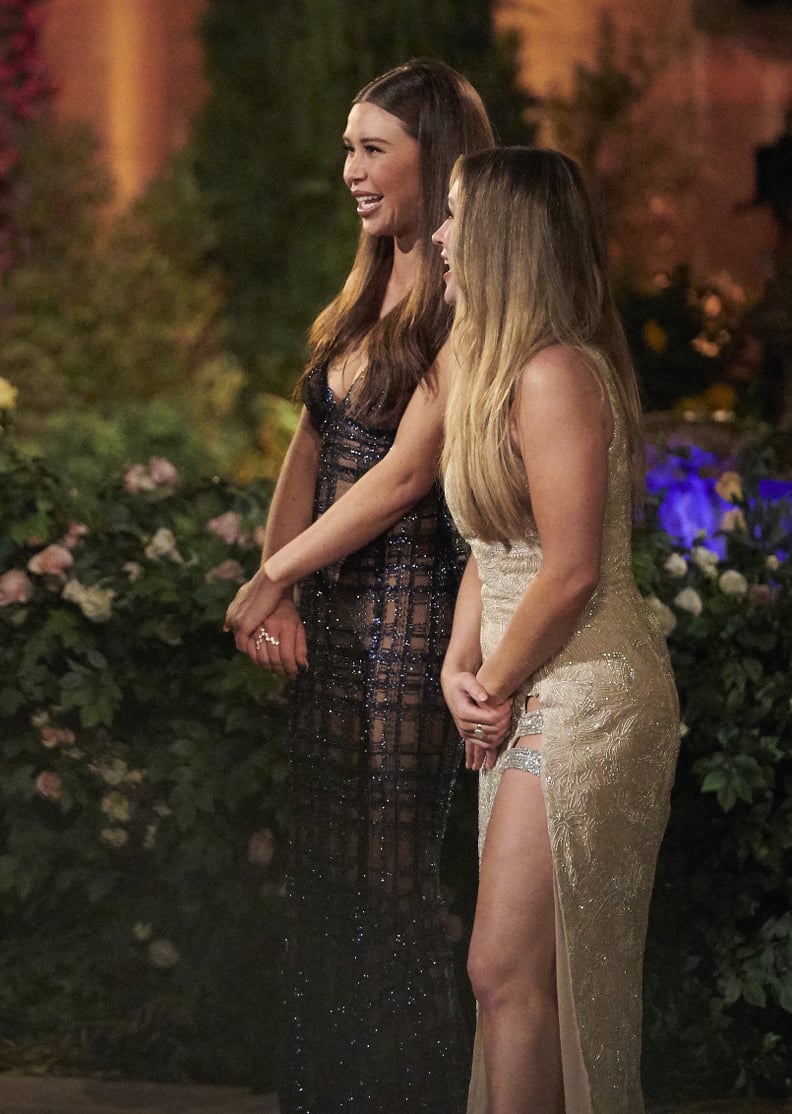 Gabby Windey and Rachel Recchia Wearing Randi Rahm on "The Bachelorette"
Windey told POPSUGAR she was going for a "scandalous" look in her midnight navy checked sequin gown with a plunging neckline and sheer panels. Recchia, on the other hand, chose a champagne-colored dress with a thigh-high slit secured by two eye-catching rhinestone straps. "I was really excited to wear something beaded," she explained. "I feel like I dress a little more conservative normally, but I did have the high slit, so that was fun." The slit gave way to a pair of Aquazzura Galactic Flower slingbacks ($1,183).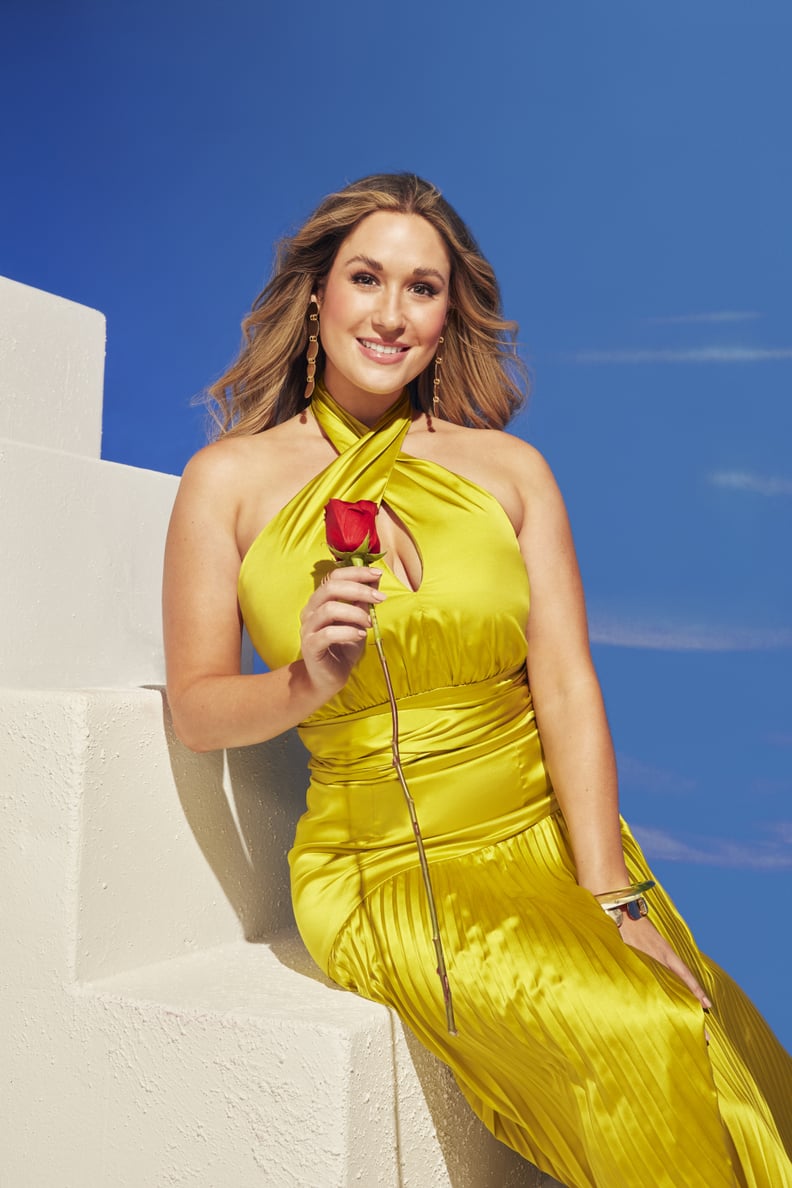 Rachel Recchia Wearing Amur on "The Bachelorette"
For promo photos, Recchia styled the Amur Dixon Halter Pleated Charmeuse Dress ($598) with white and brown leather wooden platform sandals, gold-plated disc drop earrings, bangles, and a diamond-encrusted stack ring.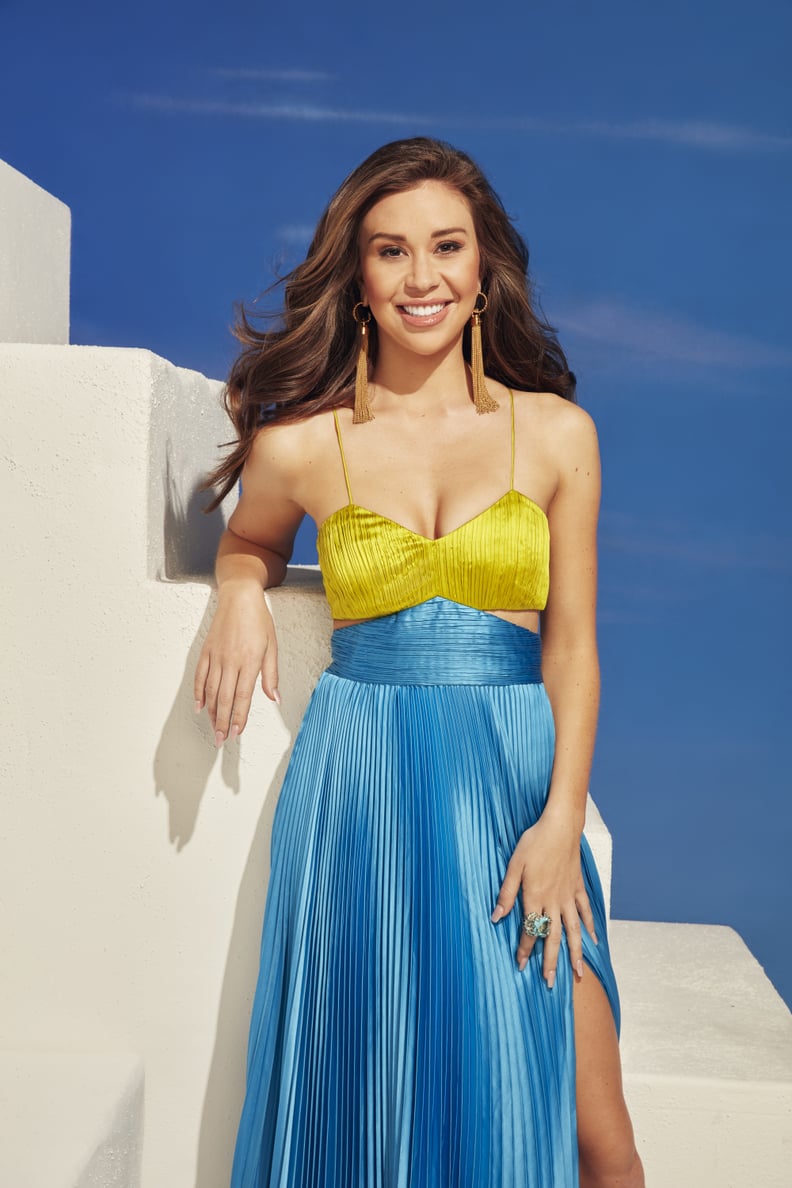 Gabby Windey Wearing Amur on "The Bachelorette"
Windey complemented the chartreuse tone of Recchia's dress with the Amur Elodie Cutout Pleated Satin Gown ($698), finishing her look with chain-link fringe hoop earrings, a chunky aquamarine gemstone ring, and yellow crystal-studded Celine sandals ($172, originally $245).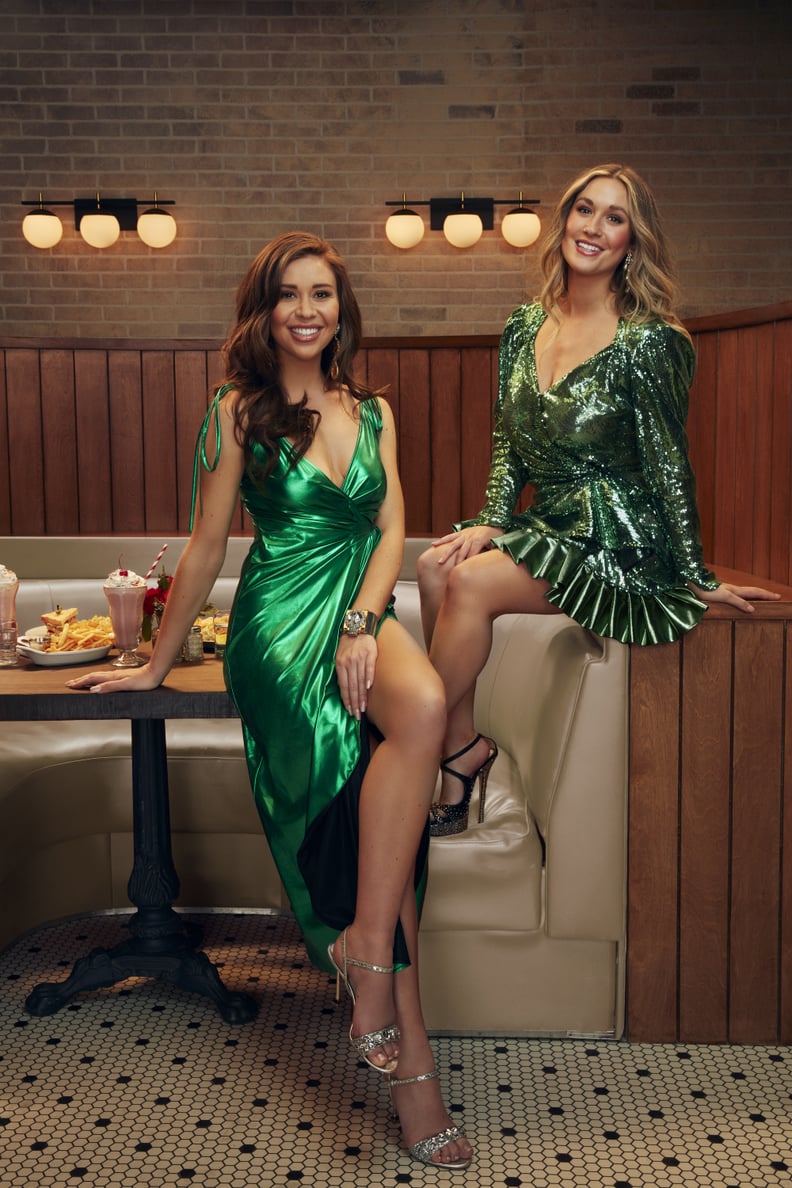 Gabby Windey and Rachel Recchia Wearing The Attico on "The Bachelorette"
For another round of promo pics, the duo chose emerald cocktail dresses from The Attico, with Windey in a lamé wrap midi dress ($513, originally $903) with tie shoulders and a gathered center and Recchia in a sequined mini with a ruffled hemline at the skirt. They both accessorized with chandelier statement earrings and glitter-encrusted sandals.