As POPSUGAR editors, we independently select and write about stuff we love and think you'll like too. If you buy a product we have recommended, we may receive affiliate commission, which in turn supports our work.
When it comes to iconic New York characters who have (either knowingly or not) influenced some of today's most prominent fashion trends, there are quite a few names you could include in the conversation. But long before Carrie Bradshaw and Blair Waldorf graced our TV screens as some of the city's chicest and most iconic characters, we'd argue that Eloise served as the blueprint — and as of late, TikTok seems to agree.
Through Kay Thompson's beloved novels, the sassy children's book heroine evolved into a literary giant with her series of merry misadventures around New York's most luxurious hotel. Now, with TikTok's latest Plazacore trend, avid readers and preppy fashion-lovers alike are honoring the precocious drama queen with an aesthetic of her own, and we're totally here for it.
Unlike TikTok's other kitschy and hilariously specific aesthetics (we're looking at you, Barbiecore), it's actually incredibly easy to tap into the Plazacore trend this fall — no luxury hotel stay or extended residency at The Plaza required! From tweed jackets and miniskirts to hotel slippers, chunky Mary Jane loafers, collared blouses, evening bags, and statement headbands galore, the Plazacore aesthetic is oozing with polished and preppy styles aplenty that are not only totally on trend for the new season but also available to shop on the cheap (love that for us!).
Ahead, we've rounded up the best Plazacore fashion pieces to shop for under $100. Even long after the Plazacore aesthetic fades, we're convinced you'll still be reaching for these polished pieces year after year.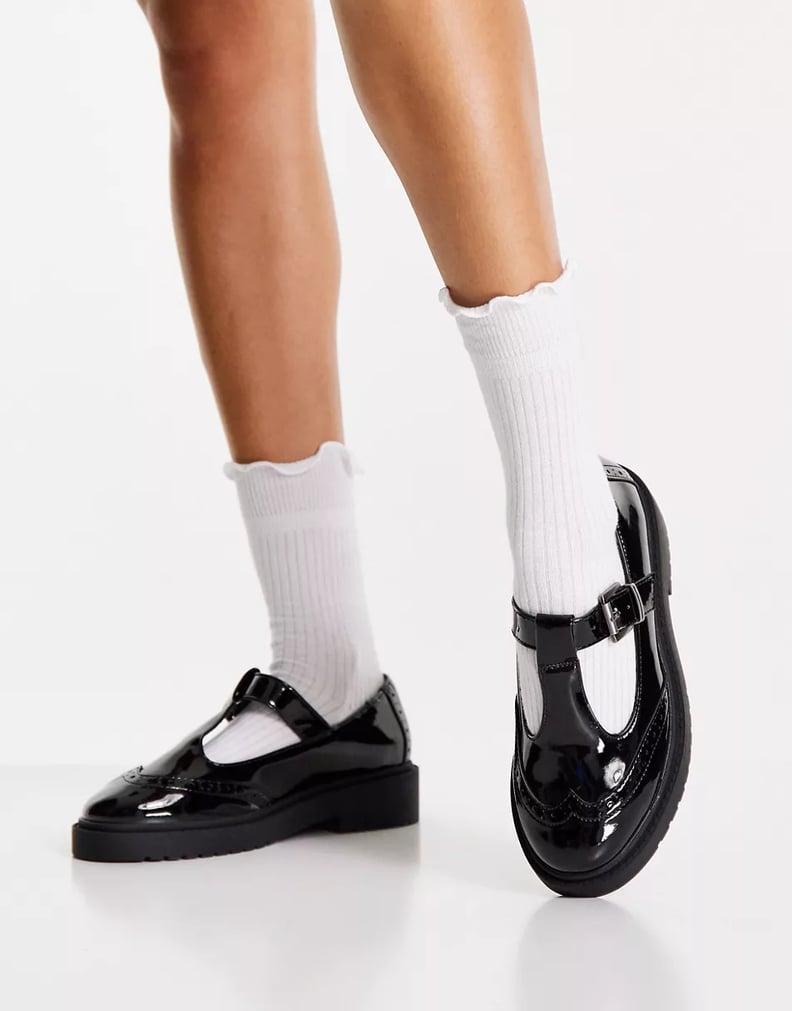 A Polished Shoe: ASOS Design Chunky Mary-Jane Flats
Keeping in line with the polished and preppy vibe of the Plazacore aesthetic, chunky loafers and Mary Jane flats have emerged as the shoes most predicted to dominate the trend — and for good reason. We love the playful appeal of these ASOS Design Chunky Mary-Jane Flats ($42) in particular, because the style oozes a classic, '90s-schoolgirl aesthetic that's as nostalgic as it is timeless. The glossy, black patent material also completes the chunky loafer flats with a more eye-catching design.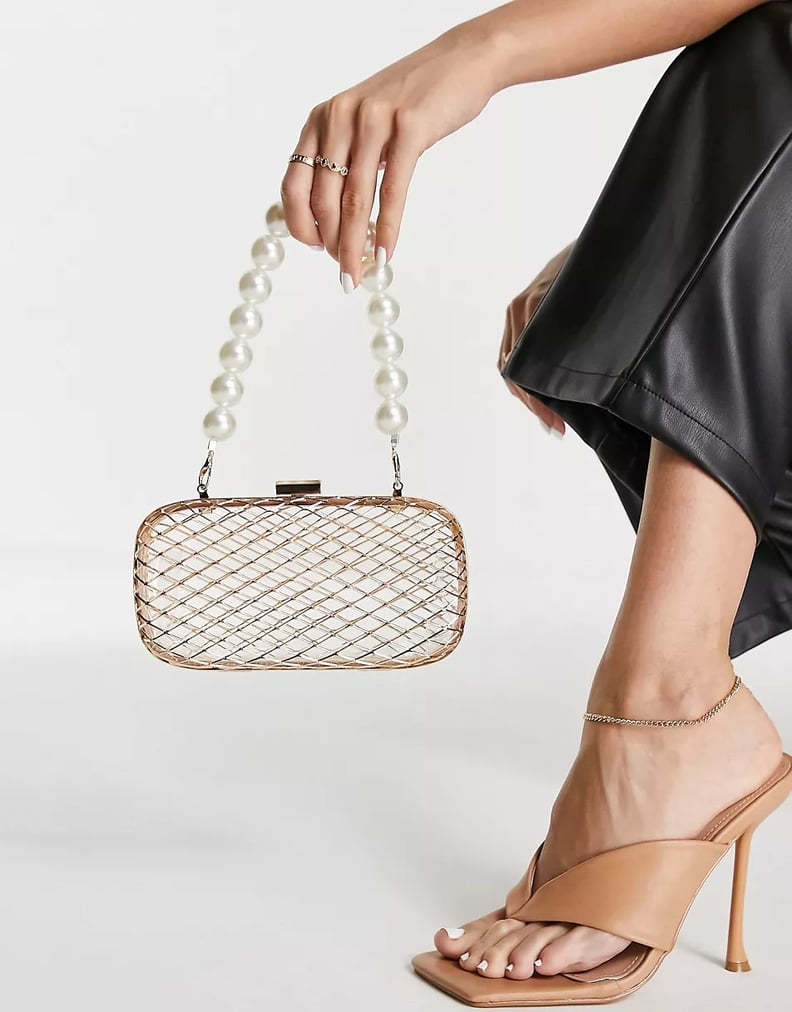 An Evening Bag: ASOS Design Caged Clutch Bag
In theory, Eloise wasn't exactly carrying around luxe evening bags and pearl-adorned clutches while frolicking around The Plaza. That being said, her style (as with most iconic New York characters) was incredibly regal and classic. Few fashion pieces embody that aesthetic better than this ASOS Design Caged Clutch Bag ($45), which features a structured cage design and exquisite pearl handle.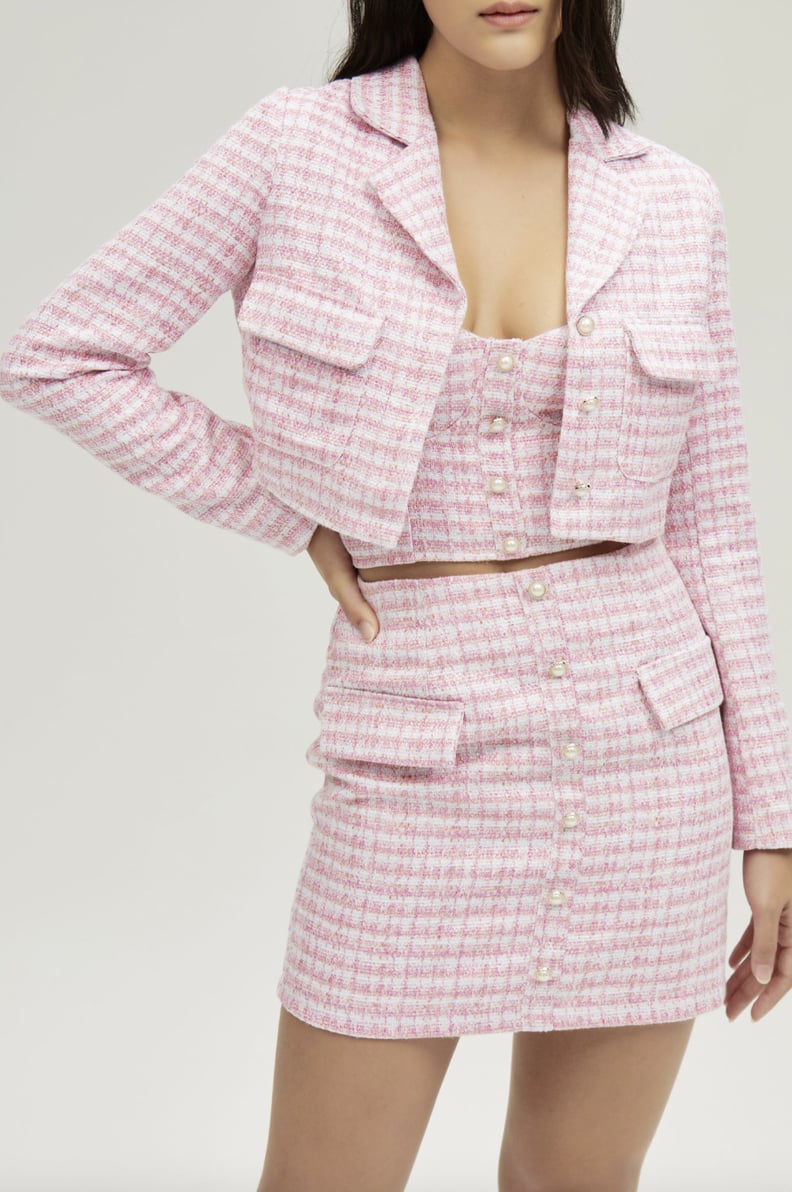 A Tweed Set: Cider Pink Lady Tweed Blazer and Skirt Set
Nothing screams Plazacore more than a matching tweed set like this bubblegum-pink Cider Pink Lady Tweed Blazer ($32) and Cider Pink Lady Button Up Skirt ($24). The style is so feminine and chic, with a dainty light-pink coloring, pearl buttons, and side pocket design. Whether you're wearing it out to brunch, afternoon tea at The Plaza, or just a formal work event, you'll more than likely turn heads and make a seriously trendy statement.
A Regal Accessory: Anthropologie Embellished Headband
This Anthropologie Embellished Headband ($28) is giving a mix between Eloise and Blair Waldorf — and we're totally here for it. Headbands are such a timeless accessory, as they help to elevate any outfit with a more subtle and regal touch. Plus, if you're having a bad hair day (it happens!), this jeweled accessory will help you to pull your hair back and become the central part of your look.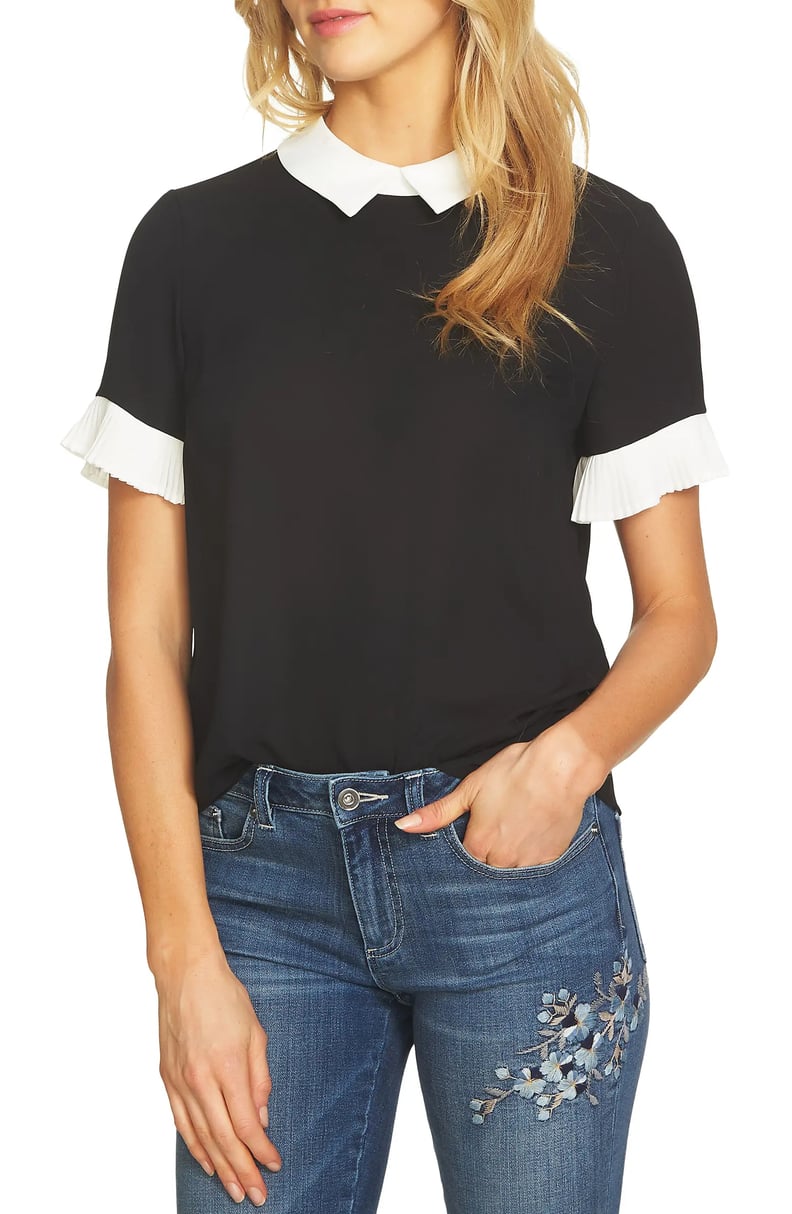 A Collared Top: CeCe Pleat Sleeve Collared Crepe Blouse
Nothing says "polished" quite like a collared top — especially if it's as chic as this black-and-white CeCe Pleat Sleeve Collared Crepe Blouse ($63, originally $79). The smart style features pleated cuffs and a versatile colorblock design. We'd love styling this prim piece with statement trousers for a more robust office ensemble, or even with jeans for a relaxed (yet elegant!) daytime outfit.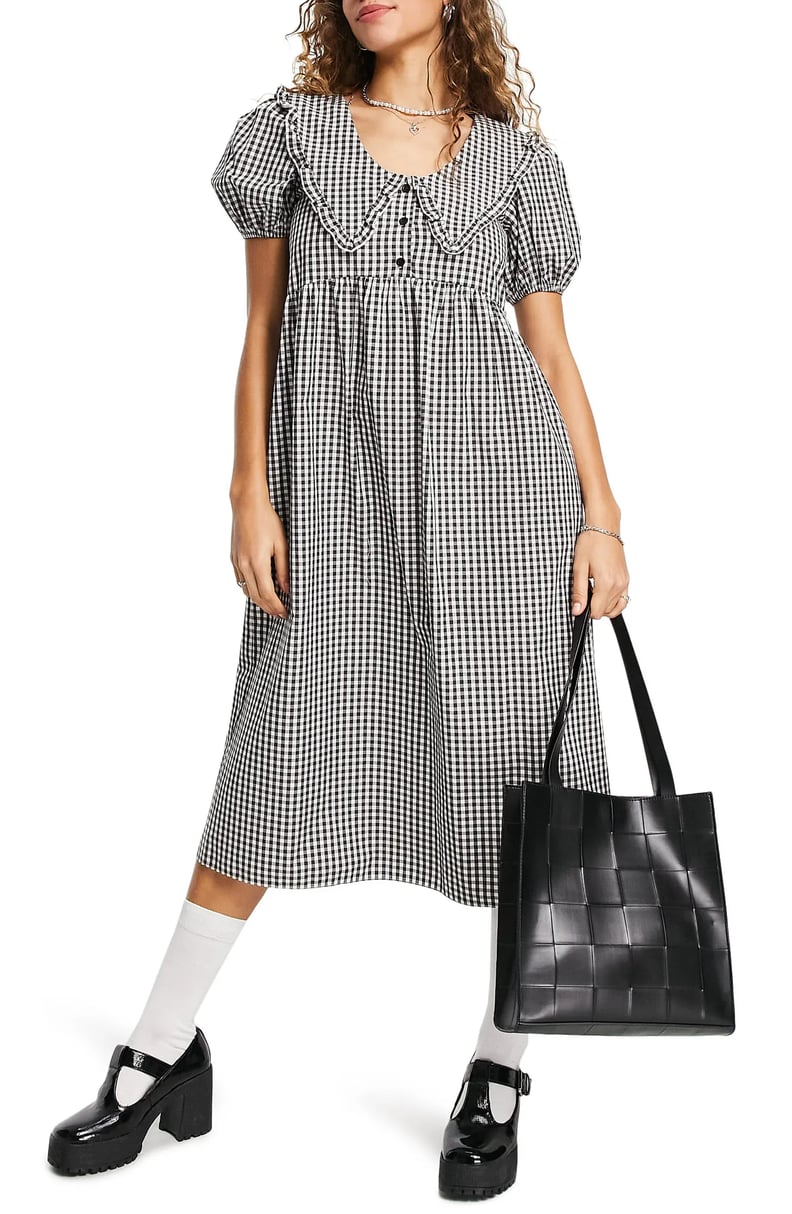 A Flounced Dress: Topshop Gingham Puff Sleeve Midi Dress
It really doesn't get more darling than this Topshop Gingham Puff Sleeve Midi Dress ($42, originally $84). From the collared top and puff sleeves to the black-and-white gingham design and flounced silhouette, everything about this gown feels as if it's primed for the most formal wear. Pair it with chunky loafers and knee-high socks for the most polished ensemble that's perfect to wear in truly any season — though we're partial to fall in particular.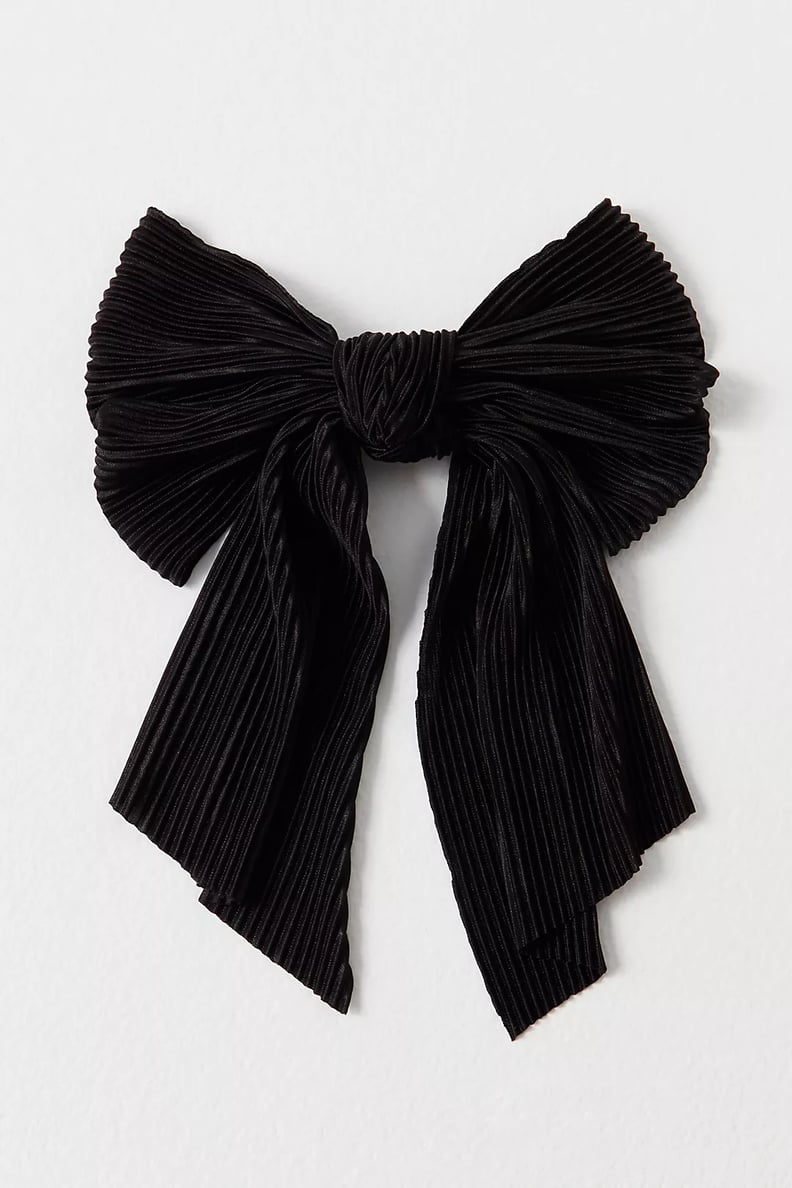 A Timeless Bow: Free People Yoko Bow
While a statement bow has always been a timeless hairpiece, the accessory has been given new life these days thanks to the Plazacore aesthetic trend. If you're looking for a breezy day-to-night look, this Free People Yoko Bow ($24) will help you to easily pull your hair back while still looking elevated and refined with the dainty hair accessory. We're convinced this is a piece you'll be reaching for all fall long and even style well into spring, too.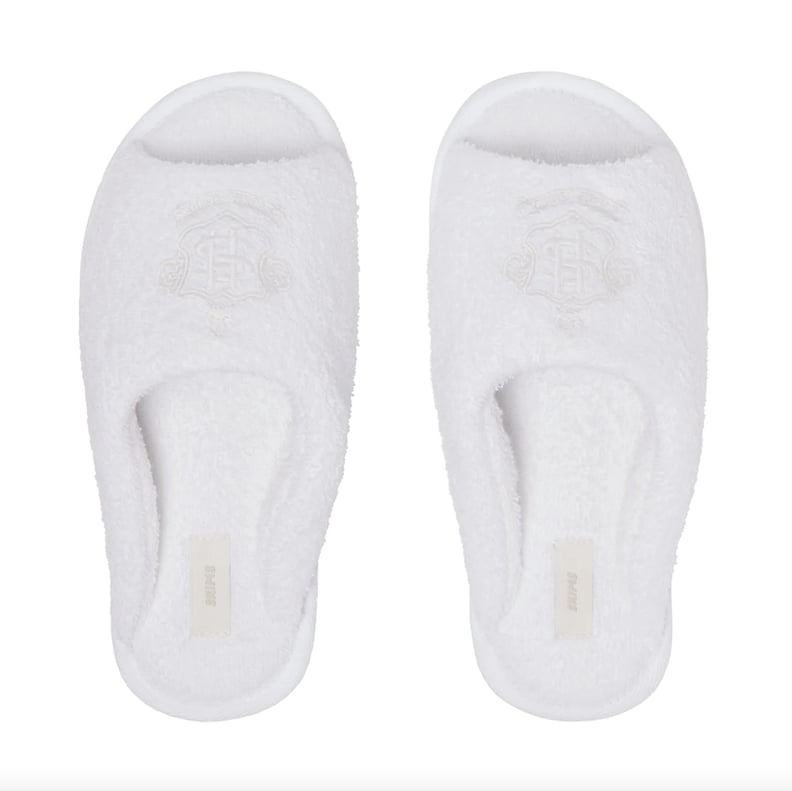 A Hotel-Friendly Shoe: Skims Hotel Slipper
Perhaps we can't all live in a luxurious and iconic hotel full-time like Eloise, but thanks to this cult-favorite Skims Hotel Slipper ($48) from Kim Kardashian's shapewear brand, you can at least feel like you do! This particular slipper is designed from a soft terry fabrication that's as plush as it is stylish. Who knew bedtime wear could be so chic?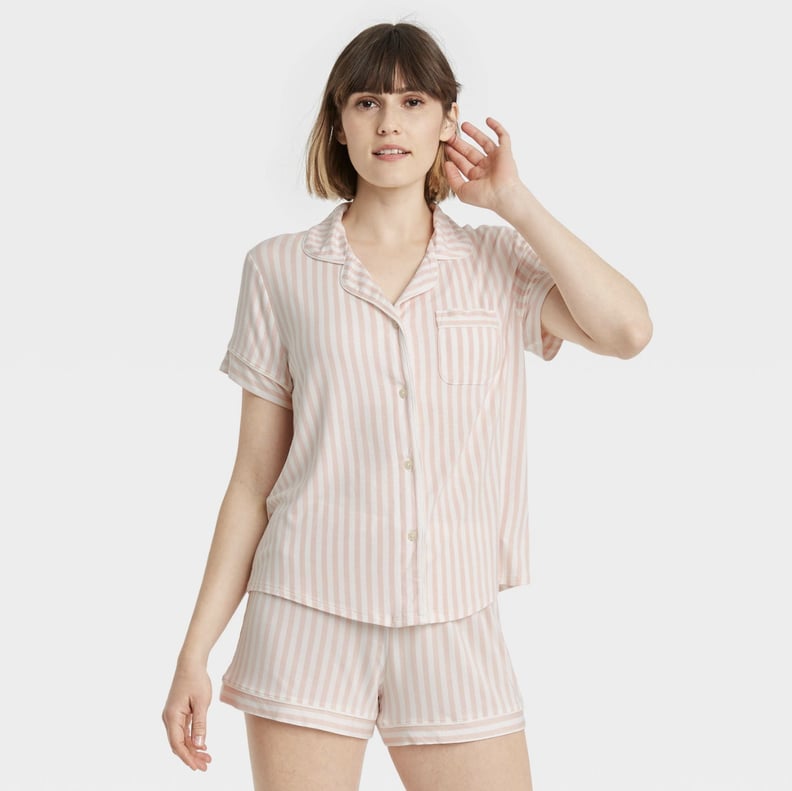 A Preppy Sleepwear Style: Target Soft Notch Collar Pajama Set
For us, fashion is a full-time obsession — which means even our sleeping attire is primed to match the season's biggest trends and aesthetics. This striped Target Soft Notch Collar Pajama Set ($22) oozes the same polished and classically chic essence that first made us fall in love with the Plazacore aesthetic. The breathable set is designed for all-night comfort, thanks to its modal-blend fabric composition. Plus, the pajama style is also available to shop in a number of chic, Plazacore-friendly colors.