Catherine O'Hara Lounging Poolside For a Drone Photo Shoot Is the Ultimate Summer Mood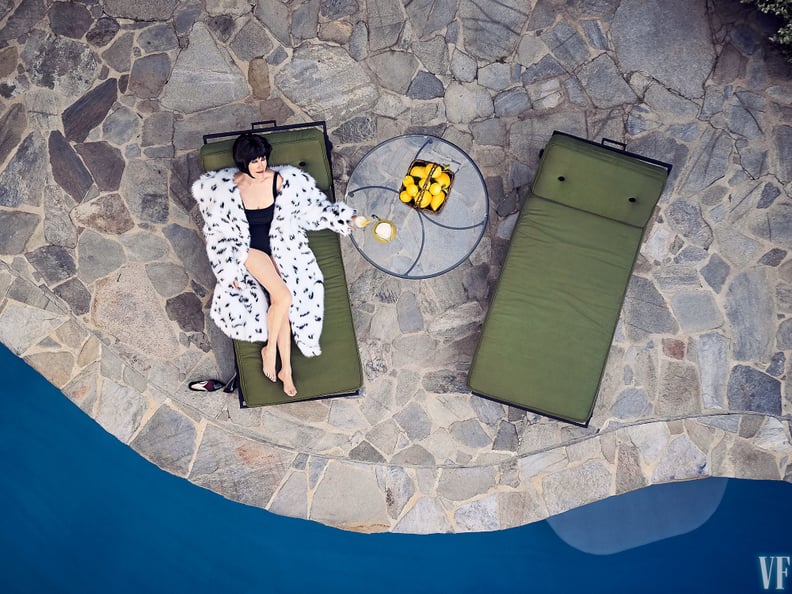 Art Streiber | Vanity Fair
Art Streiber | Vanity Fair
Leave it to Catherine O'Hara to flawlessly encapsulate the exact level of extra I'm trying to be this summer — with an at-home spin, of course. For Vanity Fair's June issue, the Schitt's Creek star got in touch with her inner Moira Rose, posing for a glamorous photo shoot captured via drone. And yes, multiple wigs and fancy clothes were involved. I mean, does it get much more quintessentially Moira than that?!
The iconic actress suited up in various luxe outfits, including both designer pieces and items from her personal closet, for the shoot, which took place in her spacious, woodsy backyard. While lounging poolside for the frame-worthy drone snaps, Catherine looked divine in a speckled Cruella de Vil-esque fur coat by Balenciaga, worn with her own black one-piece swimsuit and a black bob wig reminiscent of the one Moira wears for her Jazzagals audition. Later on, posing for socially distant pictures by her lemon tree, she rocked a hot-pink Balenciaga jacket with her own black boots and a short platinum-blond hairpiece much like Moira's wig from the (canceled) Poison concert episode in season five. Oh, the memories!
During the magazine spread's interview, Catherine opened up about her time as the Rose family's matriarch, her many auditions gone wrong, and so much more. Head to Vanity Fair's website to read the full story and see even more stunning snaps from the star's aspirational backyard photo shoot.