Christine Quinn's 9 Wildest Designer Outfits in "Selling Sunset" Season 5
LA real estate agent Christine Quinn's aesthetic has been described as many things. Her stylist, Kat Gosik, calls it "camp." Chelsea Lazkani, her friend and the newest addition to "Selling Sunset," describes it as "pinup," telling POPSUGAR, "[Quinn] looks like a pinup doll. I could literally just create a doll of her and put her somewhere in my house."
Indeed, Quinn is known for her penchant for office drama and her over-the-top wardrobe. She often wears bright, voluminous pieces and kitschy accessories, sourcing looks from brands like Balmain, Gucci, Area, and Chanel. Quinn and Gosik, who have been working together since October 2020, also incorporate lower-end pieces into the rotation, like pink butterfly glasses from PrettyLittleThing and green PVC pumps from Quinn's own ShoeDazzle collection.
"[Christine] looks like a pinup doll. I could literally just create a doll of her and put her somewhere in my house."
No matter the brand, Quinn is always game to experiment — even if it causes her pain. "She doesn't mind wearing heels and doesn't mind wearing pieces that are uncomfortable," Gosik told WWD. "To get the look, she'll do it. I've worked with other people that, if the outfit's not comfortable, they don't want to wear it. Christine is like, 'I'll do anything for the look.'"
As far as popular trends go, you'll see Quinn channeling the Y2K fashion aesthetic frequently, affixing mini butterfly clips into her hair for a beach day or donning embellished sunglasses and gloves for brunch.
Ahead, find Quinn's best looks from season five of Netflix's "Selling Sunset," which is streaming now.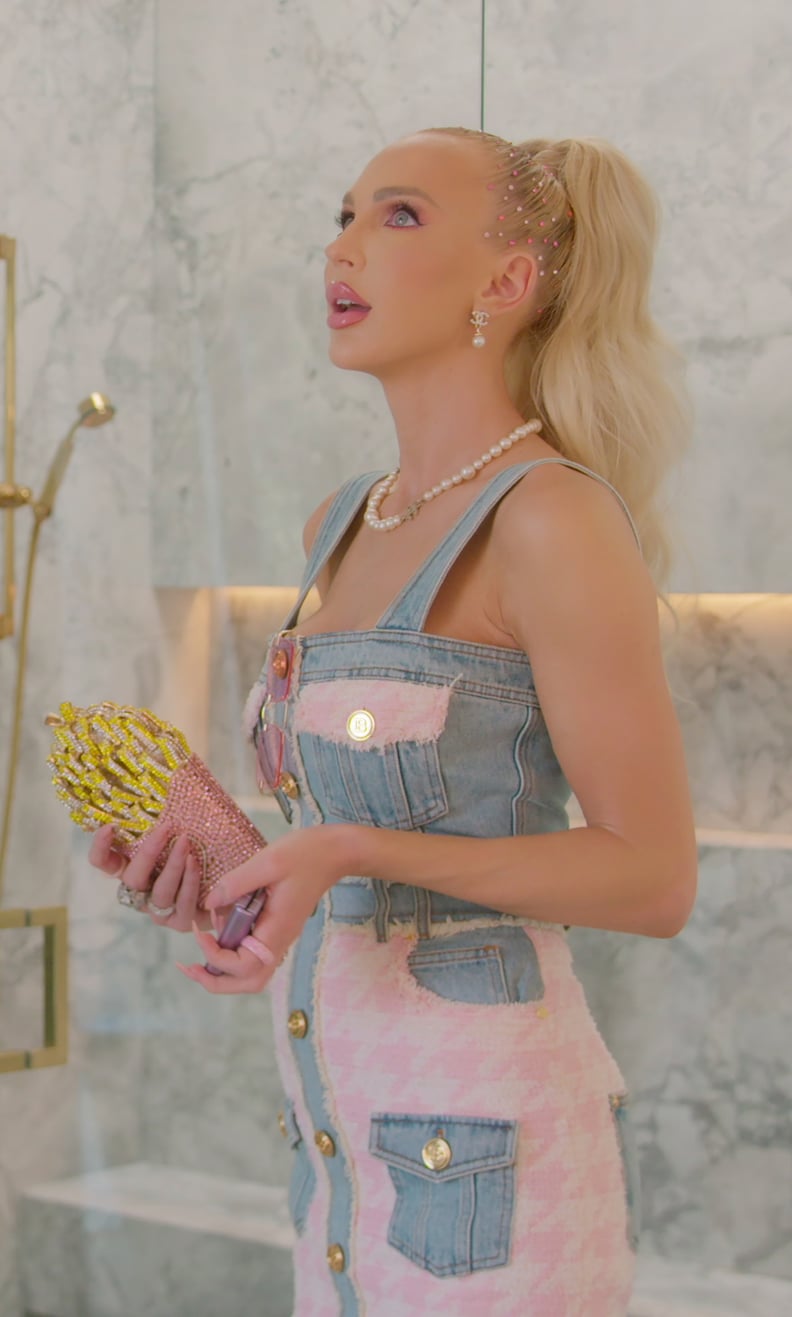 Christine Quinn Wearing Balmain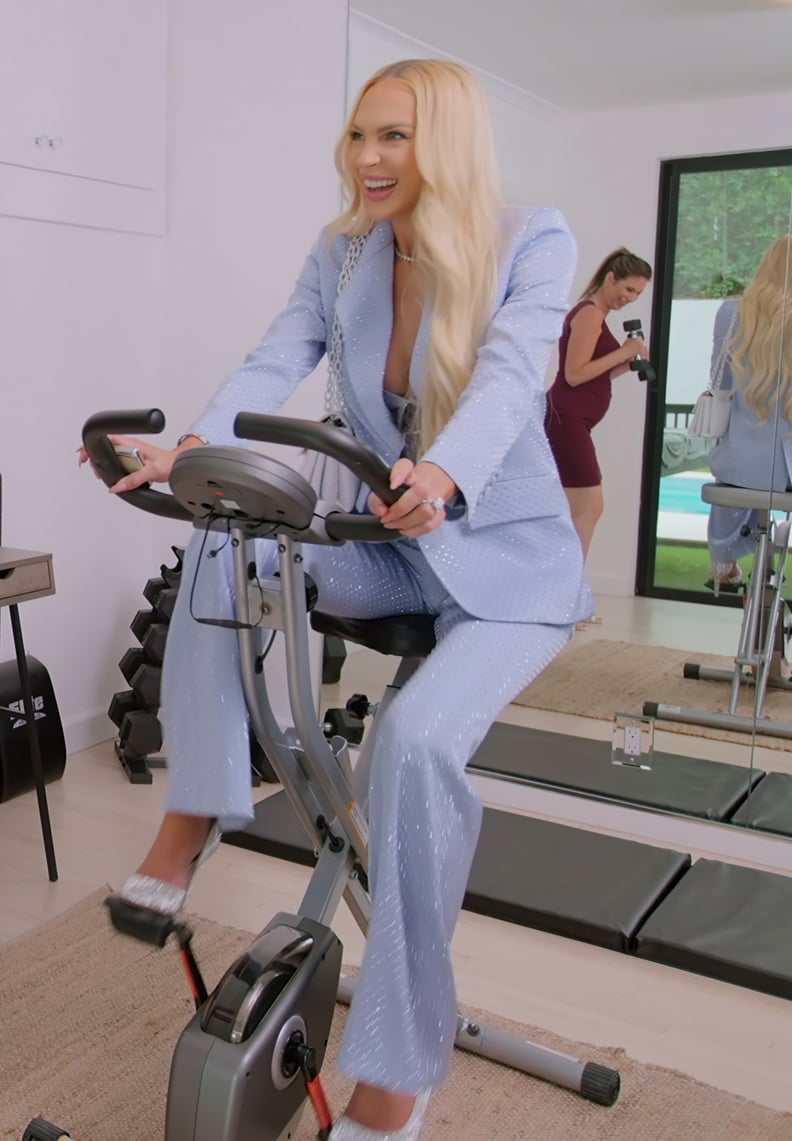 Christine Quinn Wearing Nadine Merabi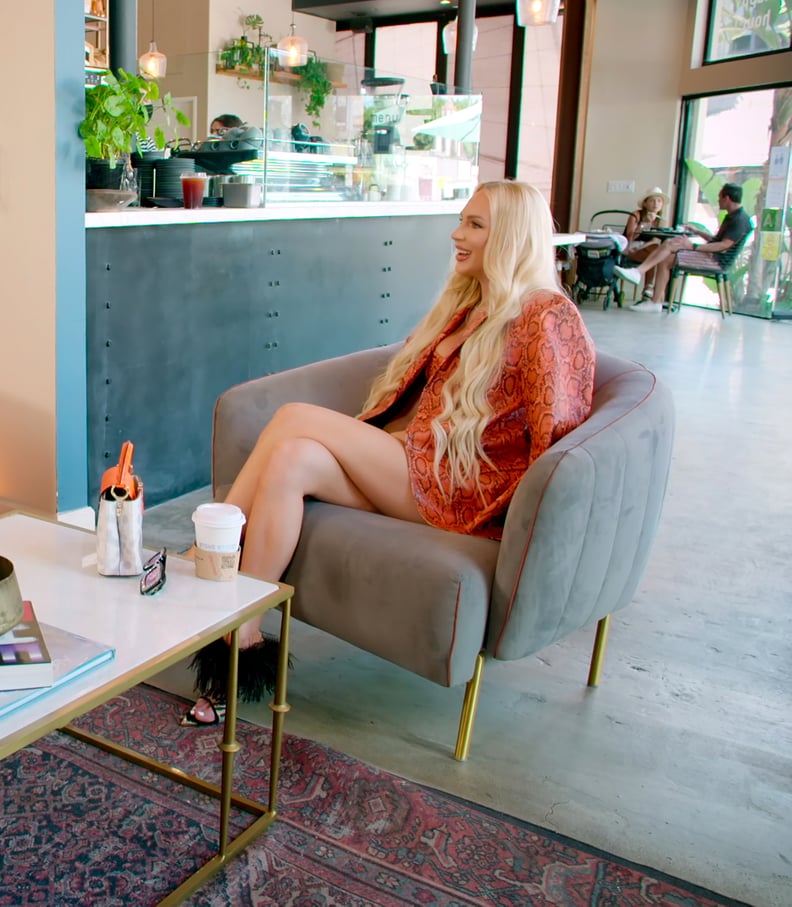 Christine Quinn Wearing Miscreants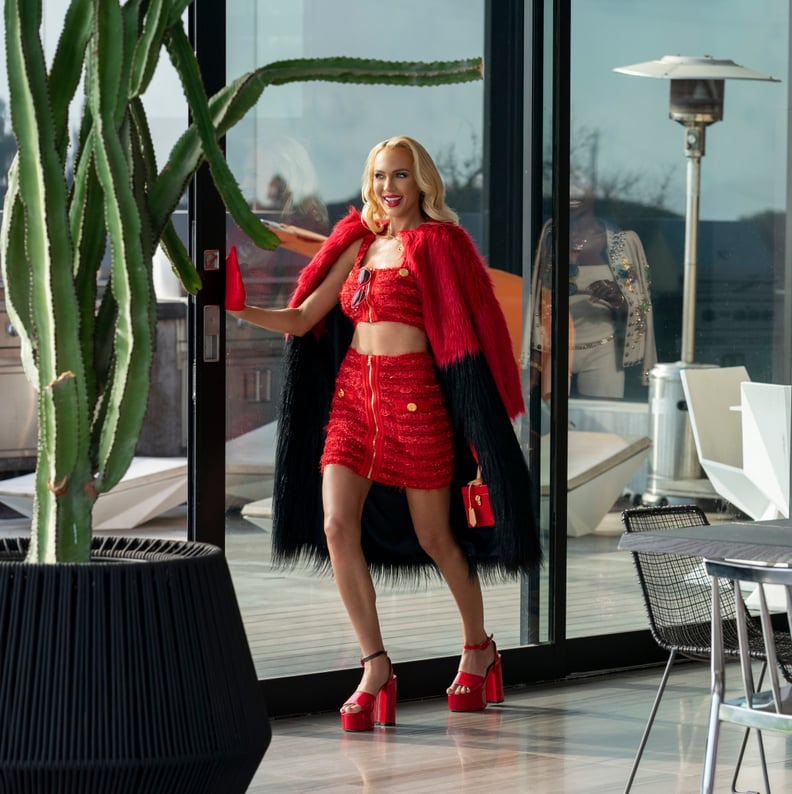 Christine Quinn Wearing Balmain
Quinn's red zipper-front Balmain set was complemented by a pair of Kerry Parker hand gloves, a furry red-and-black coat, Lamoda platforms, Tom Ford sunglasses, and a Louis Vuitton Bleeker box bag.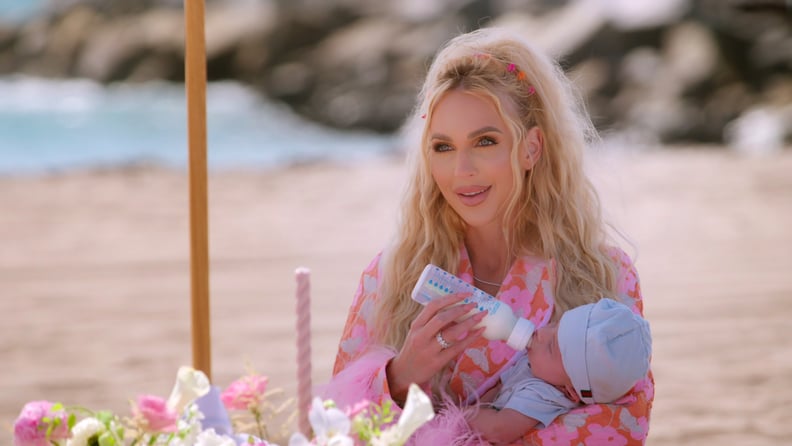 Christine Quinn Wearing Andreeva
For beach day, Quinn glams up her floral jacquard skirt set with orange and pink butterfly clips in her hair and Loewe x Paula's Ibiza sunglasses. Her son Christian sports a Gucci cap to coordinate with the Gucci kids backpack and matching diaper bag she carries during this scene.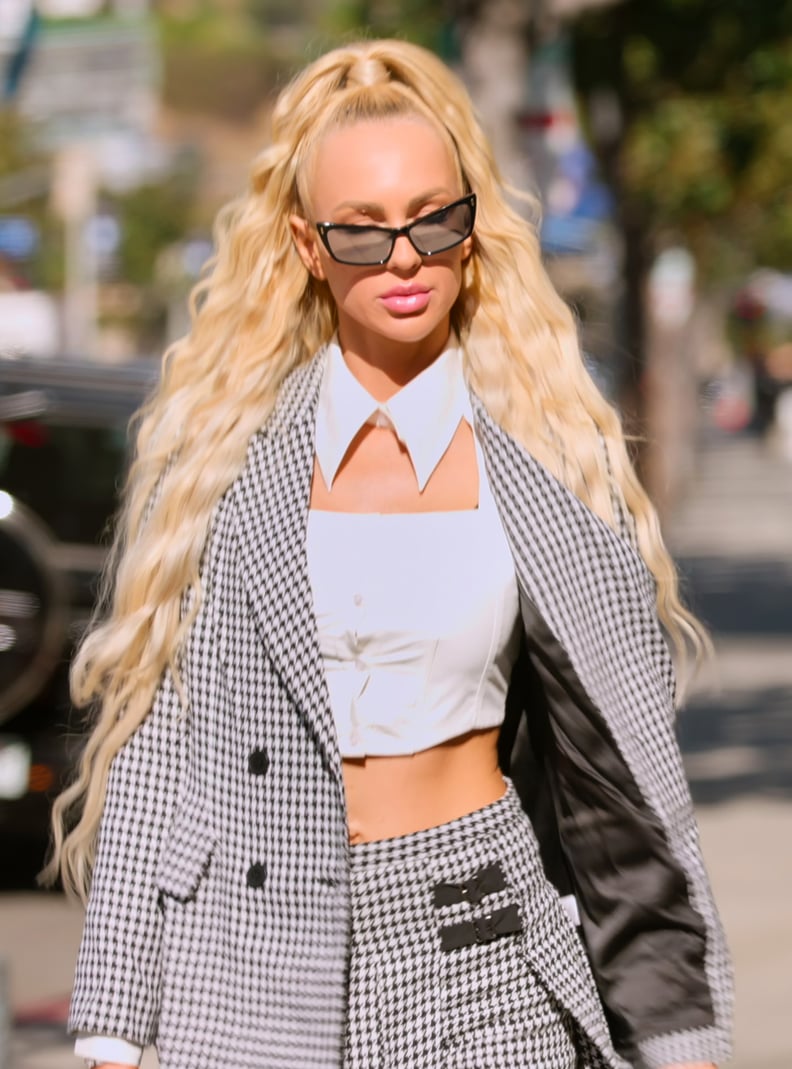 Christine Quinn Wearing Amanda Uprichard x Revolve
Quinn completed her houndstooth skirt set, available at Revolve, with a cutout bustier-style collared top and slanted Gucci glasses for a trip to the Oppenheim office.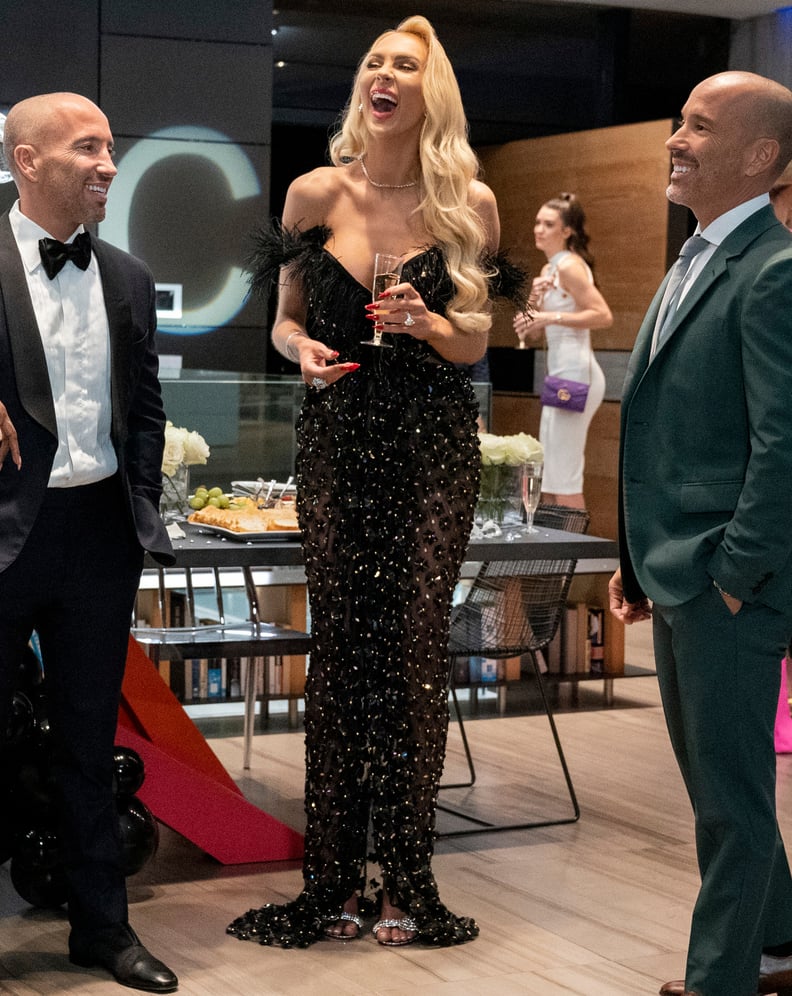 Christine Quinn Wearing a Black Sheer Gown
Quinn's gown for the champagne-and-caviar party is a sight to behold, with its floral appliqué, feathered bodice, and rhinestone embellishment. Quinn completed the look with a diamond choker necklace and knot-strap sandals.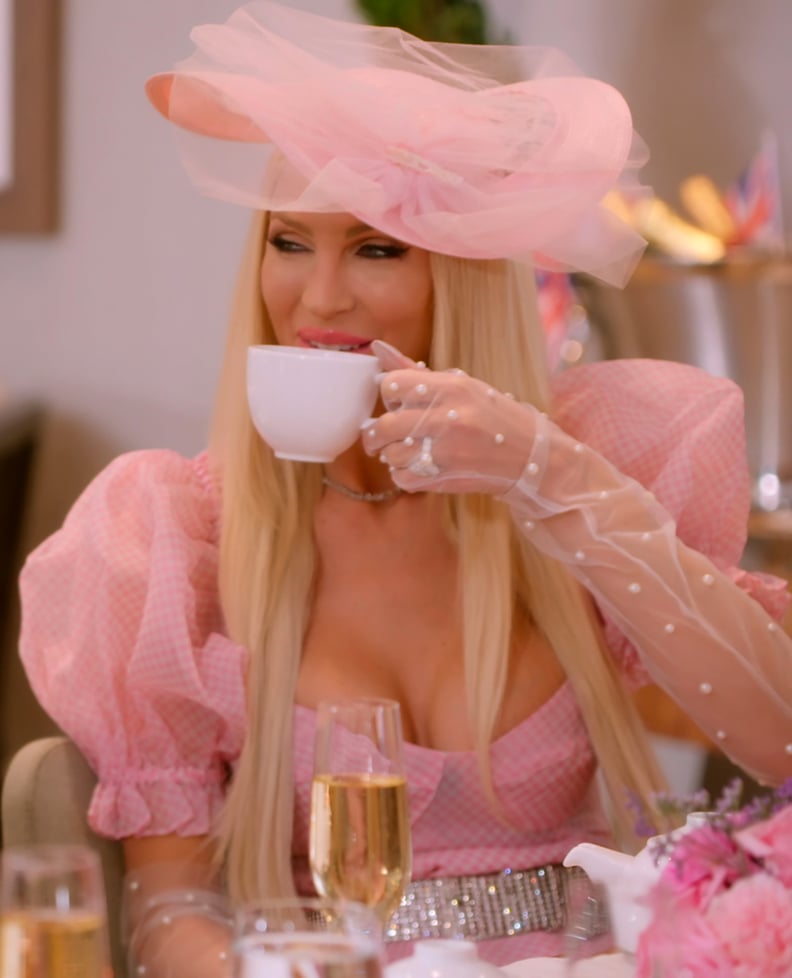 Christine Quinn Wearing a Pink Houndstooth Dress
For tea, Quinn tacked some kitschy accessories onto her pouf-sleeved dress, including pearl-finished sheer gloves, a tulle fascinator, a pearl ring, and a rhinestone belt.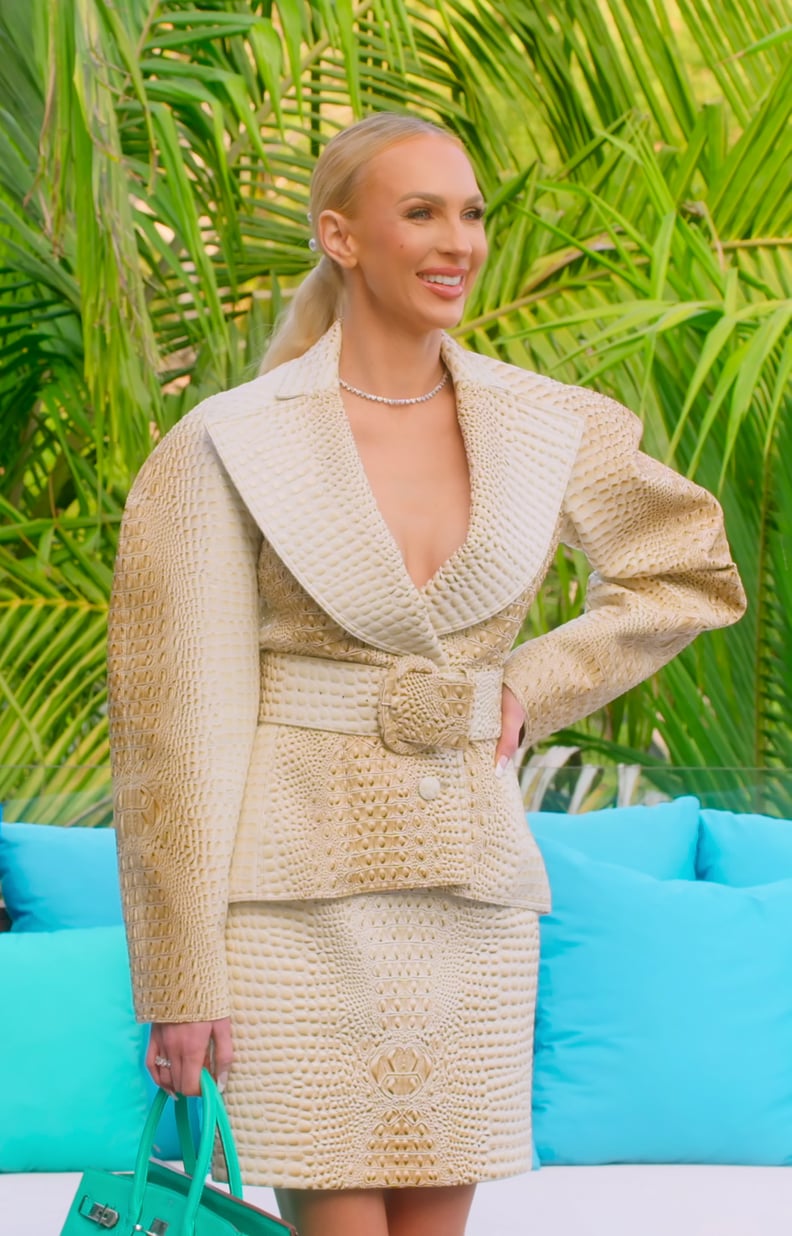 Christine Quinn Wearing Christian Siriano
Quinn accessorized her Siriano skirt suit with a seafoam Hermès bag, a heart-shaped diamond choker, and heels from her ShoeDazzle collection.