Blending the Beauty of Culture and Fashion: Milan Mathew on Honoring Her Desi Heritage
Ever changing, our personal style is a reflection of what we feel, who we are, and who we aspire to be. For Malayali Indian American fashion blogger and model Milan Mathew, her style is a way to spread the word that no one should be embarrassed of their culture. "Growing up, so many kids have been bullied for being Indian. What we wear, what we eat, what we sound like, what our parents do," she told POPSUGAR. "And I have broken that cycle . . . Our culture is so beautiful. Be confident and be proud and loud about it."
Though her style ranges from sporty to elegant, Milan loves to incorporate pieces of her Desi culture into her outfits — from jhumki earrings to her bindi — and she got a taste of fame when her take on the "Hot Seat" challenge went viral. "I just felt my faith in humanity restored, because there were so many communities joining in on it from all parts of the world," Milan said of the multiple women who took inspiration from her video to share outfits from their own cultures. "I just liked that it wasn't about just one culture. It was about everyone seeing everyone's culture. And in a few seconds you're able to learn so much."
"Every culture deserves to have their own spotlight. And just because yours is different looking than someone else's doesn't mean it's any less important or beautiful."
On TikTok, the APIA trailblazer takes her love for her heritage to the next level by answering respectful questions from curious fans about how to apply a tikka headpiece, the significance of a pottu dot, and more. "I feel happy that more people are able to learn more about my culture and what we wear and the meaning behind things and whether to appropriate or what is appropriation," she said. "There's such a thin line between appreciation and appropriation, [but] it's good to know that people are curious about it and they're willing to learn."
In college, Milan realized that other Indian American students didn't feel the same outward pride for their culture as she did, which is why her goal in making these videos is to inspire people of all cultural backgrounds to be proud of their heritage, a message that fans have been receiving well. "They're like, 'I'm so grateful for your videos. You've made me realize, my culture is beautiful,'" she said. "I'm just so happy to hear kids, young adults be like, 'Oh, I see the truth now. I'm not hiding any longer.' It's really a beautiful thing . . . Every culture deserves to have their own spotlight. And just because yours is different looking than someone else's doesn't mean it's any less important or beautiful."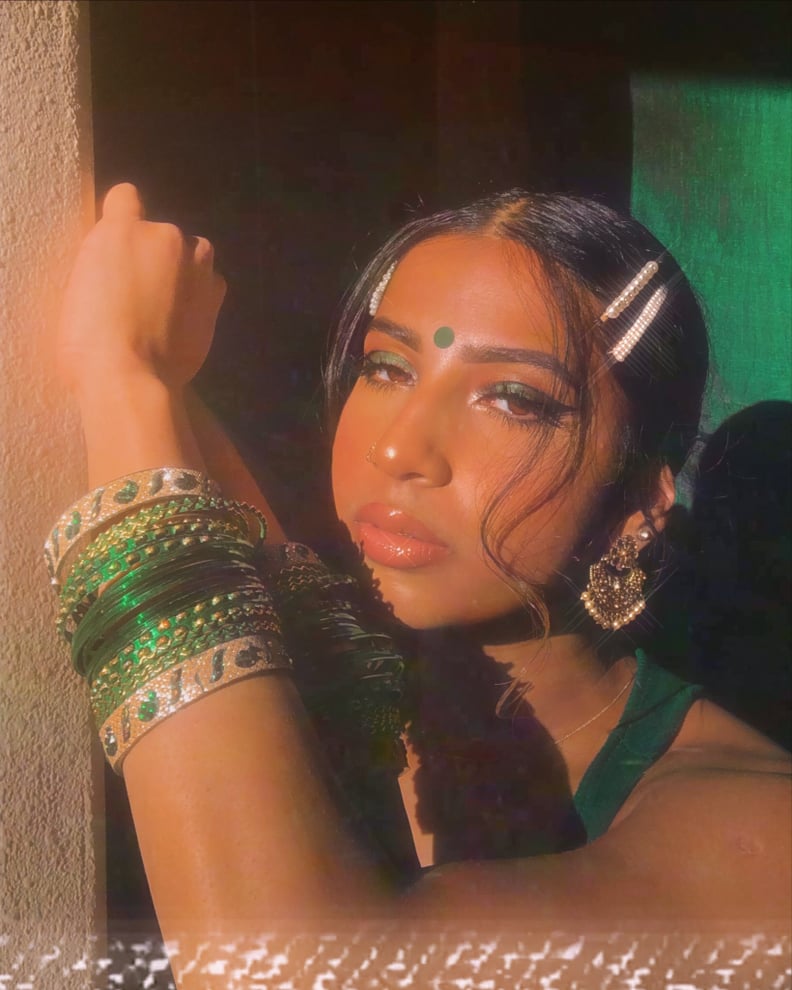 Milan appreciates that there are more creators of color in the fashion space now than when she first joined TikTok. In fact, some of her favorite APIA-run brands and businesses include Tamanna The Label, Kanyä London, Live Tinted, Aavrani, Bili Beauty, and Indiatrend. But she also hopes to see that representation expand beyond social media to TV, to movies, and across society as a whole. "Something I really like is when creators mix everything," she said. "Your page doesn't have to be just that you're part of the Asian community. We do everything. There's dancers, there are artists, there are singers, there's comedians . . . Sometimes people want you to be in a box, and it's like, 'No, we are so much more than the box that people want to put us in.'"
"I want people to be confident in who they are and not to hide themselves."
For this reason, she encourages creators — regardless of follower counts — to share parts of their heritage online and add to the conversation. "You can have zero followers and still go viral and people are learning. So when platforms like [TikTok] exist, I feel as a community, we're all just representation on a smaller scale, becoming bigger scale," she said, citing Nabela Noor and Rowi Singh as some of her favorite APIA creators. "I want people to be confident in who they are and not to hide themselves. Above all just good vibes. I want them to have a good time and know that they don't need to hide who they are."
From cutting clothes for her Barbies and Bratz dolls as a kid to designing her own merch, which she hopes to have out later this year, Milan has made great strides in the fashion space. After climbing to the top without the support other influencers often receive, Milan says her ultimate goal is to pay it forward and provide support for other young people who had to overcome the same challenges she did.
"A huge goal of mine, as I'm growing my platform, is I want to start a foundation and fund young adults who don't know what they want to do, and help give them a space like, 'Hey, it's OK to dream, and I've got you financially. Focus on working hard, and I have the rest,'" she said. "I just want to help people in a good way . . . I just want to be that person for them."
See some of Milan's most popular — and educational — TikToks here.
Milan Mathew's Viral Hot Seat Challenge
How Milan Drapes Her Saree With Her Mom's Help
How Milan Drapes Her Saree Without Her Mom's Help
Milan Mathew Explains the Meaning Behind a Pottu, aka a Bindi
Milan Mathew's Thoughts on Cultural Appropriation vs. Appreciation
Milan Mathew's Hogwarts Houses Challenge (Brown Girl Version)