If you're watching Kevin Can F**k Himself, AMC's new dark comedy series starring Annie Murphy, you've surely tried to draw connections to her famous Schitt's Creek character Alexis Rose. Is there anything that drained and distracted housewife Allison does that seems a little bit Alexis? Anything at all? Well for starters, 34-year-old Murphy shares the same first initial with both her characters Alexis and Allison, and this is made increasingly clear in episode one of KCFH when she's on screen wearing a monogram "A" necklace similar to the one she wears in Schitt's Creek (though this one is a bit more dingy).
Allison, who's from Worcester, MA, is fed up with her husband Kevin's childlike behavior and dreaming of a better life. Throughout the show, her colorful sweaters (which costume designer Carol Cutshall curated from Bloomingdale's, Saks Fifth Avenue, Goodwill, and Savers) grow increasingly saturated and bright, while her denim is formfitting — she's got one designer pair that show creator Valerie Armstrong ensures me is most definitely from Marshalls, as well as formfitting skinny jeans from Old Navy to reflect the male gaze.
"Annie showed me the most wonderful photo of herself as a little girl with her own 'A' necklace. Then we had to do it."
All of these outfit details were purposeful, but especially the aforementioned necklace. "I was looking to make her someone who has jewelry no one would buy. She doesn't have anything that anybody put any thought into giving her. I searched for jewelry that looked down enough and that we could make look tarnished and really, really sad," Cutshall told me. But I pressed on. Was the necklace's link to Schitt's Creek ever addressed? "It wasn't something we didn't discuss. I brought that necklace in and we acknowledged, 'OK, there is the same necklace. This is a thing and we can do this. It's OK, it can be a thread.' Annie showed me the most wonderful photo of herself as a little girl with her own "A" necklace. Then we had to do it. We pushed it and we went for it."
When I talked to Armstrong about writing the characters on KCFH, she stressed the importance of choosing the name Allison. "It's a total coincidence that Allison has the same initials as Annie, but I was just trying to write people who I knew with not-very-cool names. When I watch TV shows, every adult character has names that are popular now with kids, which doesn't ring true to me. I grew up with a bunch of Stephanies and Dianas, so with Allison, I thought, 'What's a name where there were at least five in my grade?'"
Armstrong confirmed that working with Cutshall to bring Allison to life was a treat. "I could express my vision for the show and say, 'I don't know what that means fashion-wise, but I trust you to.' She would come back to me and say, 'Yes, Allison should be wearing this A necklace because it's kind of terrible.'" Terrible, maybe, but also a pretty brilliant connection to one Lamborghini-driving Hollywood star Alexis Rose. Ahead, see Annie Murphy bring both "A" necklaces to the spotlight on TV, and please note that she also wears them IRL, like on Fallon and at the Emmys.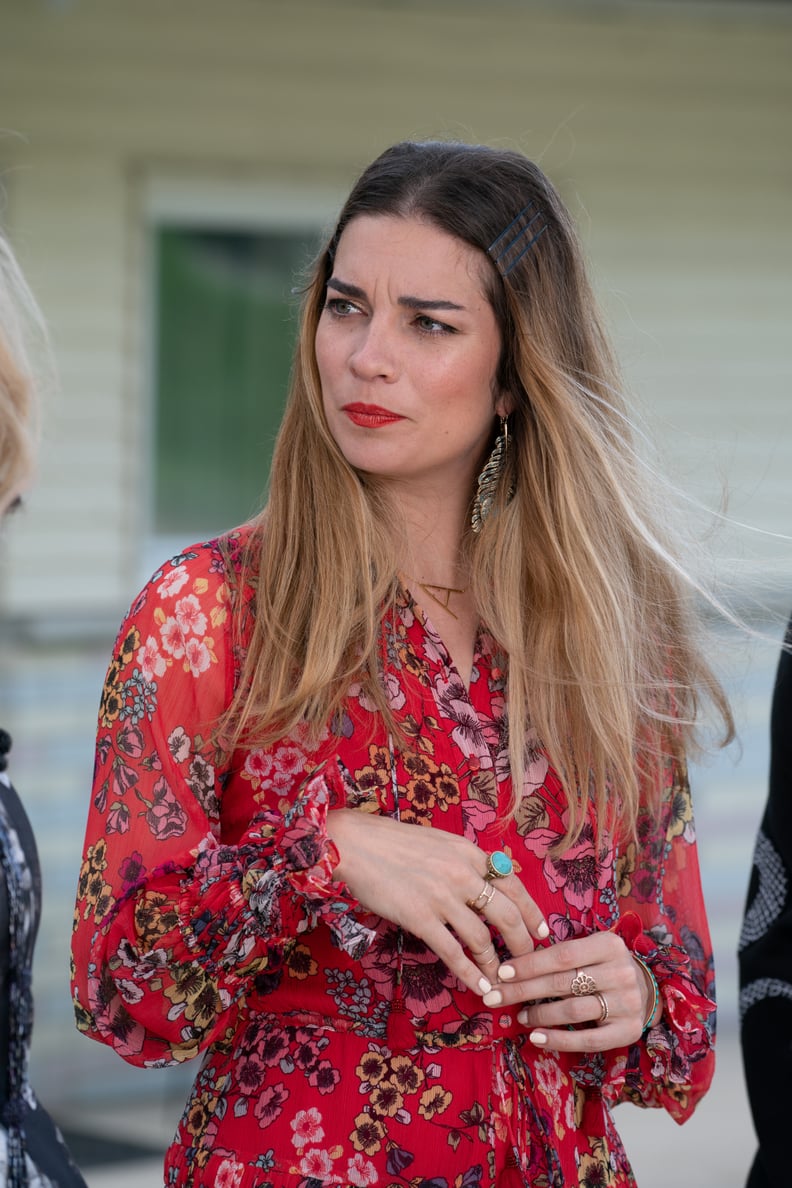 Annie Murphy Wearing an A Necklace as Alexis Rose on Schitt's Creek