No-Bake Vegan Cheesecake Using Cauliflower
This No-Bake Vegan Cheesecake Will Blow Your Mind
We're loving all the amazing things cauliflower can do. So, of course we were inspired to make a cheesecake with this wonder food. It's vegan and requires no baking — so easy!

Cauliflower and Raspberry Swirl Cheesecake
From Yazmin Alishav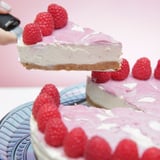 Ingredients
For the Crust:
1 1/2 cups graham cracker crumbs (approx 11 full sheets)
6 tablespoons coconut oil
2 tablespoons coconut butter
3 dates
1/4 cup pecans
For the filling:
2 cups soaked cashews
2 cups cooked riced cauliflower
1/2 cup coconut butter
1 teaspoon vanilla extract
2 tablespoons lemon juice
1 tablespoon maple syrup
1 cup coconut milk
1 cup raspberries
Directions
For the crust:
Combine graham crackers, coconut oil, coconut butter, dates, & pecans a process.
Transfer graham cracker mixture into a 9" springform pan and press down until even and compact.
Refrigerate for 30 minutes.

For the filling:
Combine everything except the raspberries in a food processor until the mixture is smooth and evenly combined.
Take about 3/4 cup of the mix out.
Add the raspberries, and process together.
Add the plain filling to the springform pan with the crust at the bottom, evening out the surface with an offset spatula or pastry tool.
Fill a pastry bag or a ziploc bag with the raspberry mix and pipe it into one long spiral on top of the plain mix.
Using a chopstick, make the figure 8 repeatedly around the outside of the spiral, swirling the raspberry cheesecake mix into the plain. Slowly work your way toward the middle of the cheesecake, following the line of the spiral, creating the swirled cheesecake effect.
Allow the cheesecake to set overnight and enjoy!
Information
Category

Desserts, Cheesecake

Yield

8 servings