Vegan Ice Cream Made With Cauliflower
Pink Ice Cream Made With Cauliflower — Yeah, Cauliflower
There is no end to what cauliflower can do. This powerhouse veggie makes for great buffalo wings and is perfect in grain-free pizza crust. Believe or not, cauliflower is also a great base for vegan nice cream. Watch this video and see how.

Pink Cauliflower Nice Cream
From Mona Zavosh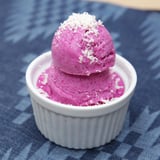 Ingredients
6 ounces organic frozen riced cauliflower
4 ounces organic frozen strawberries
1/4 cup frozen pitaya puree
1/3 cup sweetened coconut condensed milk, chilled
1/4 teaspoons ground cinnamon
1/2 tablespoons vanilla bean paste
3/4 cup whipped coconut topping, defrosted in the fridge
1/2 cup unsweetened shredded coconut, for garnish
Directions
Place all the frozen ingredients into a food processor and pulse several times until you get a crumb mixture. Scrape down the sides then process for 5 minutes, stopping the machine to scrape down the sides several times.
Once the mixture is creamy and smooth, add the coconut condensed milk, cinnamon, lemon zest, and vanilla bean paste, and process again.
Transfer the mixture into a freezer safe dish. Fold in the coconut whipped topping and freeze for 3 hours or until set.
Once the nice cream is frozen, scoop and serve with shredded coconut.
Information
Category

Desserts, Ice cream

Yield

6 servings

Cook Time

4 hours