In-N-Out Burger Antibiotics News
Important: In-N-Out Is Making a Healthy Change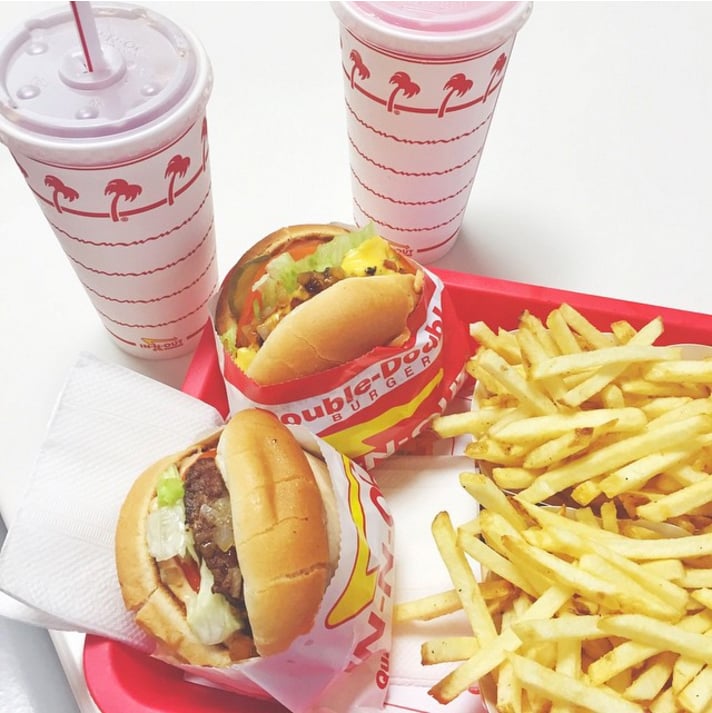 If you're going to reach for fast food, In-N-Out is likely the lesser of all evils. We won't pretend that the chain offers low-cal menu items, but In-N-Out has always stood by their "Quality You Can Taste" mantra with fresh ingredients. But there's still a bit of a downside, and we're not talking about fat content or calories — as with many fast-food chains, the beef is still loaded with antibiotics.
The family-owned fast food chain responded to recent pressure from public interest groups (including CALPIRG, Friends of the Earth, Center For Food Safety, and more), all of whom are urging In-N-Out to use antibiotic-free beef — ideally, grass-fed. And this is important, because the more antibiotics in your food, the less chance your body has to fight off certain strains of bacteria. As in, eat this burger now, get sick later. The CDC has even said that "antibiotic resistance is one of the world's most pressing health problems."
To clarify: In-N-Out's beef suppliers are administering antibiotics to all their animals — even ones who are not sick — in mass quantities.
The good news is that soon, you might be able to enjoy your delicious Double Double with a little extra peace of mind. In-N-Out is vowing to make steps to reduce the use of antibiotics in their livestock. The company released a statement saying they are committed to "beef that is not raised with antibiotics important to human medicine" and asked their suppliers to "accelerate their progress towards establishing antibiotic alternatives."
While the statement doesn't clearly state that they're going to be antibiotic-free (read: no transparent actions or dates), it's a big step when one of the biggest names in fast food promises to make a healthful change — one that has a direct impact on consumers.
Even CALPIRG, who has been urging for more clarity, has said they're "thrilled that In-N-Out is responding so quickly to consumer demand." Jason Pfeifle, a public health advocate with CALPIRG said that this could be a big step for all of fast food, noting that "if In-N-Out follows through on these commitments, we are optimistic that other fast food restaurants will follow." In an open letter to In-N-Out, the activism group asked for hard dates and a transparent plan, suggesting that switching to sustainable, grass-fed beef could help the chain "quickly respond to customer demand for beef raised without routine antibiotics and other drugs."
The plan to go antibiotic-free is a move we're seeing in lots of big-box food vendors: Chipotle, Panera, and Subway, to name a few. And In-N-Out realizes the impact it could make by eliminating the overuse of these drugs in livestock: "Collectively, these efforts help ensure optimal animal health and welfare, preserve medically important antibiotics for human use, and ensure safe, affordable and abundant food."
That's right. Safe, affordable, and abundant cheeseburgers for everyone. What do we want? Antibiotic-free cheeseburgers! When do we want them? NOW!
Image Source: POPSUGAR Photography / Dominique Astorino