This 10-Day Self-Care Workout Challenge Is All About Feeling Good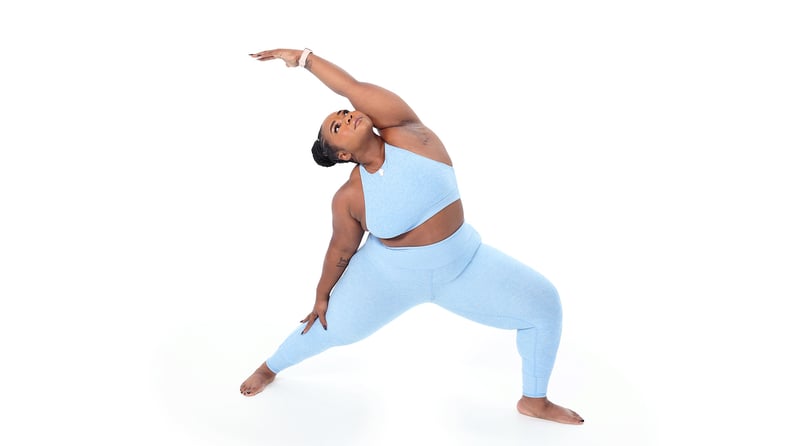 POPSUGAR Video
POPSUGAR Video
There are so many reasons to give a workout challenge a try. Maybe you're restarting your fitness routine after a brief hiatus, lacking in the motivation department, longing for a sense of accomplishment, or looking for someone to take the guesswork out of which workout to do and when. Regardless of what brought you here, there's a good chance this 10-day self-care workout challenge will do the trick.
While self-care can entail relaxing or taking a quiet moment alone, it can also be about taking time to sweat, stretch, and reconnect with your body. This 10-day YouTube workout challenge is all about finding the joy in movement through routines that nurture your mind-body connection and leave you feeling lighter, happier, and shinier, rather than punished, defeated, or totally spent. It comes courtesy of Class FitSugar trainers Maricris LaPaix, Sophie Jaffe, Adrienna Rabena, Christa Janine, and Coach Kel, who have programmed barre, meditation, yoga, and recovery flows designed to do exactly that.
In this series, you'll find your power during Vinyasas, fine-tune your barre moves, and calm your energy using breathwork. The workouts vary from five to 35 minutes and require only a mat, a chair, and some space (although you can grab a pair of light or medium dumbbells to make the workouts harder, if you wish). Every day, you'll finish feeling happy that you took a moment to focus on taking care of yourself. Enjoy!
Day 1: Start Your Routine With This Advanced, 30-Minute Total-Body Barre Challenge
This 30-minute advanced barre routine, coached by Rabena, kicks off the self-care workout challenge on a strong note. You'll power through a series of leg and core moves, including lunges, squats, and side planks, and finish with glute bridges and bicycles. Get ready to feel that signature barre burn during this one.
Rabena's outfit: Alo Yoga
Day 2: Amp Up Your Yoga Routine With This 35-Minute HIIT Vinyasa Flow
For the second day of the self-care workout challenge, Jaffe will lead you through a 35-minute yoga flow that's equal parts sweat and stretch. You'll score the mind-centering benefits of yoga, plus a rush of endorphins from HIIT intervals.
Jaffe's outfit: Fabletics
Day 3: Make the Most of Your Recovery Day With This 30-Minute Bodyweight Circuit
Day three's 30-minute bodyweight recovery routine, led by Lapaix, will take you through mobility drills, foundational strength exercises, and other back-to-basics moves. Take your time and focus on moving your body well — this routine is all about mindfulness.
Lapaix's outfit: Splits59
Day 4: Knock Out Your Power Yoga and HIIT Workout With This 30-Minute Fusion
If you enjoyed Jaffe's workout on Day two, you're in for a treat. Janine leads another yoga-HIIT fusion workout for Day four, but this one incorporates dumbbell strength moves throughout. Rest easy: if you don't have a pair of dumbbells, you can do these with just your bodyweight. If you do have weights, grab a pair of light or medium dumbbells to challenge yourself even more.
Day 5: Connect With Your Intuition in This 15-Minute Movement Flow
On Day five, you get a bit of a break. Slow down and reconnect with your body and intuition in this 15-minute flow led by Jaffe. The goal? To break out of your usual rigid movement patterns and go with whatever feels good to you right now. Dig deep, let go, and enjoy.
Jaffe's outfit: Carbon38

Day 6: Step Up Your Dance Knowledge With This Beginner's 10-Minute Barre Routine
Whether or not you're new to barre, you can learn something from this 10-minute barre basics class led by Coach Kel. Master some fundamental barre techniques and learn some ballet-inspired moves that work your glutes, quads, hamstrings, hips, and core — all you need is a chair nearby for balance.
Kel's outfit: LSKD
Day 7: Feel Good With This 10-Minute Bodyweight Barre Workout
Build on the skills you learned in Day six's barre workout with today's 10-minute bodyweight barre workout led by Rabena. In just 10 minutes, you'll feel your thighs, shoulders, back, and core activate — and just when things really start to burn you'll be done.
Rabena's outfit: Lululemon
Day 8: Calm Your Anxiety With This 5-Minute Practice
Day 8's restful practice is a breathwork and meditation exercise led by Jaffe. You can use this technique to help calm you down and release tension whenever you need it, whether during a stressful moment or after a long day.
Jaffe's outfit: Terez
Day 9: This 30-Minute Bodyweight Barre Workout Will Make You Feel Balanced | POPSUGAR FITNESS
Feeling energized after yesterday's rest day? Grab a mat and a chair (or whatever is close by to use for balance) and get ready for this 30-minute, low-impact bodyweight barre workout with Coach Kel. You'll warm up, then move through a plank and push-up series, core work, and lower-body moves, and finally wrap up with a cool down.
Kel's outfit: Varley
Day 10: Turn Up the Heat on Your Vinyasa Flow With This 20-Minute HIIT Yoga Workout
Finish the challenge on a bright note with Day 10's HIIT yoga workout with Jaffe. You'll move through some flows to get your heart pumping, and then you'll finish by challenging your balance with one-legged postures and activating your core with some ab work.
Finally, celebrate — you did it! Come back to this 10-day self-care challenge whenever you're craving a little feel-good time on your mat dedicated solely to you.
Jaffe's outfit: Carbon38