2-Week Clean-Eating Plan: Day 12 | Recipes
Day 12 Recipes: Clean-Eating Plan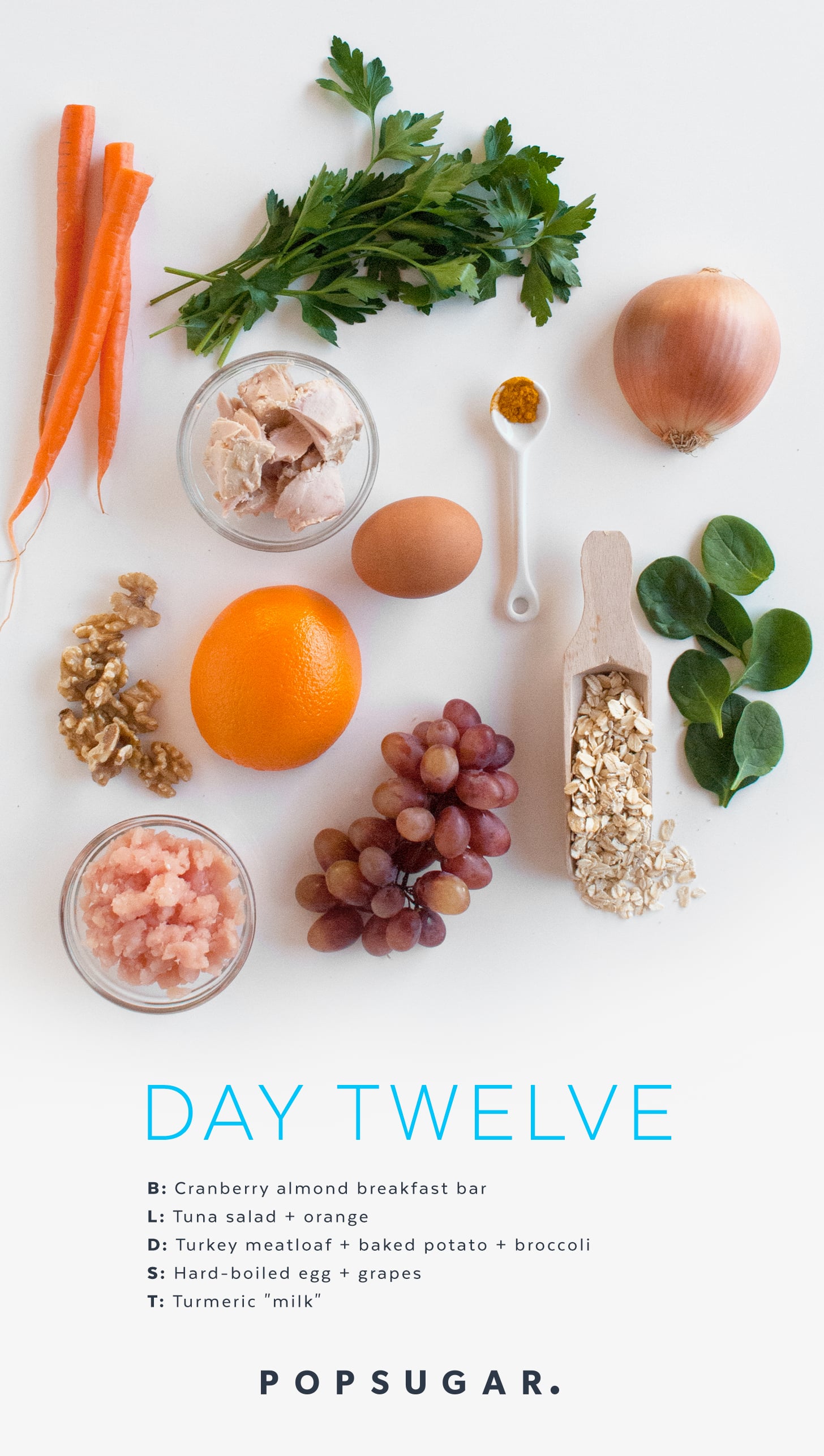 Breakfast: Cranberry Almond Breakfast Bar
Note: Eat one breakfast bar leftover from Day 8.
Lunch: Tuna Salad Wrap
Crunchy Tuna Salad Wrap With Carrots, Fennel, and Spinach
Ingredients
1 can albacore tuna in water, drained and flaked
1 tablespoon mayonnaise
1/4 cup chopped carrots
1/4 cup chopped fennel
Dash of garlic powder
Dash of black pepper
1 cup baby spinach
1 teaspoon olive oil
1 sprouted grain tortilla (or two slices sprouted grain bread)
1 orange
Directions
Combine tuna, mayo, carrots, fennel, garlic powder, and black pepper to taste in a small bowl.
Add tuna salad to the center of the tortilla. Top with baby spinach and drizzle with olive oil.
Roll up to close.
Pair sandwich with the orange.
Calories: 455.6
Protein: 39.5 g
Carbohydrate: 30.2 g
Dietary Fiber: 7.23 g
Total Sugars: 1.792 g
Total Fat: 21.2 g
Saturated Fat: 2.791 g
Information
Category

Main Dishes

Cuisine

North American

Yield

Makes 1 serving
Dinner: Turkey Meatloaf With Baked Potato and Broccoli
Notes: Eat one portion of the turkey meatloaf along with a baked Russet potato and 1 1/2 cups steamed broccoli dressed with a bit fresh-squeezed lemon juice. Put one portion of the meatloaf in the fridge for tomorrow's lunch, and freeze remaining portions to be eaten after you complete the Clean-Eating Plan.
Prep: Place frozen fish in the fridge to thaw it overnight. This way it will be ready for cooking tomorrow at dinner time.
Ingredients
1 slice of sprouted grain bread
1 teaspoon olive oil
1/2 cup chopped onion
1 clove garlic
1 pound lean ground turkey (94% lean)
1 egg
3/4 cup chopped spinach
2 tablespoons ketchup, divided
2 tablespoons chopped fresh parsley
2 tablespoons chopped fresh basil
3/4 teaspoon kosher salt
3/4 teaspoon black pepper
2 teaspoons maple syrup
Directions
Preheat oven to 350 degrees.
In a small food processor or blender, ground bread into coarse bread crumbs. Spread crumbs out a baking sheet lined with foil. Bake for approximately 5 minutes, or until bread crumbs are golden and lightly toasted.
Heat oil in a medium skillet. Sauté onions until softened, about 5 minutes. Add garlic during the last minute, or until fragrant.
Mix ground turkey with onions, garlic, egg, spinach, ketchup, parsley, basil, salt, and pepper in a bowl.
Place turkey mixture in a loaf pan and bake for 50 minutes or until loaf is cooked to an internal temperature of 165 degrees. 10 minutes before cooking is finished, brush the top of the loaf with 1 tablespoon ketchup mixed with the maple syrup.
Serve with 1 medium baked potato drizzled with 1 teaspoon olive oil and salt and pepper to taste, and 1.5 cup steamed broccoli tossed with lemon juice.
Calories: 516.4
Protein: 36 g
Carbohydrate: 51.6 g
Dietary Fiber: 6.646 g
Total Sugars: 8.364 g
Total Fat: 19.4 g
Saturated Fat: 4.395 g
Information
Category

Main Dishes

Cuisine

North American

Yield

Makes 4 servings
Snack: Hard Boiled Egg and Grapes
Note: Eat one hard-boiled egg along with a cup of grapes (that's about 35 grapes).
Treat: Turmeric Milk and Dark Chocolate
Golden Milk and Dark Chocolate
Ingredients
1 cup unsweetened vanilla almond milk
1 teaspoon turmeric powder
1 black peppercorn or a pinch of freshly ground black pepper
1 teaspoon maple syrup or honey
1/2 ounce dark chocolate
Directions
In a small saucepan, whisk almond milk with turmeric, black pepper, maple syrup, and cinnamon together.
Heat over medium heat until steaming, about 3-5 minutes.
Enjoy with 1/2 ounce of dark chocolate.
Calories: 147.4
Protein: 2.053 g
Carbohydrate: 15.4 g
Dietary Fiber: 2.624 g
Total Sugars: 9.797 g
Total Fat: 9.155 g
Saturated Fat: 3.193 g
Information
Category

Drinks

Cuisine

North American

Yield

Makes 1 serving
Image Source: POPSUGAR Photography / Sarah Lipoff