APL Techloom Phantom Running Shoe Review
This Is the Shoe You've Been Seeing at the Gym (and All Over Instagram)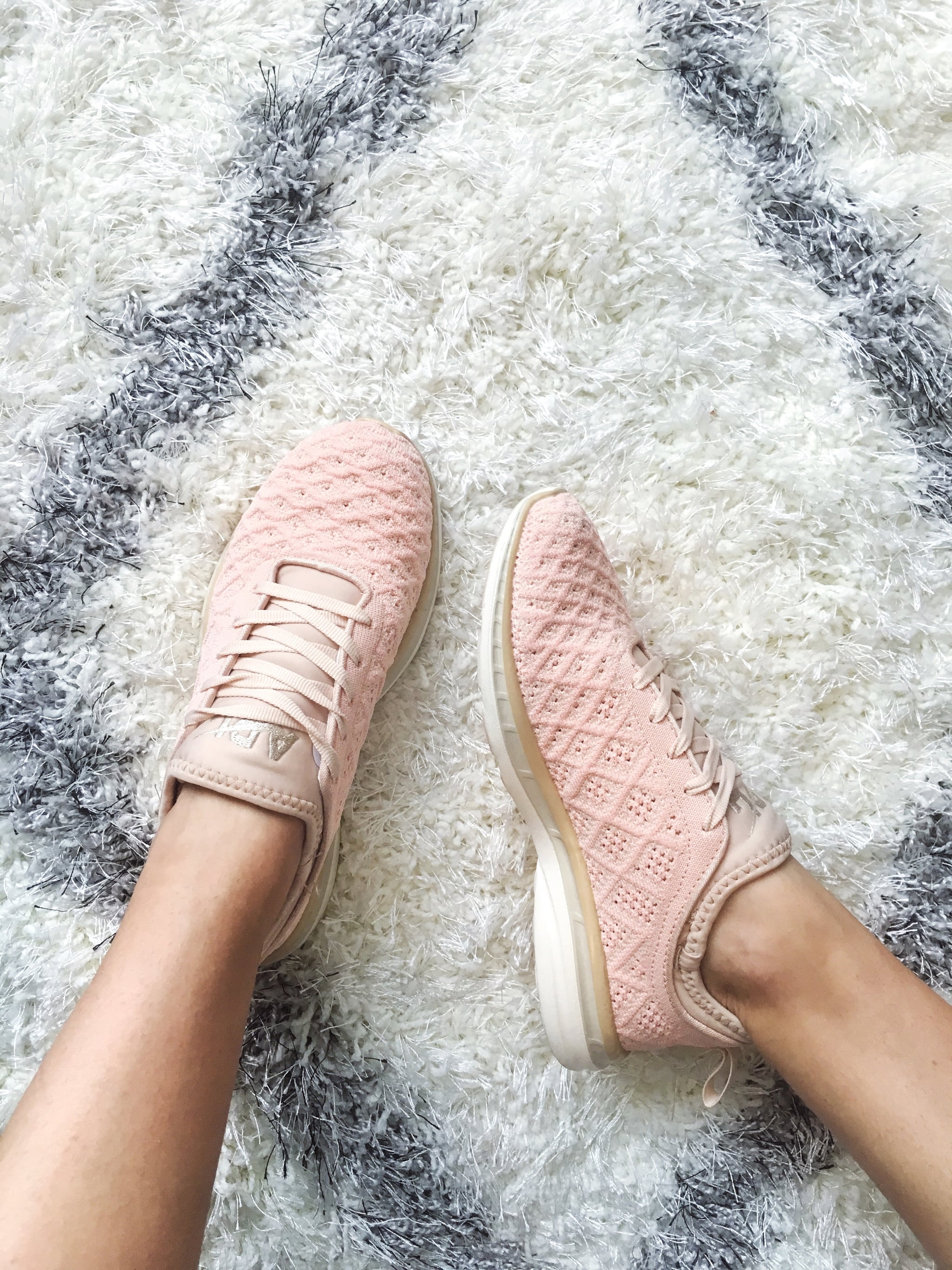 Activewear has been getting more and more fashion-forward — and sneakers have followed suit. While many of us used to hit the gym in an old college t-shirt, beat-up shoes, and a pair of baggy shorts, it's now a rarity to see someone in anything other than runway-ready athletic styles. But do these trend-focused pieces hold up for exercise?
That was my concern when I went to order a pair of APLs. If you haven't heard of them yet, you've likely seen them — those low-profile, subtly branded sneakers that have been taking over Instagrams everywhere (and they're one of Oprah's favorite things from 2016!). APLs caught my eye when I noticed a friend wearing them last Summer, and I couldn't identify the brand. "Those aren't Nikes. . . . They're not Adidas. . . . What . . ?" As someone who can typically pinpoint a make, model, and year of sneakers, I was stunned and knew I had to get my hands on a pair.
My first thought? "They're probably not that functional, but they're so damn cute I have to get them anyway." Boy, was I wrong. Look — I'm not a running-shoe snob, but I have my favorites that I've gravitated toward over the past two and a half years of my journey, with five half marathons and a handful of five, 10, and 15Ks thrown in there. Though I typically wear a thicker stability shoe, I was wildly impressed with these low-profile APLs. In fact, they're my new fitness gear obsession. Here's my experience with (and details on) the TechLoom Phantom Pro model.
Fit and Feel
Super soft, cushioned, and comfortable
In my experience, they had to be broken in a little
Sock-like upper that you slide into, with a snug, secure fit (you should still wear socks, though)
Upper feels like a wetsuit — it's neoprene
Laces don't make a huge difference in how snug they fit
They run small — I'm a 5.5 in Adidas, 5.5 to 6 in most Nikes, and these were snug at a 6. Nordstrom recommends ordering a size up; I'd recommend ordering a half-size up.
They're so snug that after a while, they press down (and indent) the top of my feet. This is after hours of wear.
Specs
"8mm drop from the heel to the forefoot" (meaning, there's 8 mm more cushion in the heel than there is in the toe area). Moderate to minimalist shoes have anywhere between a 4 and 10 mm drop.
4-way stretch upper
"Proprietary Athletic Propulsion Labs Propelium midsole/outsole" — less rubber, less weight
7.9 ounces: very light, but not featherweight
Functionality
For running: I've worn my TechLoom Phantom Pro APLs on several runs; my longest run was about five miles. It was a nice, neutral ride — more stability and cushion than a Nike Free, but much closer to a barefoot run than a stability shoe like Brooks Adrenaline; a supportive sweet spot, really. They were also pretty springy, light, and soft but still had a controlled and stable feel. I'd recommend them for shorter training runs if you don't need a lot of support. I do need more support for longer distances, so I'll probably switch to something with a slightly more cushioned outsole and a bit more arch support when I start tacking on miles for training.
For training: It's important to note that this specific shoe model is intended for running and that wearing running shoes to weightlift and train can be unsafe, especially if the heel is really cushioned. That said, I found the APL Techloom Phantom Pro's outsole and heel cushioning to be extremely similar to my Nike Free Transform Flyknit trainers. So I gave them a go in Barry's Bootcamp, in Speedplay, and a few other classes at Equinox. To be honest, I've never felt more comfortable; I felt as supported running as I did lifting dumbbells, doing box jumps, and squatting with barbells. These are the ideal shoes for a mixed format class like Barry's, Speedplay, or Orangetheory (which have you running on a treadmill for part of class), one of 2017's big workout trends. If you're planning on trying a class that involves running, APLs are perfect.
For everyday: APLs are great shoes for walking around, so you'll want to mix them into your everyday active or athleisure looks. As mentioned in the fit and feel review, if I wear these for several hours, the top of the shoe indents my foot and can become uncomfortable, so I'd recommend them for shorter wear.