How to Run Your First Marathon
This Is the Year I'm Actually Going to Run a Marathon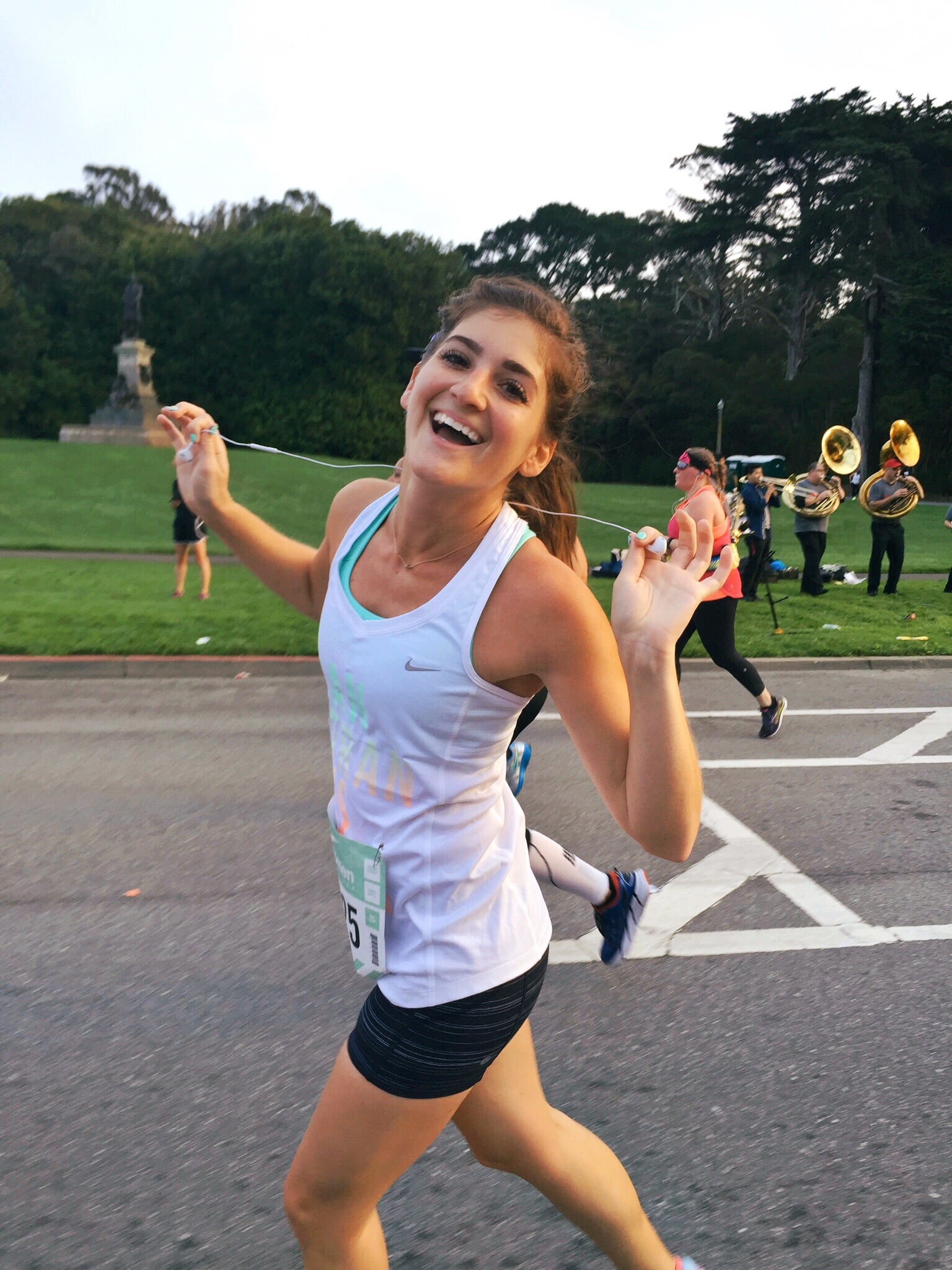 This is the year I'm actually going to run a marathon. There. I said it! In fact, it's one of my New Year's resolutions. It was last year's, too . . . but I chickened out. Now, before all you millions and billions of strangers (hey, guys!), I'm claiming it: I WILL run a marathon in 2017.
And now that I've said it, I can admit that I'm completely terrified. Though I ran my first five half marathons in less than two years, this is a big, lofty, scary goal for me. Instead of leaving one huge, daunting goal looming in the distance of 2017, I decided to give myself more actionable objectives to better structure my year for success (hello, I'm an A-type, nice to meet you).
And I know it might seem like I'm a fitness editor, and that this is no big deal since I work out literally every day, but please keep in mind that in 2014, I couldn't run a mile in under 15 minutes without stopping to take several breaks. I've proven myself wrong before, broken down walls internally, and surprised myself in ways I never could've dreamed of — and if I can do it, anyone can do it!
Are you thinking of taking on this big challenge in 2017? Let's do it together! Here are some benchmarks I'm giving myself to set myself up for my first big 26.2 . . . and all the miles leading up to it.
Buy the damn bib. Step one of making sure I don't back out of something: spend a lot of money. How else do you think I get up at 6 a.m. for SoulCycle? I can't lose $32! Once you commit financially, you'll be less likely to back out. I have my sights set on the Big Apple, so I'll most likely be signing up for a Team in Training to get myself a spot in the race.
Get a second opinion . . . on shoes. Earlier this year I went on a run with Nike running coach Blue Benadum (he's run almost 60 marathons!). And although I've done some shoe fittings that indicated I need more of a stability shoe, he analyzed my mid- to forefoot strike and told me I was wearing too much cushion in the heel. Apparently it's time for a reevaluation! Ultramarathoner and coach Robin Arzon also emphasized to me the importance of choosing the right shoe, so I'll be going through several fittings. Checking this off my list will help me feel more prepared and secure in my decision.
Schedule out other races this year. One way to make this race less scary is to schedule a handful of longer races and half marathons before the date of my full marathon. I'm already registered for a 10.6 miler at the Big Sur International Marathon (yay for checking things off my list of goals!), and I'm hoping to do a Disney half marathon at some point, too. Although these will still be HUGE victories and major goals for me (it's still a lot of miles!), compared to the big race, they'll be my mini victories along the way — or as Robin Arzon calls them, "micro successes."
Commit to cross-training. This race isn't just about running — I want to make sure my body is strong enough and my endurance is *all the way up* so that I don't feel destroyed at the end of this thing. I especially need to focus on my leg strength, as I have some run-induced patella inflammation that could potentially sideline me. Physical therapy, leg day, and foam rolling will be of the utmost importance this year.
Don't wait for a certain date to start training. I talked with 11-time Ironman finisher and coach Marni Sumbal about this new adventure I'm embarking on, and this was her advice: don't wait, start now. "Think of every day between now and your future half marathon as available time to get stronger and improve your endurance." It made so much sense — waiting to start training is like procrastinating on a project you're afraid of. I've already started running a little bit more than usual to get 2017 off on the right foot.
Choose the right training program. Although I plan on starting my training nearly a year in advance of my marathon, you can bet I'll be following a strict beginner marathon training program about five months out. Commitment to this program is a goal within a goal.
Make mental health a priority. I may or may not have an emotional breakdown during training — knowing that ahead of time and preparing for "the worst" in a sense will remind me to cut myself some slack when things don't go according to plan. Don't beat yourself up if you miss a run, or you don't make a certain time, or you don't feel your best on one of your training days; this is a marathon, not a sprint! Literally! Your commitment to this huge physical and mental goal is a gift to yourself; you're celebrating your health and your body, so don't get hung up on missteps or bumps in the road, and cherish every step on your journey to 26.2.