Amber Fillerup Clark's Abs Diet and Exercise
4 Tips For Six-Pack Success From the Barefoot Blonde Blogger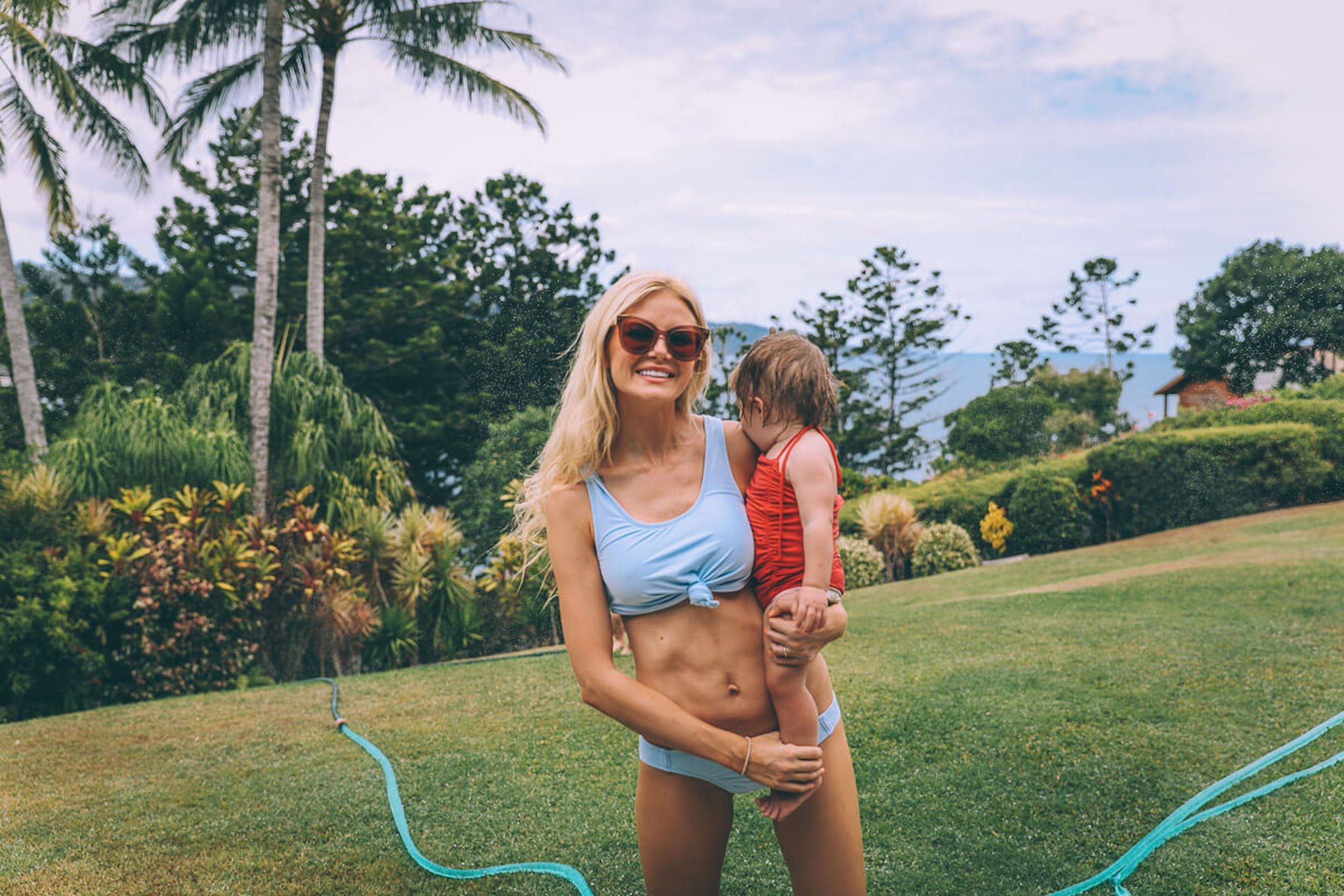 Meet Amber Fillerup Clark. If you aren't one of the 1.3 million people who follow her on Instagram, you may not be as familiar with her famous abs and braids. But this mom of two hasn't always had the easiest time with exercise — in fact, her latest pregnancy was really hard on her midsection.
"After I had my second baby, I was so weak that I couldn't even do a single sit-up!" she told POPSUGAR. "My ab muscles had separated a lot with that second pregnancy and I knew I would have to work really hard on getting my core back." It's safe to say she definitely got that core back — and then some. What's her secret? There are actually four big factors that helped her get strong, and you can totally implement them yourself.
BBG Workouts
Amber told us that after she had her second child, she "waited a few months to start working out and then slowly eased into working out, starting with working out at home!" From there, she decided to take her health and fitness to the next level with a personal trainer, but she didn't want to lose momentum when she and her family moved to Hawaii — that's when she really fell in love with the BBG program. "When we got to Hawaii, I started doing the Kayla's [Itsines] BBG program so I could maintain what my trainer helped me get to. The BBG workouts are great because I can do them at home if I can't get to the gym that day, and you can make them as hard as you want them to be."
A Solid Support System
She shared that this is actually her second time trying the program, as the first time she said she "kind of slowly phased out and didn't stick with it." The difference this time around? Her family. "This time it has helped me a lot to have my sisters as a support system. We all started it the same day and us four text our group chat once we did the workout that day. It holds me accountable knowing I will have to text them and let me know if I did it or not!"
Abs, Times 5
"One other tip is that I do an ab workout at least five times a week, even if it isn't a part of the BBG workout that day," so no matter what her schedule is, every day is ab day. And we can tell just by looking at her! "I have worked so hard to get my core at a good place, and I like to maintain it by doing at least 100 reps of any given ab workout each day. Sometimes it's just when my husband and I are watching Netflix!" Pro tip: Netflix and reps > Netflix and chill.
Healthy Staples
You all know that "abs are made in the kitchen," and Amber is no exception to this. What's always in Amber's fridge? Staples for her favorite fresh and healthy meals, like wraps and smoothie bowls. "Fruit for acai bowls, turkey and sprouts for wraps, and ready-to-go salads."
Image Source: Amber Fillerup Clark