Apple Rose Pies
Satisfy Pie Cravings With Low-Sugar Apple Roses
If you're a fan of apple pie, this beautiful dessert will become your new healthy favorite. Low in sugar, the flavor of the apples shines through. Watch the video to see how they are made, then follow the recipe below.
Apple Roses
From Nicole Iizuka, POPSUGAR Food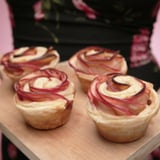 Ingredients
2 red apples
1/2 cup water
Juice from 1/2 lemon
1 sheet puff pastry, thawed
1/2 tbsp. pumpkin pie spice
Directions
Preheat oven to 375°F.
Slice apple in half and core center. Then very thinly slice the apple into 1/8-inch thick slices. Place in water with lemon juice to prevent browning.
Heat the apples and lemon water in a small sauce pot over medium high. Cook apples for two to three minutes, or until softened slightly. Remove from heat, drain, and let cool.
Roll puff pastry out on a flour-dusted cutting board until it's a long rectangle. Cut into six strips. Take one strip and lay apples on the puff pastry, overlapping and hanging off the top half of the pastry. Continue until there is a row of apples on the puff pastry. Sprinkle with a little pumpkin pie spice and then fold the bottom half of the pastry on top of the apples. Pinch and roll the pastry into a rose shape. Place in a greased cupcake pan and repeat to make five more roses.
Bake apple roses for 40 to 45 minutes or until puff pastry is cooked through. Remove from pan and let cool.