Avocado Pesto and Cod Over Spaghetti Squash Recipe
Cod With Pesto + Spaghetti Squash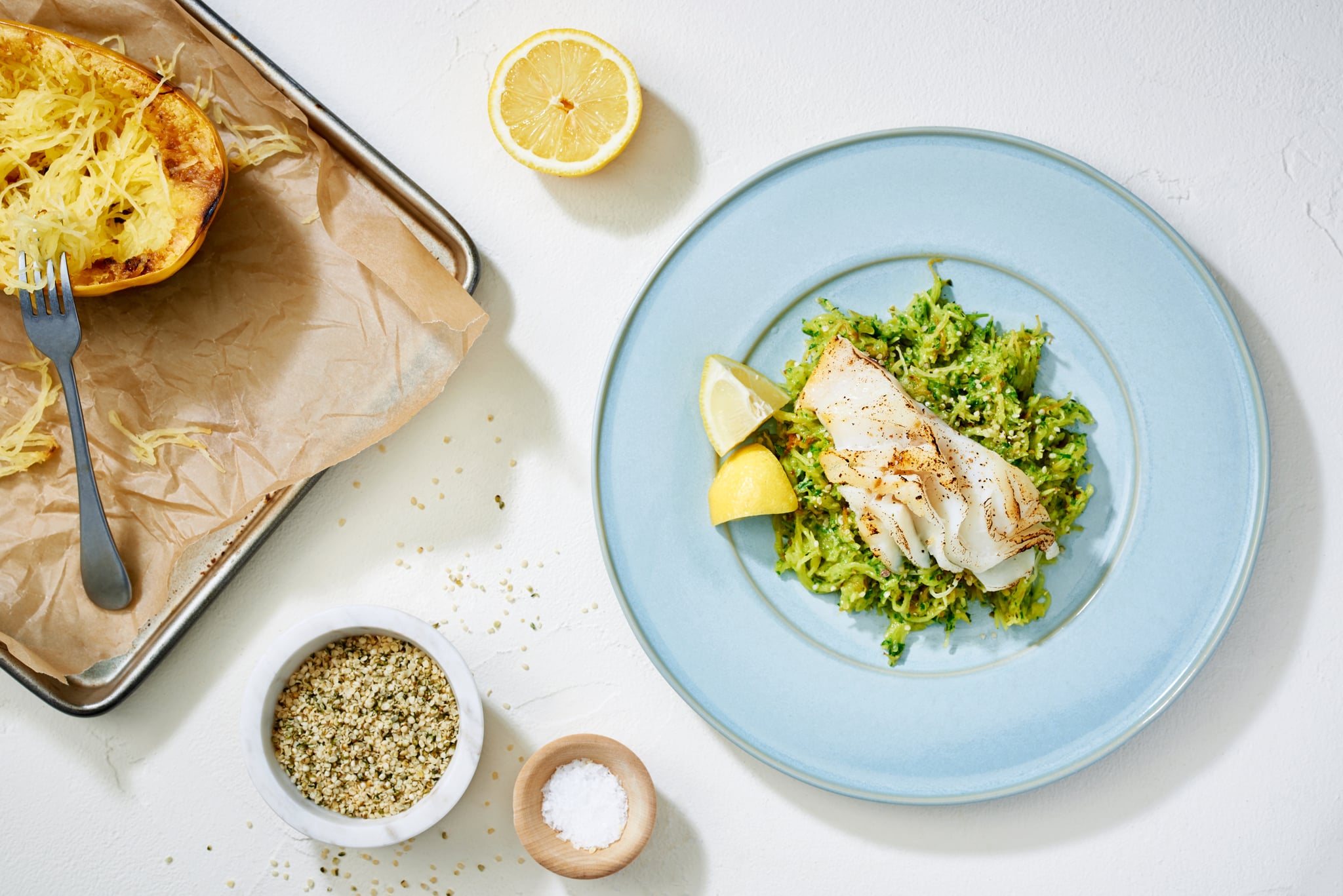 Notes
Save 2/3 of spaghetti squash for Day 13 breakfast and Day 14 lunch.
Save 1/2 pesto for Day 14 lunch.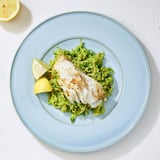 Ingredients
1 medium-large spaghetti squash (about 3 pounds)
1/2 avocado
1/4 cup hemp seeds
1/4 cup fresh basil
3/4 cup arugula
2 tablespoons lemon juice
6 ounces cod
2 teaspoons olive oil
Pinch each: salt, pepper
Directions
Preheat oven to 400°F. Slice the squash in half, remove seeds, and place cut-side down in a baking dish. Add enough water to the dish to just coat the bottom. Bake until squash is tender, about 45 minutes.
While squash cooks, add avocado, hemp seeds, basil, arugula, and lemon juice to a blender and puree until smooth. Add water, 1 tablespoon at a time, if it needs to be thinned out.
Heat olive oil in a skillet over medium-high heat. Sprinkle cod with a pinch of salt and pepper and cook over medium-high heat until fish is firm and golden on both sides, flipping once, about 5 minutes.
Using a fork, gently scrape the squash flesh from the skin. Put 2/3 of the squash in a container and save for meals on Days 13 and 14. Toss the remaining 1/3 of the squash with half of the avocado pesto (save the other half of the pesto for Day 14 lunch). Top with cod.
NUTRIENT TOTALS
Calories: 464.8
Protein: 35.7 grams
Carbohydrate: 27.6 grams
Dietary Fiber: 9.099 grams
Total Sugars: 9.125 grams
Total Fat: 25.1 grams
Saturated Fat: 3.461 grams
Sodium: 726.9 milligrams
Information
Category

Main Dishes

Cuisine

North American