Before and After Weight Loss: Luz Gonzalez
Cervical Cancer Survivor Lost 150 Pounds, Says "Cancer Helped Me Get Healthy"
With a cervical cancer diagnosis at age 55, working out during daily chemotherapy treatments, reaching her fitness goal of a 39.3-mile Avon Walk (one and a half marathons!), and losing 150 pounds, Luz Gonzalez attributes her cancer to helping her get her life on track. "Cancer helped me get healthy."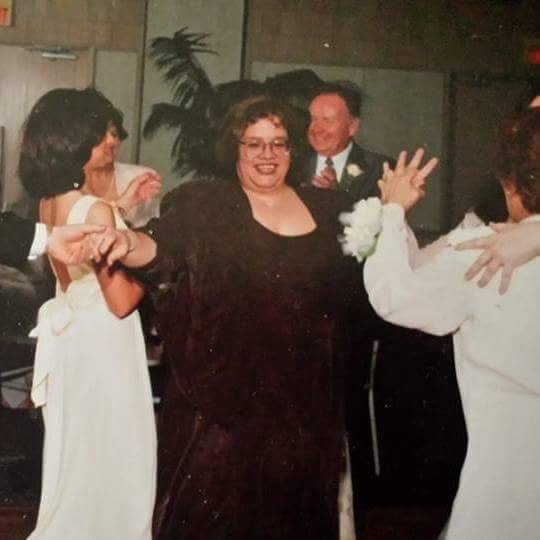 Luz, above, at her heaviest weight of 320 pounds.
Luz has been overweight her whole life, weighing between 250 and 320 pounds. When she was 55 years old, Luz noticed that something was off in her body internally (gynecologically, specifically), and after being turned away by five OBGYN offices in New York for being "too fat," she arrived at Pocono Medical Center where the doctor discovered Luz had stage one cervical cancer.
Before her diagnosis, doctors in New York had brushed off her concerns, saying "You need to lose weight and you'll be fine." But Luz knew it was more than a weight issue — she felt a fatigue that had never existed before. "I had always been overweight, so I knew that wasn't it," she said. "One of the things that surprised people is that they were always very shocked at how much I weighed, because I didn't look it and I certainly didn't behave it," she told POPSUGAR. "I was never sluggish, I always worked out."
"Every single place I went to would shame me and say, 'You're so overweight, we can't do an exam on you.'"
We were horrified when she detailed her story of doctors refusing her medical care. "Every single place I went to would go through the motions and then shame me, saying, 'You're so overweight, we can't do an exam on you.'" Luz pushed on to get the medical care she knew she needed, but she said, "After the fourth, you're kind of ashamed . . . you say, 'Guys, I know I'm overweight, but that doesn't mean I don't get sick.'" It wasn't until she had a gallbladder attack in Pennsylvania that she finally had a surgeon who paid close attention to her issue, and got her to an OBGYN — Dr. Toussaint-Foster — who promptly conducted a perfectly normal exam (Luz's weight posed no issue) and found the cancer.
"I'm so glad you actually knew your body, and knew something was wrong," her doctor told her. "The problem with this kind of cancer is that by the time we detect it, it's far gone." Luz's body awareness helped save her life.
Luz wasn't ready for this kind of setback. She had finally put herself through the Bar Exam, gotten into law school, and was working full-time simultaneously, commuting from Pennsylvania to NYC. She didn't tell her colleagues that she was about to begin serious chemotherapy treatment, and kept her sickness close to the chest while she went in for the battle for her life.
Chemo's Effect on Her Diet
During Luz's chemotherapy treatment, she lost nearly 80 pounds. At the peak, she was going to chemo every day, and due to the treatment, her appetite declined significantly — she couldn't eat. "During chemo, many people stayed on me to eat, because I didn't want to," she told us.
Healthier Choices. When she could eat, she began eating healthier. Because her husband was concerned to leave her alone while he was at work, one of Luz's best friends would come over and make her smoothies. "The new smoothie trend was one she began with me a long time ago; she would blend all these fruits and vegetables and just make me drink it. She just wanted to make sure I got [food] in me."
Lasting Habits. As it turns out, this was a big habit change for Luz. "To this day, I still juice breakfast daily. It's simpler for me." She noted that, "Prior to anything, I was a big eater — not a big sweets eater, but a big volume eater. My problem was always portion control, and I recognized that. I tried a lot of diets, but none of them would take."
Portion Control. Because of her long-term treatment, Luz's stomach — and appetite — shrank significantly. "My stomach shrunk so much that now, instead of being able to sit down and have three [daily] meals, I have eight or nine meals because they're very small." She blends a smoothie in the morning that she sips until 11 a.m. or noon, and then has what she calls "the equivalent of a cup of food" for lunch. "I seem to get full right away," she said. "That's probably the best thing; I like to look at things in a positive nature, and if there's one thing I can say, it's that getting cancer helped me to get healthy."
"I dropped 150 pounds. I've always worked out, but now I'm actually toning up very well. I have a lot of loose skin, but you know what, where I was then versus where I am now, it's like 360 degrees." Also in her positive nature, she said "at least the women's shelter is benefiting from my shopping sprees with all my donated old clothes."
Working Out During Treatment
It's not often you hear about a person going through chemo and still hitting the gym, but for Luz, it was her outlet, and what kept this strong woman even stronger. "I never missed chemo, and I never missed a day at the gym."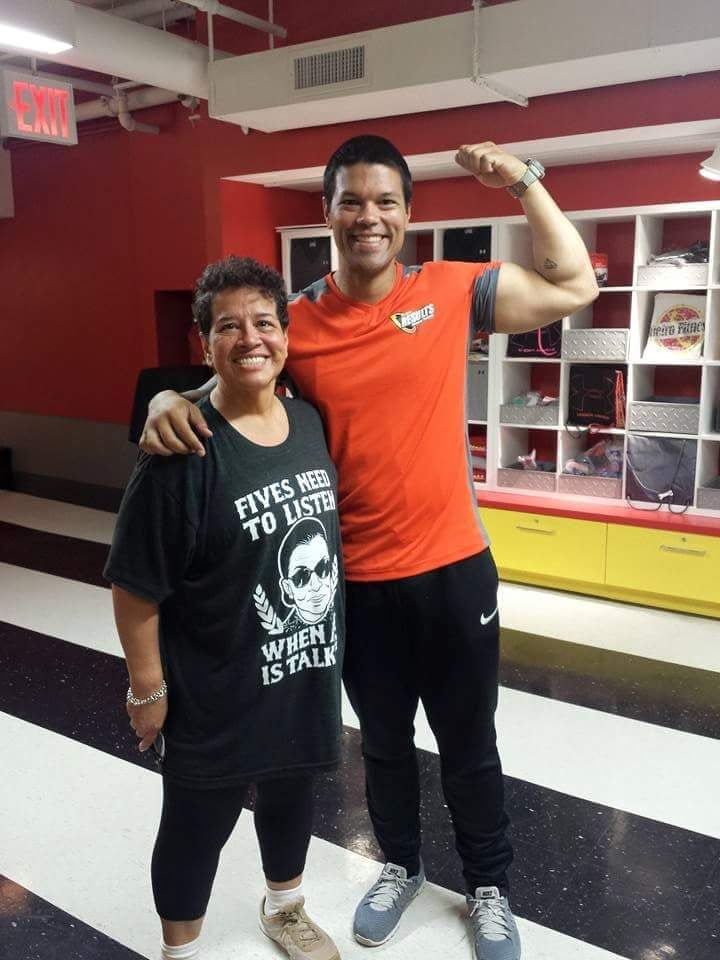 Luz's first training session during chemotherapy, with her trainer, Jonathan Bonilla.
"During my last year of treatment, I was working out with my trainer Jonathan Bonilla downstairs [in her office building] at Retro Fitness Manhattan who knew about my cancer," she said. "When he saw I was getting sick, he would make sure he'd stop, he'd help me get where I needed to get, and would stay with me getting me anything I needed, whether it was water, a cold compress, or hot compress." She told us her trainer would always ask, "'Do you want to stop?' and inevitably he always knew my answer was, 'No, let's go!'"
Because of the weight loss, Luz was able to build muscle and strength, with the help of her trainer at Retro. "During my treatment a lot of my exercise was chair-based, because I think they were afraid I was going to get dizzy." She started with weight training, saying, "A lot of what I did was free weights, sitting down." Her fitness didn't come without a little flack, though.
"I never missed chemo, and I never missed a day at the gym."
"I have to say that my doctor was not very pleased when he found out I started working out, but he also kind of knew that I was determined about it," she said. "Because I've always worked out, I felt like I was missing something when I wasn't. I was very active all the time; I raised two boys who played sports."
Luz kept it up, though, and eventually started going toward the treadmill and other gym machines. Her routine? "I try to work out five days out of the week; I hit the gym in the morning around 5:15 for an hour," said Luz. "What I wind up doing is the treadmill, the rower, and the spinning bike. So I wind up doing 20 minutes on each, or breaking it up so I get at least 60 minutes of a workout."
Coming Out on Top
Luz is now living cancer-free, and astonishingly, her doctor attributes her early recovery to her commitment to an active lifestyle — her commitment to fitness has helped her lose an additional 72 pounds post-treatment, with her total weight loss coming in at 152 pounds.
She remembers the day perfectly: it was June 27 of last year (and when she described this moment to us, we got tears in our eyes). "I went in to see my doctor, and he said, 'I need to talk to you and your husband — I've got good news and I've got bad news . . . The bad news is you're not going to see me for another six months.' And I said, 'Does that mean you're going somewhere?' He said, 'No, you are — this was your last treatment.'"
Luz told us her doctor said, "I didn't anticipate that you'd be able to get off the treatment this quickly, but I think you knew better than I did; I honestly believe that workouts helped beat [the cancer] up."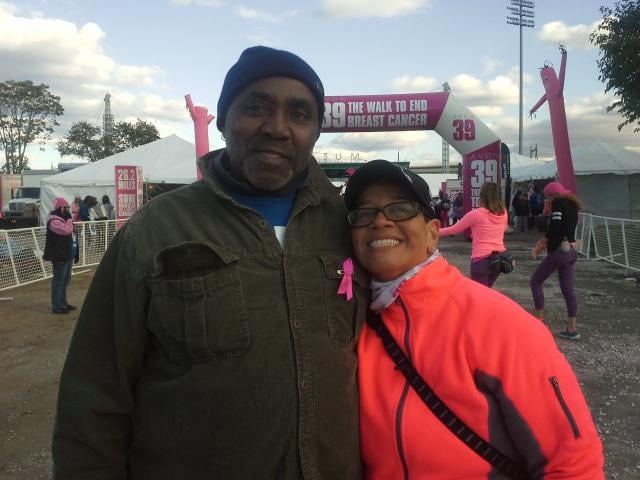 With her husband at the 2015 Avon Walk for Breast Cancer.
Looking Forward With Hope
After her last treatment, she began training for her big fitness goal: the 2015 Avon 39.3-mile walk to end breast cancer. Luz worked out seven days a week to prepare for her huge event, and ended up completing all 39.3 miles with only a few blisters to complain about.
She noted that she did have a few very hard times. "It was a little difficult for my husband and my family, because I've always been very strong, and all of the sudden I wasn't." She said that she drew strength from family and faith. "I come from a very strong line of women; I could feel my grandmother's strength coming through me. But my biggest sense of support was from my deep sense of faith," Luz told us. "I knew that if this was something I had to go through to help other people, then maybe that's what the lesson is. And I honestly believe that."
This past June Luz's coworkers celebrated her cancer-free, healthy life with cupcakes; she spoke of this event so fondly. "The cupcakes had the uterine cancer color of teal, and the breast cancer color pink," she said. "My assistant purchased a bracelet [for me] that says 'Celebrate Life.' I've got a lot of support."
"I like to look at things in a positive nature . . . cancer helped me to get healthy."
She's still on her health goals, though! Luz said that the next 25 pounds she wants to lose have been the hardest. "It's not that I have to lose another 25 pounds, it's that I would like to." No harm in that, right? "My clothes are getting bigger, I'm still working out, but those numbers are just not moving, so sometimes I just have to look beyond the numbers."
Her focus now is her Masters program in law — Healthcare Law and Policy — so everyone can be empowered to do what she did, and go after the care they need to save their life. "I want to make sure that women and all people take a proactive approach to their health. Nobody knows themselves better than you."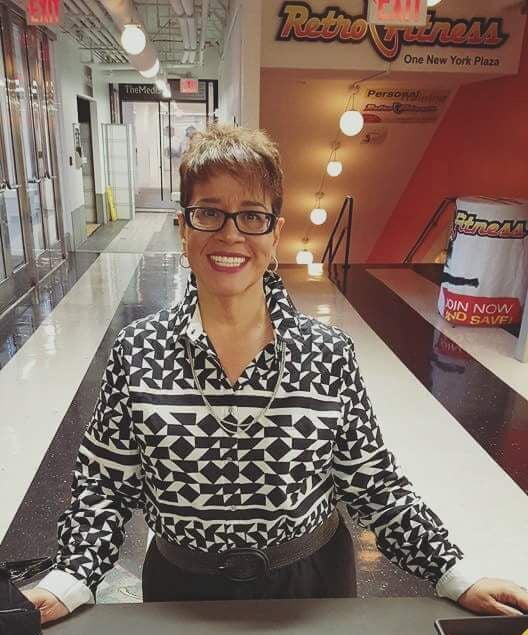 Luz, celebrating her 60th (cancer-free!) birthday at Retro Fitness.
Image Source: Luz Gonzalez