Cauliflower Alfredo Sauce
You'll Never Believe What This Dairy-Free Alfredo Sauce Is Made From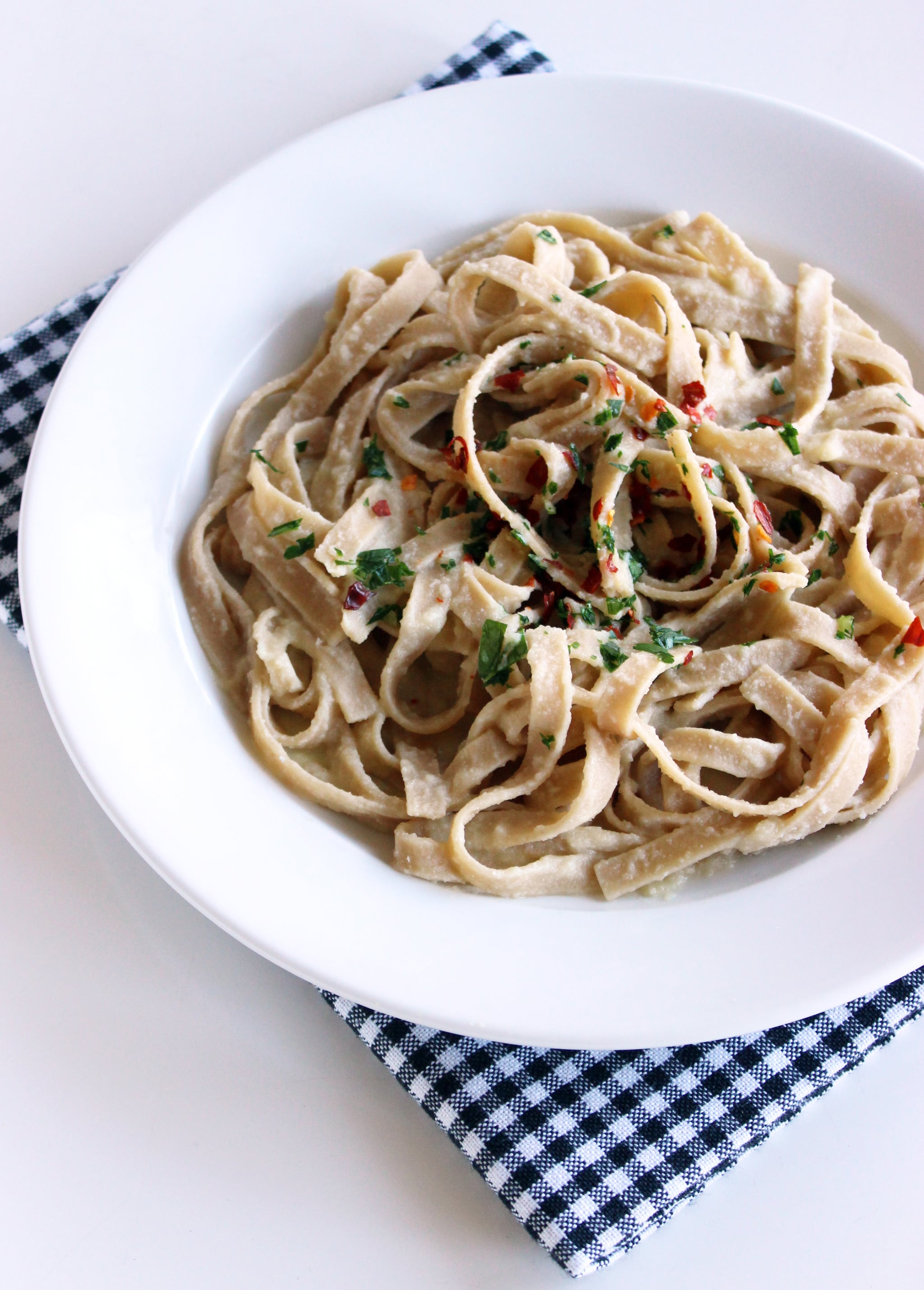 Fettucine alfredo is a quintessential Americanized pasta dish — creamy, cheesy, and loaded in calories. The first few bites at dinner are decadent and delicious, but if you have any sort of dairy intolerance, the rest of your night probably won't be as pleasant. Alfredo-lovers will flip for this creamy cauliflower sauce that weighs in at just 95 calories per serving.
Instead of milk, cheese, or cream to give this sauce its velvety texture, boiled cauliflower is combined with a handful of ingredients, resulting in a nutrient-rich alfredo alternative any pasta-lover will enjoy. One heaping cup of whole-grain fettuccine swimming in this creamy sauce is a crave-worthy meal that weighs in at just over 300 calories.
Cauliflower Fettuccine Alfredo
From Lizzie Fuhr, POPSUGAR Fitness
Notes
You can find ghee (clarified butter) at any health-food store. While ghee is technically a dairy product, many people who steer clear of all dairy products have a reaction to the casein and lactose (a milk protein and a milk sugar). Both the casein and lactose are removed in ghee's clarification process, so many people with dairy issues enjoy ghee without any worry. If you know that ghee won't work for you — or you are vegan — any dairy-free or vegan butter substitute will work instead.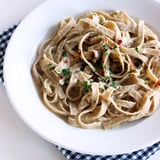 Ingredients
1 cup vegetable broth
1 cup water
2 cups cauliflower florets
2 tablespoons ghee
4 cloves garlic, minced
8 ounces whole-grain fettuccine pasta (4 cups cooked)
1/2 cup unsweetened almond milk
1/2 tablespoon lemon juice
1 tablespoon nutritional yeast
Salt and pepper, to taste
Red pepper flakes, to garnish
Fresh chopped parsley, to garnish
Directions
In a stockpot, bring vegetable broth and water to boil. Add your cauliflower florets to the pot, and cook until tender (around 8 minutes). Reserve 1/2 cup of the broth the cauliflower was cooked in.
Meanwhile, heat the ghee over medium-low heat in a small skillet. Add minced garlic, sautéing for 3-4 minutes, making sure it does not burn. Remove from heat.
Bring a large pot of water to a boil, and cook your fettuccine according to package instructions.
Set up your blender or food processor. With a slotted spoon, remove the cooked cauliflower from the pot and transfer to the blender. Add the almond milk, reserved broth, lemon juice, and nutritional yeast to the blender. Blend well until smooth and creamy. Add salt and pepper to taste.
After draining, return the cooked pasta to the pot, add cauliflower sauce, and mix until all the pasta is coated.
Serve up among 4 plates or bowls (1 cup of cooked pasta in each), and garnish with fresh parsley and red pepper flakes if you wish.

Source: Calorie Count
Information
Category

Pasta, Main Dishes

Cuisine

North American

Yield

4 servings

Total Time

29 minutes, 59 seconds
Nutrition
Calories per serving

300