Chicken Kale Wrap Recipe
Healthy Brown Bag: 10-Minute Chicken Kale Wraps
This quick chicken kale wrap recipe from Self makes a great weekday lunch!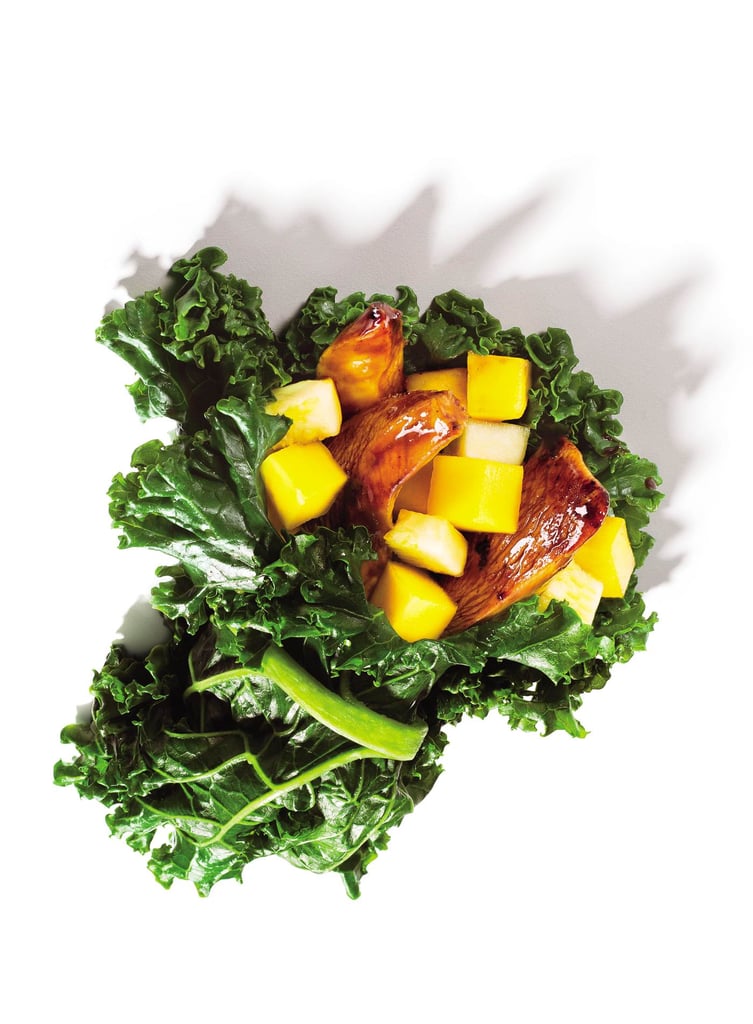 Who doesn't love lettuce wraps? They're crunchy, flavorful, and filling. So why not increase their superfood status by swapping out the plain, old iceberg for nutritional powerhouse kale? For only 34 calories per cup, the leaves deliver satisfying fiber and vitamin C, which has been shown to possibly help burn fat. Now that's a wrap, right?
Ingredients:
3 tablespoons balsamic vinegar
3 tablespoons light brown sugar
2 teaspoons cornstarch
2 teaspoons Dijon mustard
1 teaspoon salt
2 boneless, skinless chicken breasts (6 ounces each)
1 cup yellow squash, diced
1 cup mango, diced
16 kale leaves (Lacinato or Italian)
2 tablespoons olive oil (divided)
16 toothpicks
Preparation:
In a bowl, whisk together 3 tablespoons balsamic vinegar, 3 tablespoons light brown sugar, 2 teaspoons cornstarch, 2 teaspoons Dijon mustard, and 1 teaspoon salt. Toss in 2 boneless, skinless chicken breasts (6 ounces each), cut into long, thin strips. Heat a large skillet over high heat; add 1 tablespoon olive oil and reduce heat to medium. Cook chicken strips in marinade, stirring often, until liquid is mostly absorbed, 3 to 4 minutes. In another bowl, combine 1 cup each diced yellow squash and diced mango. Place 2 large Lacinato or Italian kale leaves on counter with edges overlapping. Top with 1/8 of the chicken and 1/4 cup squash and mango mixture; fold over leaves to close and secure with 2 toothpicks. Repeat to make 8 wraps. In same skillet, heat 1 tablespoon olive oil over high heat. Add wraps; cover and cook to soften kale, 1 to 2 minutes. Serve immediately.
THE SKINNY: 359 calories per 2 wraps, 16 g fat (3 g saturated), 35 g carbs, 4 g fiber, 21 g protein
More from Self.com:
Source: Jonathon Kambouris