DIY Energizing Gummies
The Cutest Pick-Me-Up Ever — Power Gummies
If you love gummy bears, this recipe is for you. This playful treat replenishes your body with tart cherry juice, coconut water, and green tea for a little extra energy. Plus, they are so easy to make. Watch this video to see how, then check out the recipe below.
Energizing Power Gummies
Recipe by Mona Zavosh, for Glow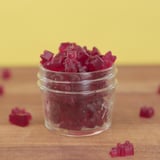 Ingredients
1/2 cup organic coconut water
2 bags green tea
3/4 cup tart cherry juice
3 tablespoons creamed honey
1/8 teaspoon Himalayan pink salt
1 1/2 tablespoons agar-agar powder
Directions
Place a small funnel in a squeeze bottle and set aside.
In a small saucepan, bring the coconut water to a boil, then remove from heat. Steep the tea bags in the hot liquid for 10 minutes. Once time is up, discard the tea bags.
Add the cherry juice, creamed honey, and salt to the saucepan and bring to a boil again. When the liquid is boiling, reduce the heat to simmer and whisk in the agar-agar powder. Continue to whisk for 3 to 4 minutes until the powder has dissolved.
Working quickly and carefully (it is HOT), pour the liquid into the squeeze bottle.
Squeeze the liquid into the mold of your choice. Transfer the mold to the refrigerator for 10 minutes to set.
Pop the gummies out of the mold and store in an airtight container in the fridge.
Information
Yield

36 gummies

Total Time

19 minutes, 59 seconds