Detoxing Green Soup
Choose This Hearty Green Soup For Days You Need to Detox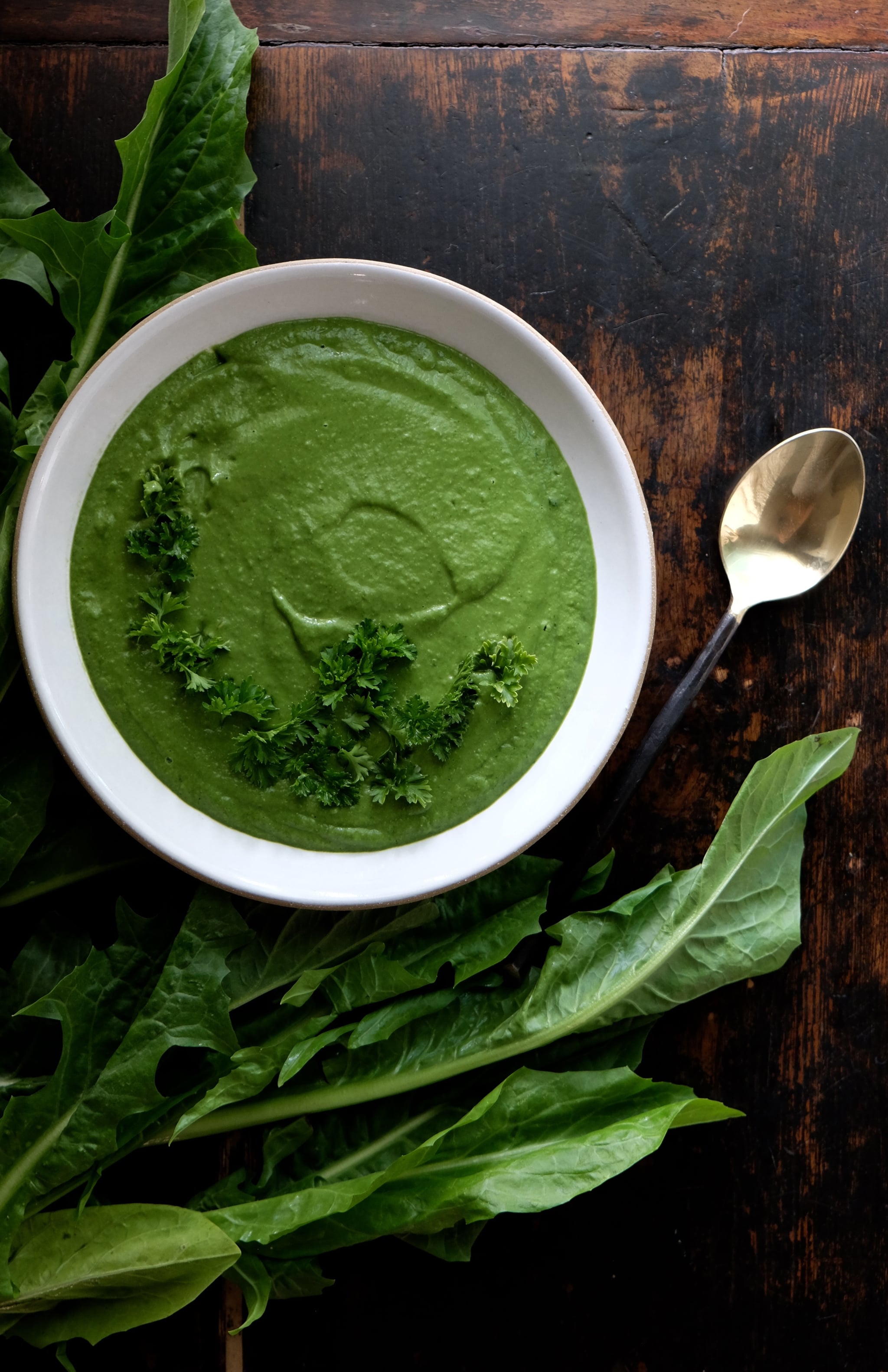 Fall, the season of transition. Marked by shorter, cooler days, our bodies also crave change as the seasons shift. Often, we want foods that are more warming than our green juices, smoothies, and fresh salads that are so abundant in the Summer.
But every now and then we are lucky enough when our cravings are met by a dish that satisfies both our taste buds and a healthy lifestyle. This Fall soup is warming and hearty, but still filled to the brim with alkalizing and detoxifying greens, herbs, and superfoods to energize and cleanse the body, promote healthy skin, and boost your immune system all season long.
Avocado:
We'll take any excuse to add avocados to a meal! This fatty fruit is loaded with monounsaturated fatty acids, omega-3s, potassium, fiber, and a host of fat soluble vitamins from A, D, and E to help promote glowing skin and eyes during the drier Fall and Winter months.
Parsley:
Parsley is a rich source of antioxidants. Packed with vitamins A, K, and C, it helps to combat free radicals, boost the immune system, and reduce inflammation in the body.
Cilantro:
Cilantro, aka coriander, is truly a super-herb. Full of antioxidants helping to combat oxidative stress, it's also a potent cleanser of heavy metals, lowers blood sugar, and has powerful antibacterial and antibiotic properties.
Dandelion:
This herb and common weed is best known therapeutically in root form as a potent liver cleanser. Even its leaves act as powerful cleansers of the blood, promote digestion, and are packed with vitamins and minerals that aid in remineralizing the bones. High in vitamin A, dandelion leaves are also extremely beneficial to skin health and vision.
Coconut Oil:
This multi-purpose oil has single-handedly changed the way we view fats. Comprised of easy-to-digest, medium-chain fatty acids, coconut oil lubricates and fuels the body while containing antimicrobial and antifungal properties that benefit immunity.
Spirulina:
This superfood algae is one of the world's most nutrient-dense foods. It is incredibly high in protein and contains a broad spectrum of vitamins and minerals. It is also a good source of omega-3 fatty acids, aiding in its anti-inflammatory benefits.
Apple Cider Vinegar:
This multi-purpose raw vinegar has a long list of health benefits when consumed internally. From its naturally occurring pre- and pro-biotics that aid in healthy digestion to its cold-busting, skin clearing, and alkaline-forming properties, ACV is an all-around cure that may even help one lose and maintain a healthy weight and improve nutrient absorption.
Garlic:
Garlic has long been used for its medicinal properties. Just one clove a day is enough to stop a cold in its tracks, reduce blood pressure, lower cholesterol, and promote overall health, immunity, and endurance.
Nutritional Yeast:
Nutritional Yeast is an inactive yeast that's used commonly by vegans and vegetarians for its high levels of vitamin B12. It also contains a full spectrum of B vitamins, protein, and amino acids.
Alkalizing Green Soup
Original Recipe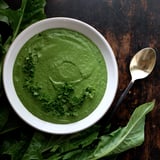 Ingredients
1 avocado
1 medium zucchini
1 large handful parsley (approximately 1 cup loosely packed)
1 large handful cilantro (approximately 1 cup loosely packed)
1 large handful chopped dandelion leaves (approximately 1 cup loosely packed)
3 tablespoons nutritional yeast
1 tablespoon coconut oil
1 tablespoon red miso
1 tablespoon unpasteurized apple cider vinegar
1 teaspoon spirulina powder
1 lemon, juiced
1 garlic clove, chopped
Pinch of sea salt
Cayenne pepper to taste
1-2 cups filtered water or vegetable stock
Directions
Add all ingredients except for water or vegetable stock to a high-speed blender. Add about 1 cup of water or stock and blend, adding additional water as needed until smooth and creamy.
Serve room temperature or blend on high for 1 minute for a warm soup.
Garnish with parsley, additional spirulina, cayenne powder, or slices of avocado, and enjoy!
Information
Category

Soups/Stews

Cuisine

North American

Yield

2 servings
Image Source: POPSUGAR Photography / Alle Weil