Diana Nikitina's Bodysuit at Pyeongchang Olympics 2018
Latvia's Figure Skater Wore a Sexy, Sparkly Bodysuit on Ice and People Are HERE For It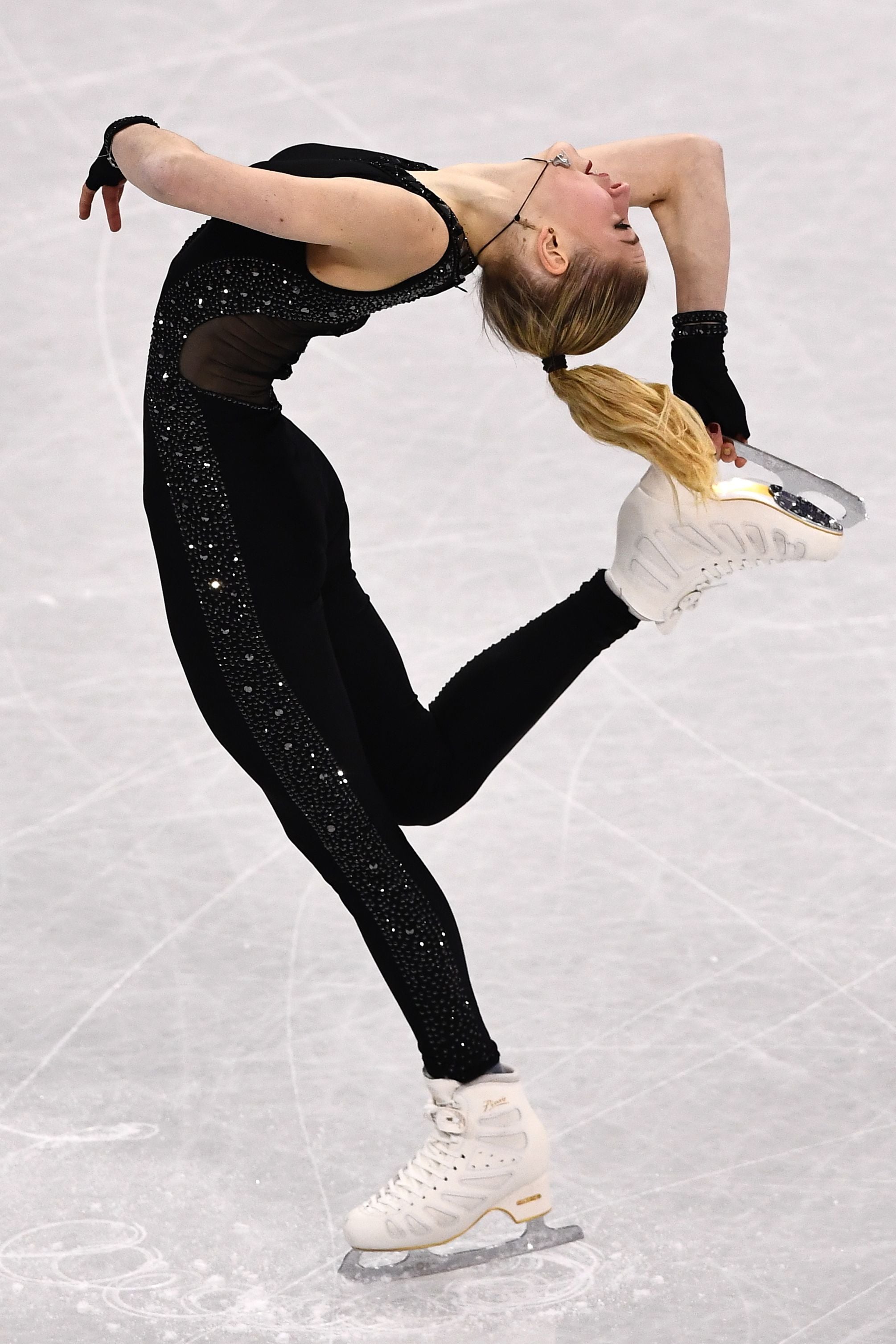 Image Source: Getty / Aris Messinis
Seventeen-year-old Olympian Diana Nikitina from Latvia is serving a serious look in Pyeongchang, South Korea, with this bejeweled black bodysuit — a choice that has pantsuit nation on their feet for a standing ovation.
While female competitive figure skaters traditionally have opted for short dresses and skirts over leotards, Diana went for a powerful, head-to-toe black catsuit that was as sexy as it was badass. Naturally, Twitter is living for it. The style choice combined with her music choice ("Soldier of Love" by Sade) made for a unique, sassy, and all around awesome routine that the crowd was loving.
While she may not have placed particularly high score-wise, she's officially an Olympic fashion icon. We're hoping to see a lot more of Diana's career — and bodysuits — in the years and Olympic Games to come.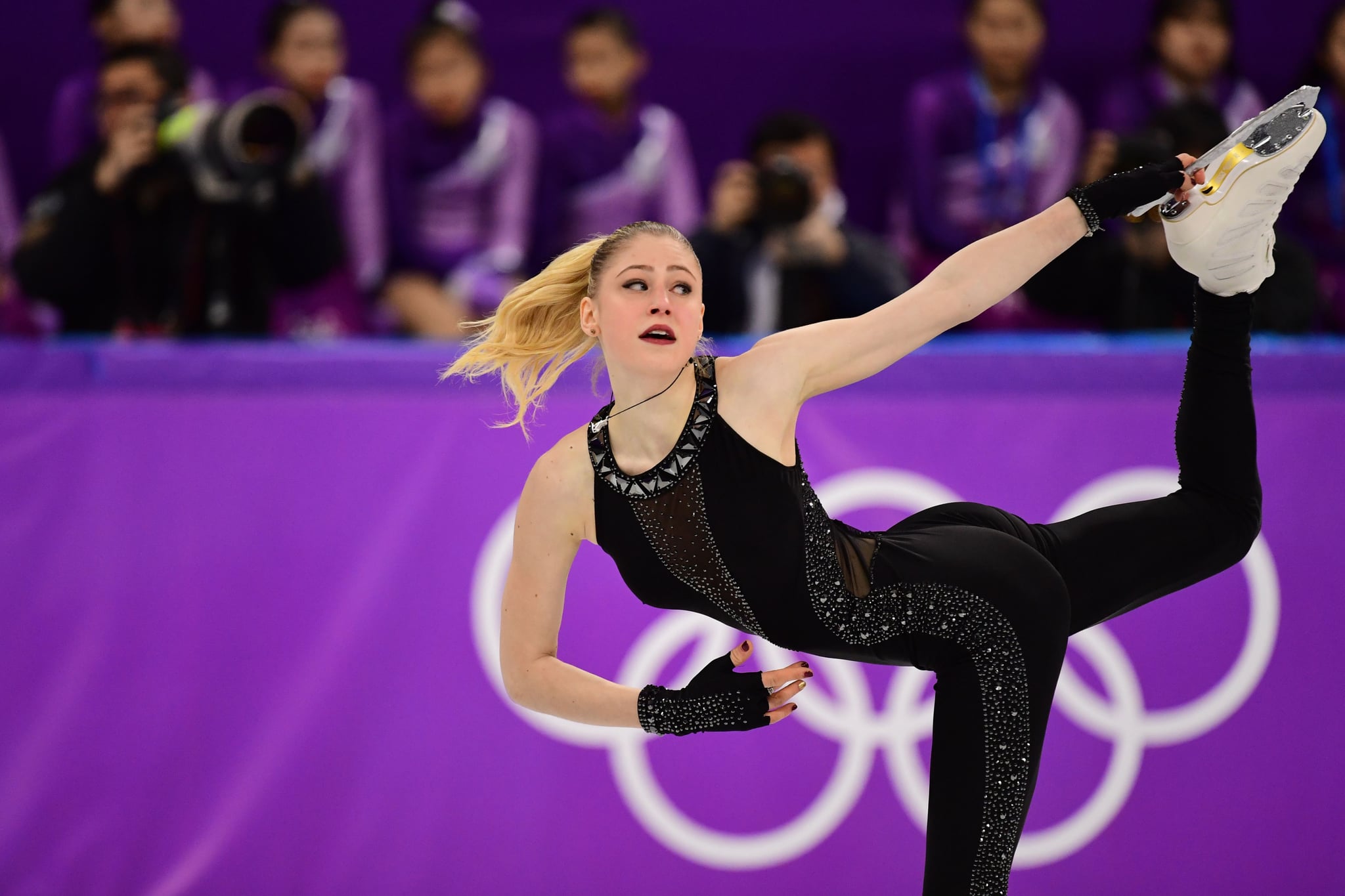 Image Source: Getty / ROBERTO SCHMIDT/AFP
Ahead are some of our favorite reactions to Diana's runway-ready look and crazy-cool vibe. Can we get one of these for the gym?
Really into this 80s sparkle + gloves that this skater from Latvia has! Pants! #Olympics

— katsian andor (@dogunderwater) February 21, 2018
Ladies short skate and Latvia's skater is wearing a sparkly catsuit on the ice and I LOVE IT #Olympics

— Mallory Yu (@mallory_yu) February 21, 2018
To Diana Nikitina of Latvia: your costume was the best of everyone else's you look like a freakin badass. give me more powerhouse female figure skaters in pants

— Mac Best (@mackattack1009) February 21, 2018
more bodysuits!! thank you latvia

— Kali Smoochis 💐 (@sailoranger) February 21, 2018
I need Latvia's jumpsuit #figureskating

— Alexandra Owensby (@owensbeeeee) February 21, 2018
Latvia's outfit is Great

— [alix] Ed is getting his bowler back 🙌 (@transriddler) February 21, 2018
Shout out to Latvia for the pantsuit pic.twitter.com/pUtOMHUFR7

— Kathryn Blacken (@KEBSeasYou) February 21, 2018
I think she's from Latvia - I'm also feeling her unitard ;-) https://t.co/WAFAT4qVwx

— Houseof1000fabrics (@thousandfabrics) February 21, 2018
sign.... @NBCOlympics @Olympics pic.twitter.com/dQ0nzifzUV

— Leslie Jones 🦋 (@Lesdoggg) February 21, 2018
Latvia's figure skater putting out some serious vibes with that song and that bodysuit hot damn #figureskating #Olympics

— Dominique (@DommyMichelle) February 21, 2018
Nikitina from Latvia with a winning combination: music by Sade and Avengers-inspired costume. #WinterOlympics2018 #womensfigureskating #figureskateing

— Sticklen & Dreyer (@Sticklen_Dreyer) February 21, 2018
Latvia's costume is 🔥. #Peongchang2018 #Olympics2018

— Jennifer Kimbro (@jenniferkimbro) February 21, 2018
I don't know who she is but this girl from Latvia just skated to "Soldier of Love" by Sade and I want her to win gold now. #PyeongChang2018 #figureskating #Olympics

— Emily Hall (@EmilyN7914) February 21, 2018
I like too that you see more ladies wearing pants during their programs like the skater from Latvia. It's an interesting look. #figureskating #Olympics pic.twitter.com/GvC0PWzL2R

— Snotgirl (@Fawn_Liebowitz) February 21, 2018
Bethany and I are marveling that the skater from Latvia is wearing pants. Pants!

— The Curling Watcher (@bombsfall) February 21, 2018
Also, can I just say how much I appreciate these women skating in pants! Latvia's Diana looks strong. #PyeongChang2018

— DK (@mangopickle3) February 21, 2018
Loving the leggings from Latvia. ❤️ #FigureSkating pic.twitter.com/tMI8ei3jNM

— Jill (@OLCVTA) February 21, 2018