Easy Healthy Tofu Recipe
I, a Proud Carnivore, Make This Supersimple and Healthy Tofu Recipe at Least Twice a Week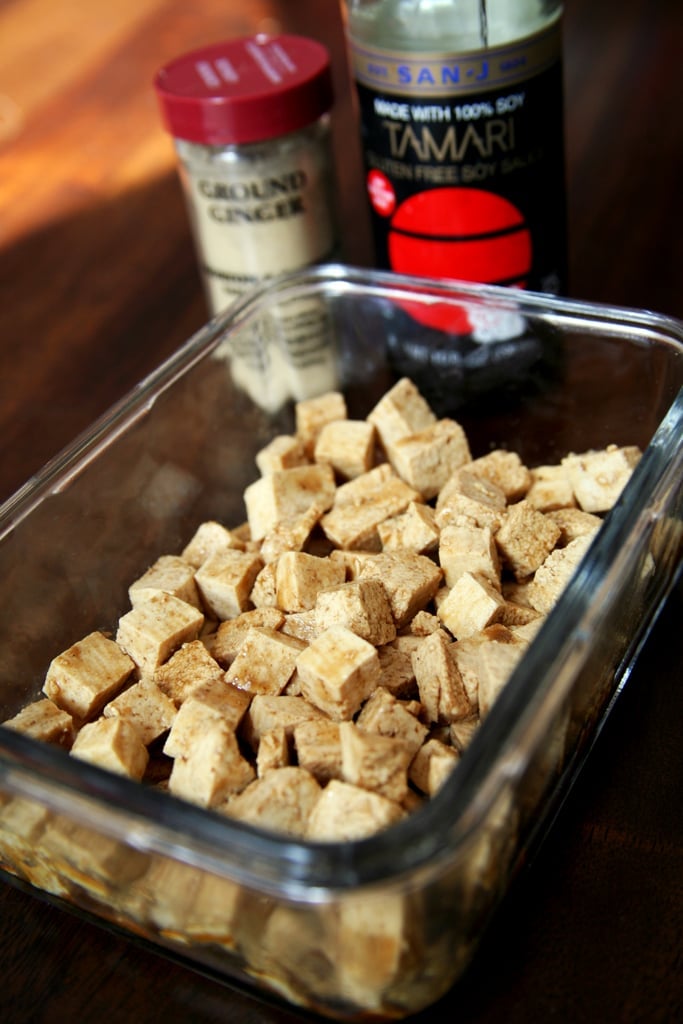 Growing up with a pescatarian sister and a mom who doesn't eat red meat, I (and my fellow long-suffering carnivore dad) have eaten my fair share of vegetarian dishes while silently yearning for a burger or even a scrawny piece of chicken. Fish and chicken are now my main sources of protein, but recently I've been looking to diversify. I don't eat much red meat (supporting the theory that we all turn into our mothers at some point), and there are only so many protein bars a girl can choke down before craving something a little more interesting. I swallowed my pride and asked my still staunchly pescatarian (save for the occasional Thanksgiving gravy) sister if she had a decent tofu recipe to share.
And so I present the only tofu dish I will stand to make, and I have to admit, I choose it over my chicken breast at least a few times a week. It's simple, satisfying, and rich in taste, plus it heats up beautifully in the microwave for meal prepping purposes. I like to split one recipe into two servings and serve with quinoa, broccoli or spinach, and half an avocado for a supersatisfying weeknight dinner. My sister also adds it to quinoa bowls with tahini (here's a homemade recipe), sweet potatoes, and avocado, or stuffs it into burritos with teriyaki sauce, salmon, and Asian coleslaw. Check out the full recipe below and feel free to get creative.
Baked Sesame Tofu
Original Recipe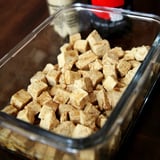 Ingredients
2 tbsp. soy sauce
1 tbsp. toasted sesame oil
1/4 tsp. ground ginger
1 tbsp. honey or agave nectar
14 oz. package of firm or extra-firm tofu
Toasted sesame seeds to top
Directions
Slice the tofu into small cubes. (You can also buy it precubed.)
Combine the soy sauce, sesame oil, ginger, and honey in a bowl and whisk together to make the marinade.
Pour the marinade over the tofu in a separate bowl and place it in the refrigerator for 20 minutes to an hour. (I usually do an hour.)
Preheat your oven to 400°F. Cover a pan or glass dish with foil, curling up the edges so the marinade won't leak.
Pour the marinated tofu into the dish. Cubes can be overlapping or stacked on top of each other.
Sprinkle the tofu with sesame seeds.
Bake for 30-45 minutes, until most of the liquid is gone and the tofu pieces on top have slightly browned.
Serve immediately or store in the refrigerator for 3-5 days.
Information
Category

Main Dishes, Tofu

Yield

2 servings

Prep Time

10 minutes

Cook Time

1 hour 30 minutes

Total Time

1 hour, 39 minutes, 59 seconds
Nutrition
Calories per serving

240