Frozen Almond Butter Banana Bites Recipe
This Recipe Is a Major Upgrade From Standard Chocolate-Covered Bananas
Upgrade chocolate-covered bananas to frozen almond banana bites for a treat loaded with healthy antioxidants with this recipe from PaleoHacks!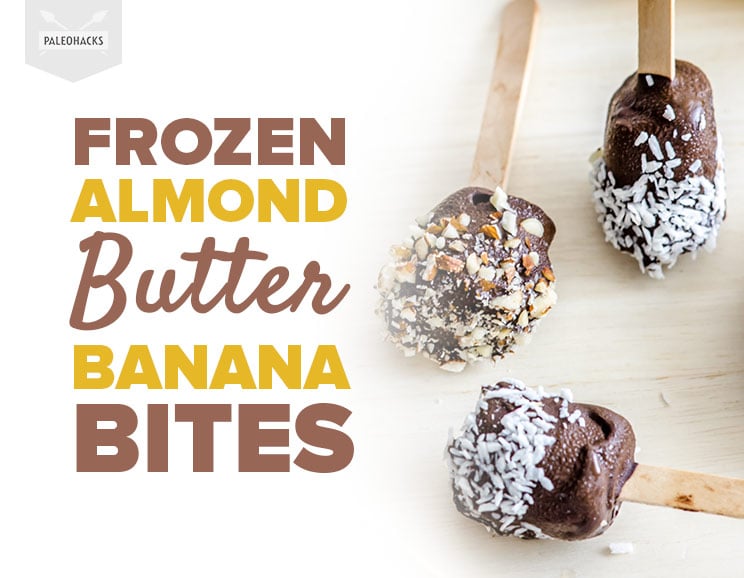 These frozen almond banana bites couldn't be easier to make! Dark chocolate, sliced bananas, and a bit of almond butter create a quick frozen dessert. Enjoy it as a cool snack on a hot day or share it with guests for a fun party treat.
Dark chocolate packs in plenty of antioxidants into every bite. Melt it with coconut oil to create a thin sauce you can use as the chocolate coating. Added almond butter creates a nutty "glue" to keep the banana slices together and to increase the level of creaminess.
Chopped nuts and shredded coconut make up the topping choices for these bites. Choose between a crunchy blend of nuts (pecans, hazelnuts, and almonds go great) or use shredded coconut for an extra tropical vibe. Or, do both!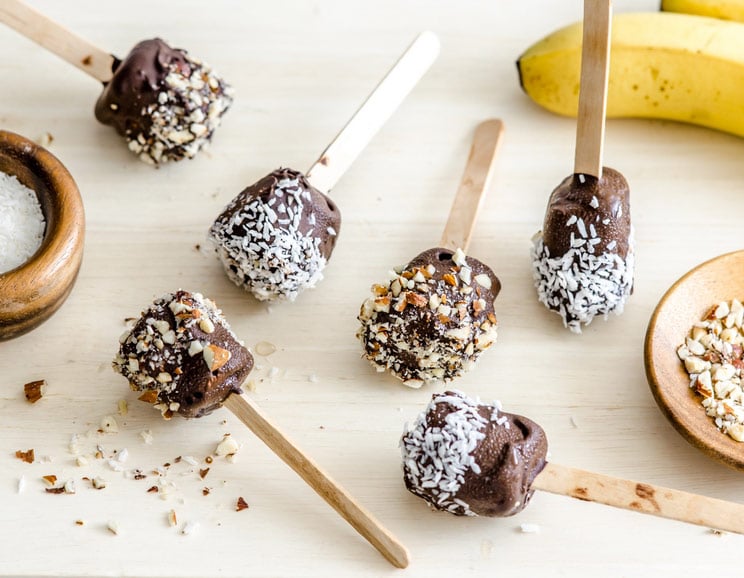 To get started, slice each banana into half-inch rounds. Sandwich the almond butter between two banana rounds and insert a popsicle stick into the center. Tip: Press gently to avoid having the almond butter spill out from the sides. Repeat for all remaining slices and place onto a prepared baking sheet. Pop them into the freezer for one hour or until they are fully frozen.
When ready, melt the dark chocolate and coconut oil using a double boiler. Allow to cool for 2-3 minutes and work quickly to dip each "bite" into the melted chocolate and toppings. Note: You may need to reheat the chocolate once or twice during the dipping process. Transfer the bites back into the freezer and let them chill for one hour. Serve and enjoy!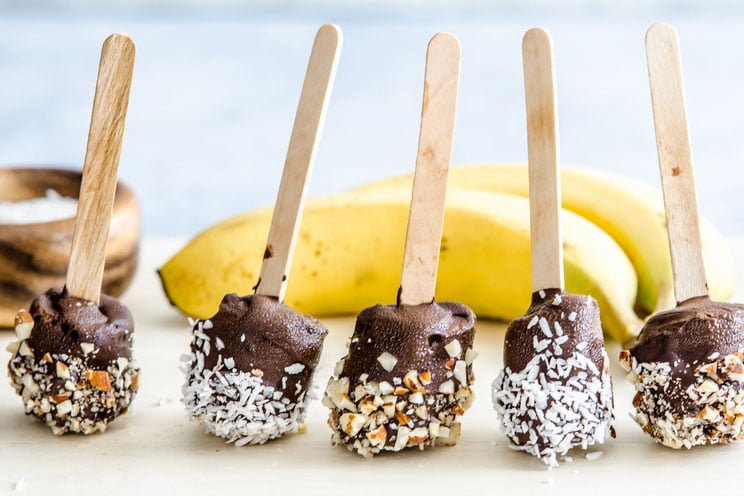 Frozen Almond Butter Banana Bites
PaleoHacks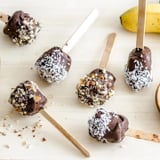 Ingredients
4 bananas
3/4 cup almond butter
8 ounces dark chocolate
1 tablespoon coconut oil
1/4 cup mixed nuts, chopped
1/4 cup shredded coconut
Directions
Peel and slice the bananas into 1/2-inch rounds.
Place one teaspoon of almond butter between two banana rounds and place a popsicle stick through the stack's center. Transfer to a baking tray and freeze for at least one hour.
While the bites are chilling, pour the mixed nuts and shredded coconut into two separate bowls for topping.
Melt the chocolate and coconut oil in a double boiler, stirring occasionally. Allow to cool for 2-3 minutes. Quickly dip chilled banana sandwiches into the melted chocolate, then coat with toppings.
Repeat with the remaining bites and transfer back to the baking tray. Place into the freezer for one hour to chill before serving.
Information
Category

Snacks

Cuisine

North American

Yield

15 to 20 bites

Total Time

2 hours, 14 minutes, 59 seconds