Healthy Game-Day Snacks
Score Big With These Nutritionist-Approved Game-Day Snacks
Dietitian Julie Upton, MS, RD, of Appetite for Health loves football! Here are her snack recommendations for game day. They'll elevate your tailgating while keeping calories low.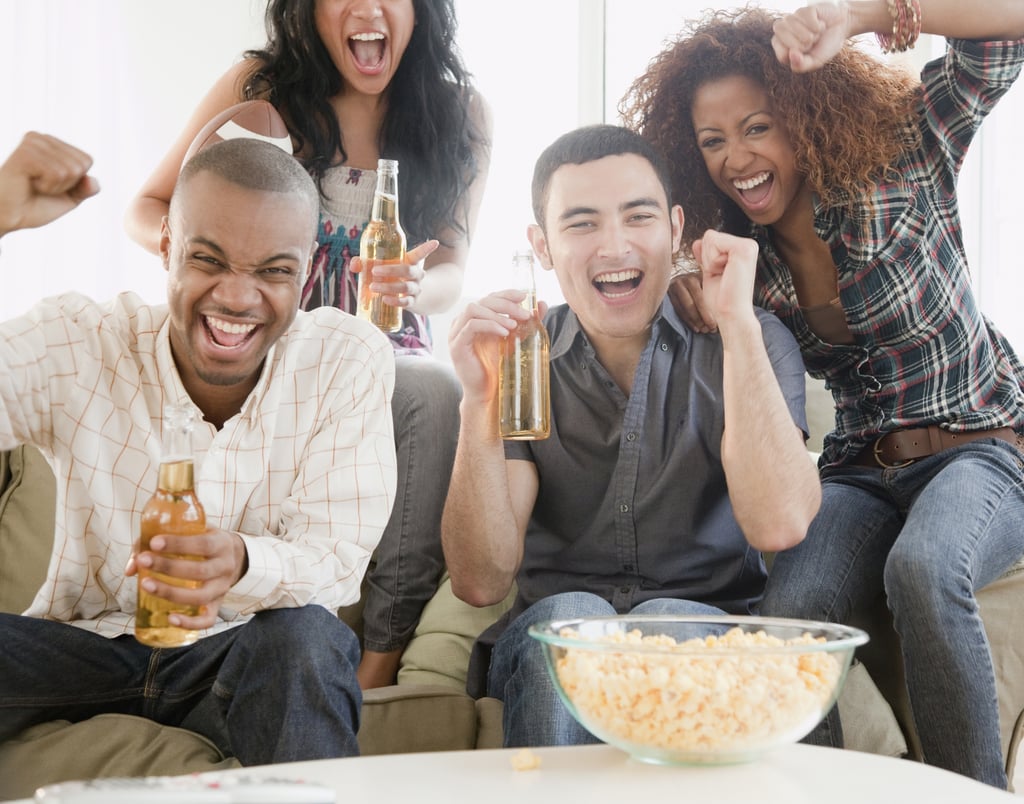 If you're like me and love game-day snacks as much (or maybe more than?) sacks, you're not alone. Many sports fans fess up to enjoying football food more than the game. Problem is, typical tailgate fare like brats and burgers; chips and dip; pizza; wings and beer can add up to more than 1,500 calories and several days' worth of saturated fat — all before kick-off!
Here are 10 nutritionist-approved sports snacks to help you survive football season without feeling like a lineman.
Skinny Dips: To contain calories when there's a "blitz" on chips and dip, I opt for dips with more filling fiber and fewer calories than a typical ranch or queso dip. Best bets: Skinny Guacamole, hummus, and bean dip. Serve them with fresh-cut veggies like carrot, bell pepper, and sugar snap peas and whole-wheat baked pita chips. Dip Tip: Replacing a cup of regular sour cream with nonfat Greek yogurt shaves 315 calories and 45 grams of fat from your dip recipes.
Mini Caprese Bites Skewers: Appetizers and sides often pile on more calories than main courses, so look for ways to make your apps veggie-packed. To make: Slice cherry tomatoes in half and put on toothpick, add 1 small slice fresh mozzarella cheese, and 1 basil leaf. Sprinkle with salt and pepper and drizzle with olive oil and balsamic vinegar.
Turkey Cocktail Meatballs: Ground skinless turkey breast has one of the highest protein-to-calorie ratios and using it in place of 90% lean ground beef saves 80 calories and 9 grams of fat per serving (about 4 mini meatballs). I usually make classic Italian-style or an Asian-style with a hoisin sauce.
Hummus Deviled Eggs: Upgrade this egg-cellent low-carb savory snack by using fiber- and protein-rich hummus instead of mayo for the filling. To make: Boil 6 eggs and cut in half and to the yolks add 1/2 cup hummus, 1 tablespoon extra-virgin olive oil, salt and pepper, and puree in food processor. Using a piping bag, fill each egg white half with about 2 tablespoons of the yolk mixture and sprinkle with paprika.
Veggie (. . . and Bean) Chips: The snack food aisle is packed with so-called "veggie" and "bean" chips, but unfortunately, most are nothing more than potato or corn chips sprayed with worthless veggie powders. Look for chips that list a vegetable (or bean) as the first ingredient. Best bets: Beanitos Original Black Bean lists black beans as the first ingredient and a serving of these crowd-pleasers packs in 4 grams of plant-based protein compared to just 1 gram of protein in potato or tortilla chips. Or, try one of these six DIY delish crunchy kale chip recipes.
Chicken Salad Apple Rounds: Use apple rounds instead of bread to create these mini chicken salad rounds. Core and slice several of your favorite crisp apples into 1/4-inch thick rounds. Then top each apple round with your favorite chicken salad and sprinkle each round with chopped pecans.
Air-Popped Popcorn: This game-day munchie is one of the skinniest options, weighing in at 100 calories per three-cup serving. In fact, a study published in Nutrition Journal reported that adults felt less hungry after eating 100 calories worth of air-popped popcorn versus 150 calories worth of potato chips. The fiber and larger serving size of popcorn enhances feelings of fullness.
Wonderful Salt and Pepper Pistachios: Nuts provide a stress-relieving crunch when anxiety levels rise. Instead of snacking on shelled nuts (too easy to overeat), get cracking with in-shell pistachios. Opening the shell of these spiced-up nuts can help calm your nerves and slows down consumption. Plus, pistachios have more protein and fiber than most other snack nuts, making them an ideal snack for sports nuts.