How to Make Almond Milk
This DIY Almond Milk Recipe Is So Easy, You'll Never Get Store-Bought Again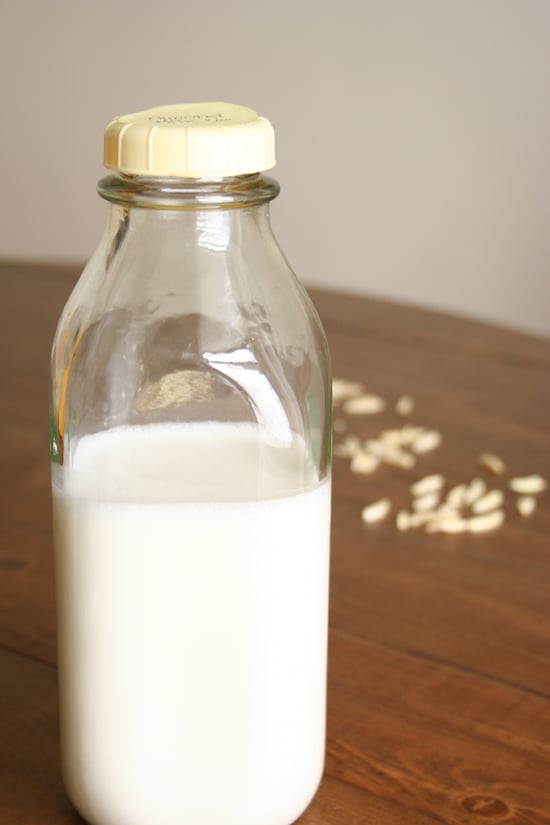 If you are lactose intolerant, vegan, or just looking for a delicious alternative to milk, try making almond milk. You'll discover almonds create a rich, creamy, and sweet milk that you can use countless ways. Pour it over your cereals or granola, substitute it for milk when baking, or make it the cream base for savory or sweet sauces. Store your almond milk in a glass milk jug for a vintage look.
As for the leftover almond meal, don't throw it out; instead, try adding the leftover meal to muffin, pancake, or cookie recipes. It will give your baked goods a crumbly, crunchy texture and a delicious almond flavor. If you plan to make nut milks regularly, try using a reusable Nut Milk Bag rather than disposable cheesecloth.
Homemade Almond Milk
From Anna Monette Roberts, POPSUGAR Fitness
Ingredients
1 1/2 cups blanched almonds
3 cups filtered water
2 tablespoons agave nectar or brown rice syrup
Equipment
Blender
Cheesecloth
Fine mesh sieve
Directions
Pour almonds into a large bowl. Bring 3 cups water to a boil, and pour over blanched almonds. Let rest for 20 to 30 minutes.
Pour almonds and water into a blender, and blend until smooth.
Cut 2 large pieces of cheesecloth, dampen them under a faucet, and wring them out. Lay cheesecloth pieces one over the other in a crisscross position over a fine mesh sieve. Place fine mesh sieve over a clean bowl.
Pour 1/3 blended almond mixture over cheesecloth. Gather 4 sides of cheesecloth with left hand, and with right hand, squeeze out excess liquid. Once all liquid is extracted, place almond meal in a separate bowl, rinse and wring out cheesecloth, and repeat procedure in 2 more increments.
Whisk agave nectar into almond milk. Pour into an airtight container, and refrigerate. Almond milk will last 2 to 3 days, or until it tastes sour.
Information
Category

Other, Drinks

Cuisine

North American
Image Source: POPSUGAR Photography / Anna Monette Roberts