Keto Beef Stew Recipe
Keto Beef Stew That's Ultra Comforting and Easy to Make
The following story by Kate Kordsmeier was originally published on Root + Revel.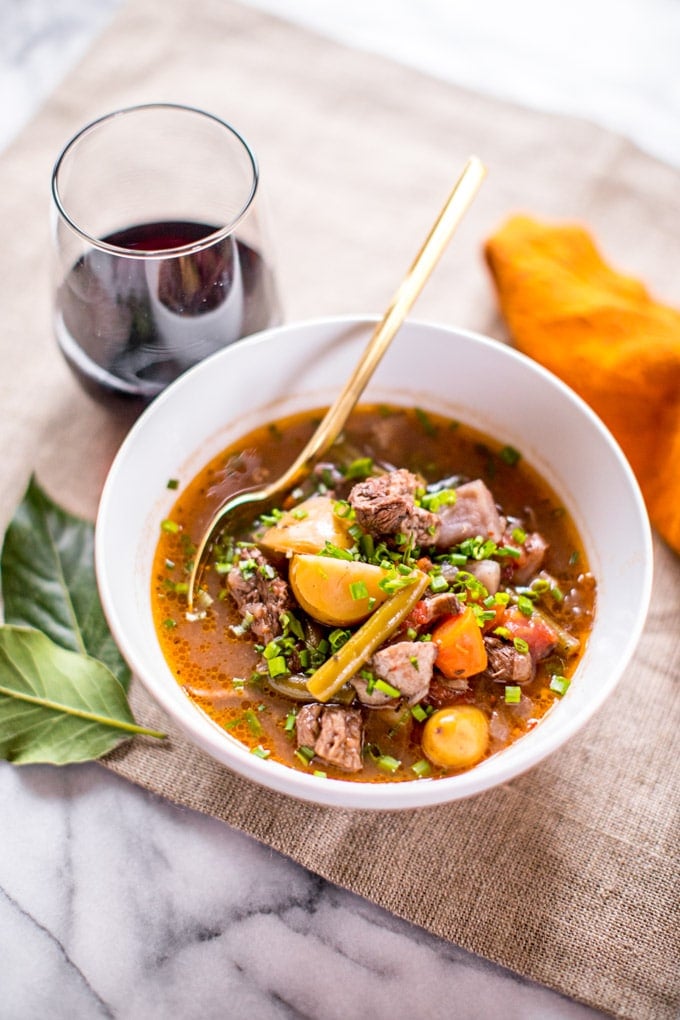 Calling all quick + easy dinner lovers! This Keto Beef Stew is made in the Instant Pot (or slow cooker if you don't have one), meaning it comes together in under 40 minutes and you'll only have to clean one dish. High in protein, Vitamin K, B6, B12 and Zinc, it's a nutritional powerhouse that's so delicious, nobody will ever guess it's healthy, too!
We're just two weeks away from Christmas (OMG, have you done your holiday shopping yet? Our gift guide can help!) and I don't know about you, but getting dinner on the table is a feat in itself this time of year.
Or rather, I should say it usually is . . . this December I'm actually taking a mini-sabbatical after realizing just how much I need to slow down and savor the season.
So that means lots of time with friends and family, DIY projects and decorating at our new house, tons of play time with our new puppy (have y'all met Finch yet?), and just generally moving slower, being more mindful and present and trying my damnedest to make this holiday season stress free.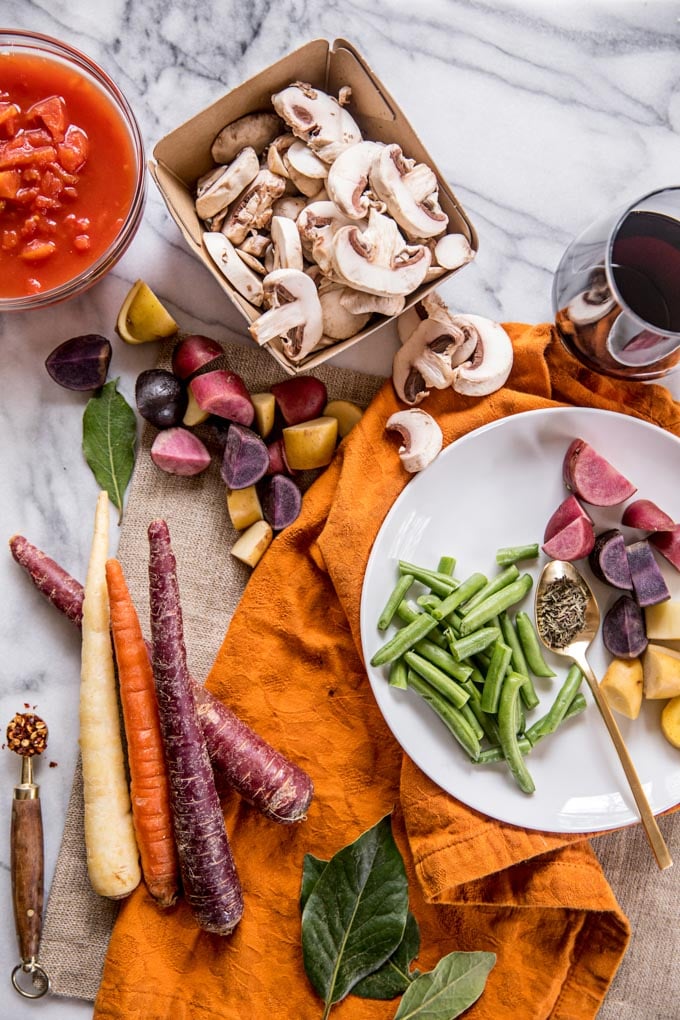 Even with this sabbatical (don't worry, I've got tons of recipes and helpful posts already queued up for you), I'm still looking for quick and easy dinner recipes.
Bonus points if that recipe is ultra cozy and comforting, warming and seasonal, healthy and anti-inflammatory.
And that's exactly what this Keto beef stew is. Take a look: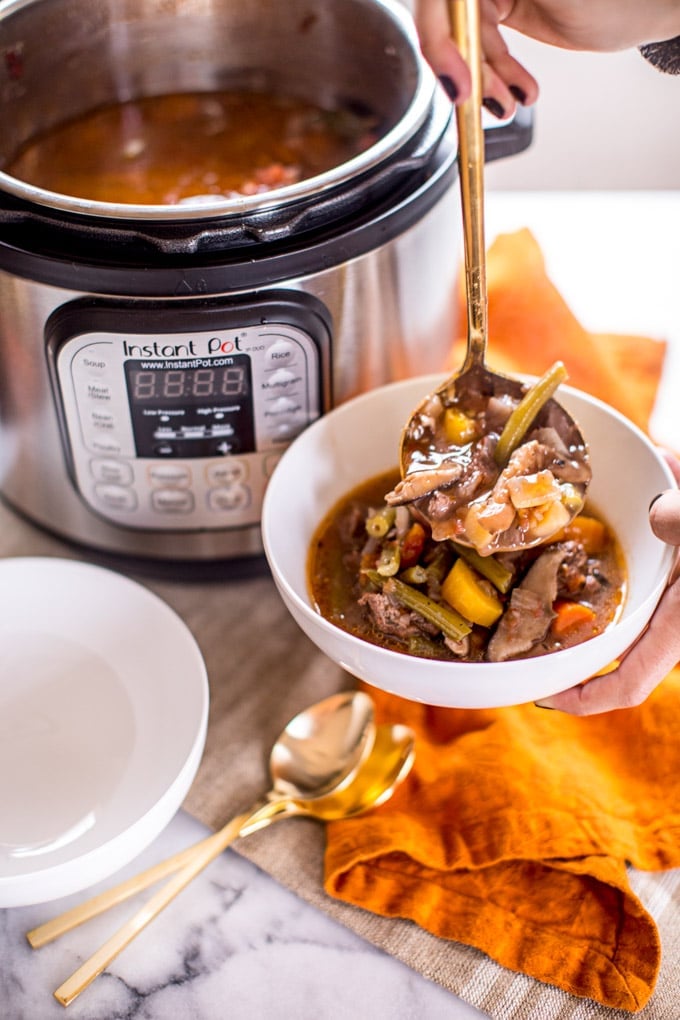 Is Beef Stew Really Healthy?
Generally speaking, beef stew is already a really healthy, nourishing dinner choice, Keto or not. It's full of seasonal veggies and when you make it with grass-fed beef and collagen-rich bone broth . . . fuhgeddaboudit!
Plus, this beef stew recipe is high in protein, Vitamin K (great for bone and blood health, critical for hormone balance), B6 (helps the body metabolize fats, improves brain health and mood, and helps you sleep better), B12 (energy and metabolism booster), and Zinc (super important for digestion, fertility, thyroid and clear skin).
It's a nutritional powerhouse that's so delicious, nobody will ever guess it's healthy, too!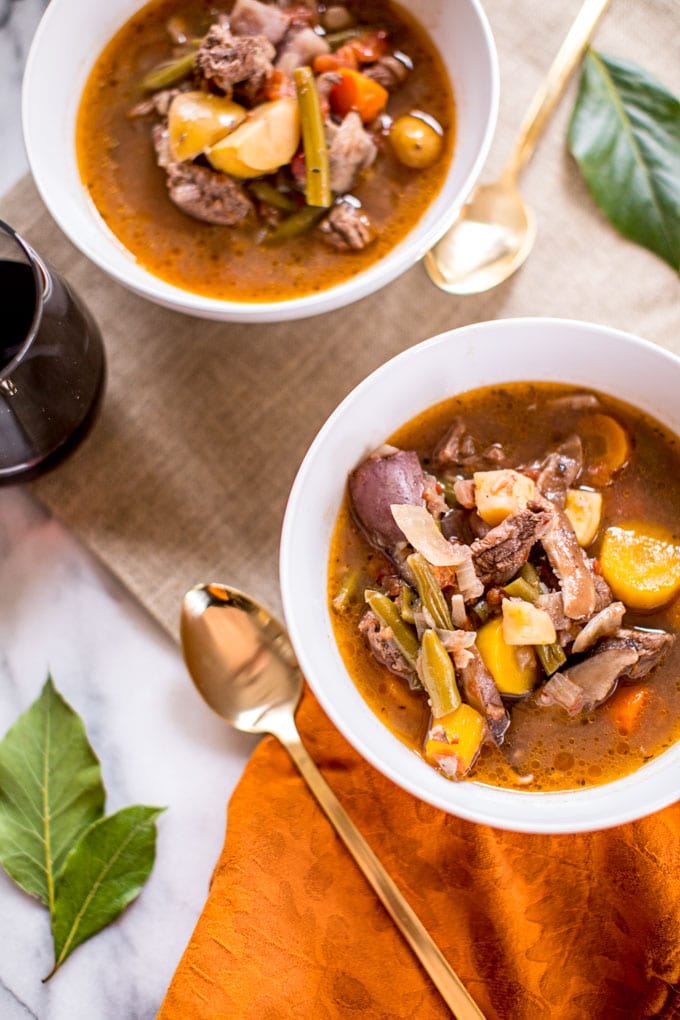 That being said, traditional beef stew can be a bit carb-heavy and I know so many people are trying to limit their carbs this time of year.
Or maybe you eat gluten-free or Paleo and generally just want to up your nutrition game. So, I thought I'd put a little twist on classic beef stew and make this one Ketogenic.
What is Keto? For the uninitiated, the keto diet is a high-fat and low-carb plan that causes the body to enter a state of ketosis, where we produce ketones (which break down fat) in the liver to be used as energy.
On a normal diet, the body uses glucose (or carbs) as the main form of energy, so by using ketones (or fat) instead we are forcing our body into this metabolic state of starvation (but without starving ourselves) that can result in weight loss, balanced blood sugar (thanks to the lack of glucose spikes from avoiding carbs), increased energy, controlled appetite, and improved mental focus.
So how do you make Keto beef stew?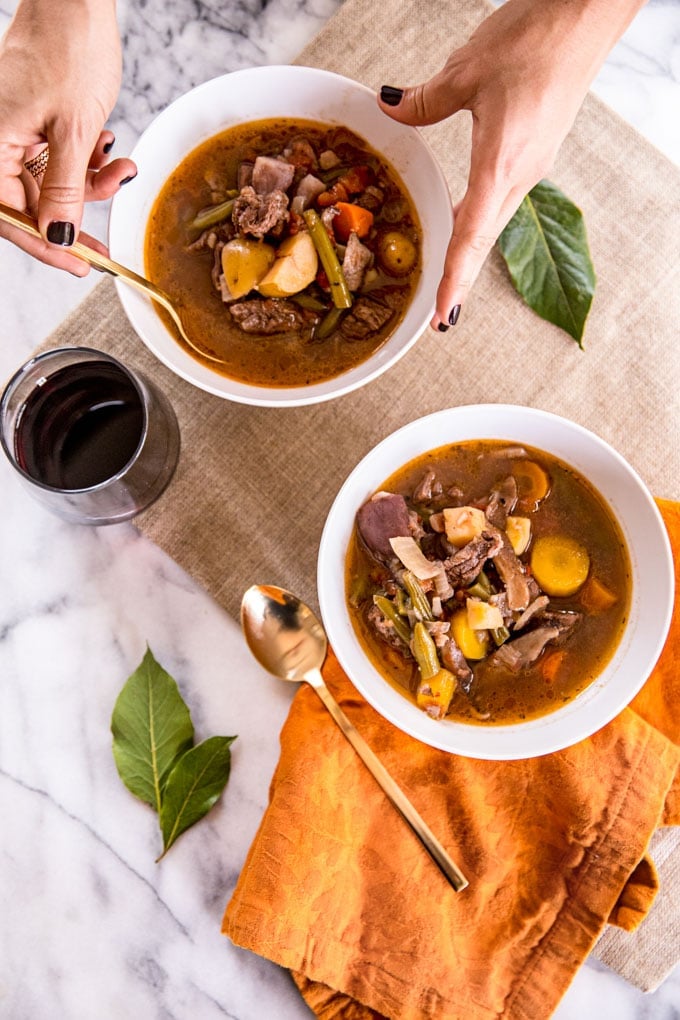 How to Make Keto Beef Stew
To cut down on the carbs, the first thing you do for this recipe is nix the flour or cornstarch, refined carbs that are typically used to thicken stews, but which I find to be totally unnecessary.
Secondly, I'm making some low-carb veggie swaps for the starch-heavy root veggies often found in beef stew.
For this recipe, I'm using tons of anti-inflammatory garlic, onions, spices and mushrooms, and then some diced tomatoes, carrots and green beans.
The result? Just 11.7 grams of carbs per serving! Crazy, right?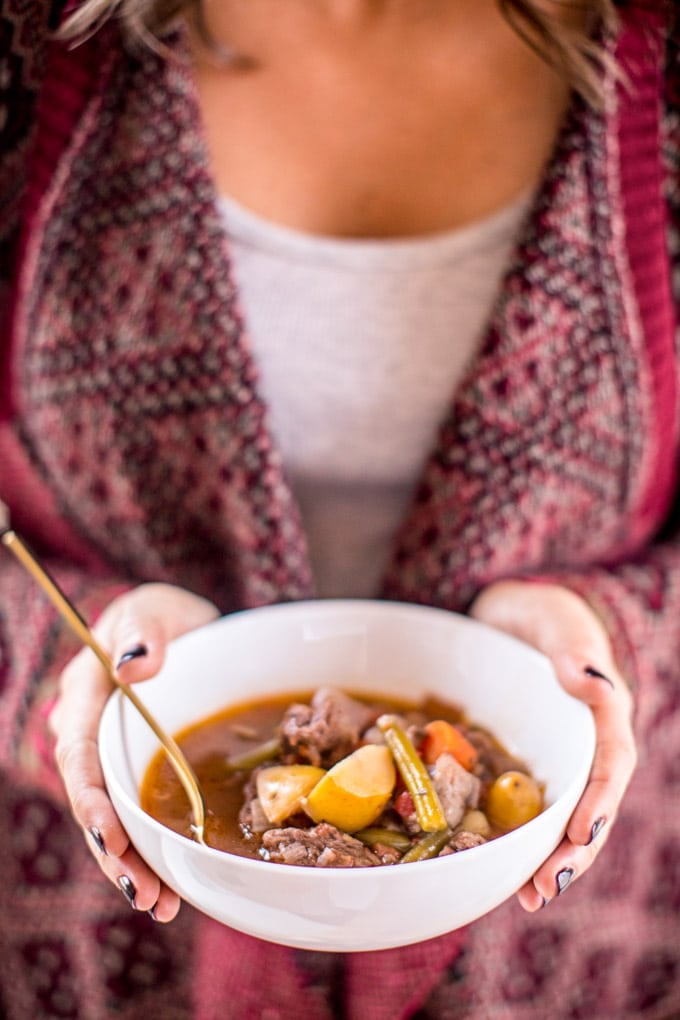 Now, since I'm not personally Keto and I love me some good potatoes, I do like to throw a few in this beef stew. If you add them, the carb count only goes up to 20 grams per serving, so it's still a low-carb beef stew recipe, relatively speaking.
There are tons of other great low-carb veggies you could use here, too, like celeriac (celery root), radishes, broccoli, asparagus, zucchini, and cauliflower.
That's the beauty of stew recipes — they're really more just templates. Use whatever veggies you love/have on hand. This beef stew recipe is great for cleaning out the fridge, too!
You can find all of the ingredients you need for this recipe at Sprouts Farmers Market, which specializes in healthy, natural and organic food at affordable prices!
To find a Sprouts location, use this handy map and don't miss Sprouts' weekly ad with digital coupons.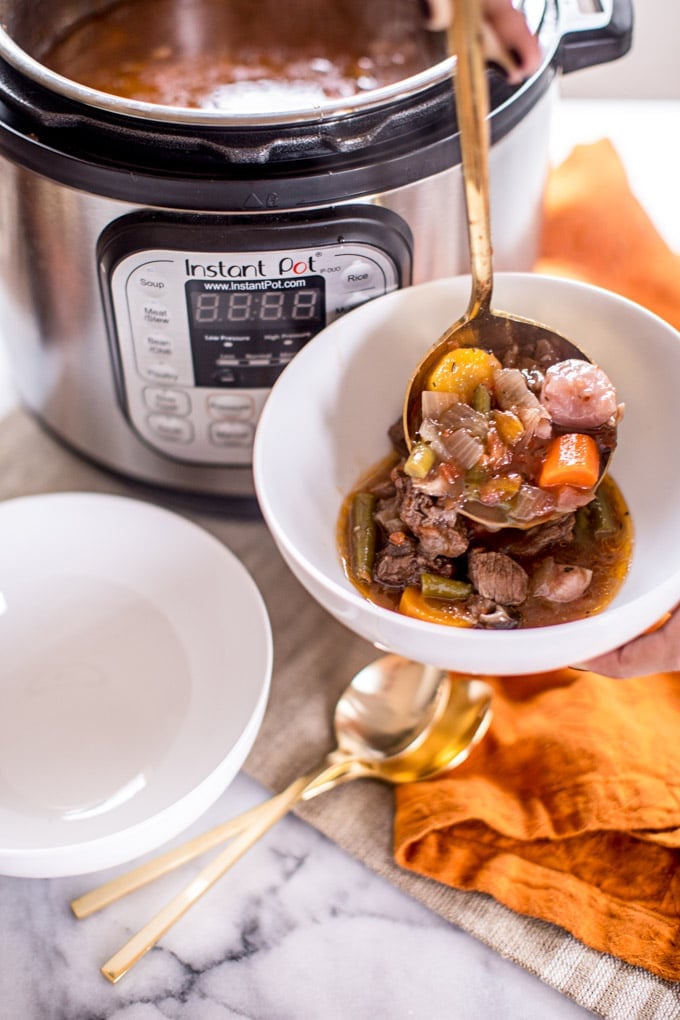 How to Make Beef Stew in an Instant Pot
Do you have an Instant Pot yet? This may just be my favorite appliance of the year! I know it's not new, but I just got mine at the start of 2017 and I can't use it enough.
I love that you can brown meat right in the pot (yep, that means you only have to wash one dish for this entire recipe!) and thanks to the magic of pressure cooking, this stew cooks up in just 15 minutes.
And the meat is pull-apart-with-a-spoon tender!
Also, a quick note about the bone broth: instead of using true bone broth, I make my own right in the pot as the stew cooks by adding 2 marrow bones and 4 cups of water. But if you can't find marrow bones, you can always add 4 cups of beef bone broth instead.
If you don't yet have an Instant Pot, don't worry — I provided instructions for a slow cooker or crockpot in the recipe notes below. Just one more step of browning on the stovetop. Still super easy!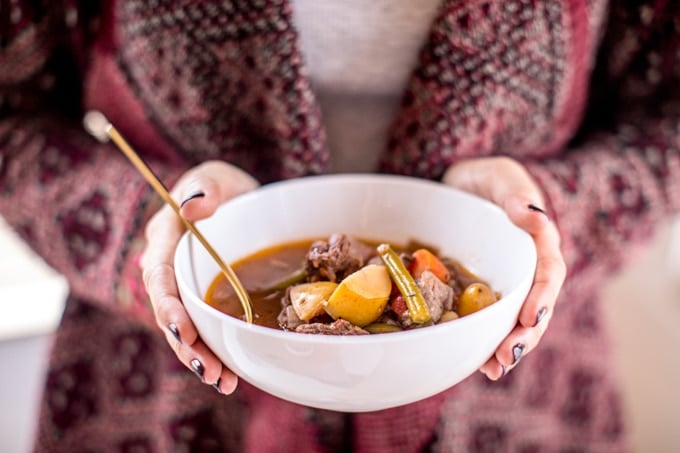 Keto Beef Stew in the Instant Pot
Root + Revel
Notes
If you don't have an Instant Pot and would prefer to use a slow cooker, follow these instructions:
In a large cast iron skillet over medium-high heat, add the onion to avocado oil and sauté until soft, about 3 minutes. Add the garlic and cook until aromatic, about 1 minute. Add the beef cubes and brown on all sides, about 5-7 minutes. Pour the red wine over top and use a wooden spatula to scrape up any browned bits.
Add the mixture to a crockpot with the remaining ingredients, except the garnish. Cook on low for 8 hours or high for 4 hours. Garnish with herbs and vinegar. Serve and enjoy!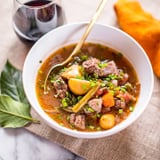 Ingredients
2 tablespoons organic, grass-fed butter
1 yellow onion diced
2 cloves garlic sliced
1 pound organic, grass-fed beef cubed (I recommend chuck roast cut)
1/2 cup dry red wine
5 ounces mixed wild mushrooms
3 organic carrots sliced
1 cup organic green beans cut into 1-inch pieces
1 can organic diced tomatoes no salt added
1 cup diced potatoes OPTIONAL
2 organic, grass-fed beef marrow bones (can substitute 4 cups organic, grass-fed beef bone broth if preferred)
4 cups filtered water (omit if using bone broth instead of marrow bones)
1 tablespoon red wine vinegar
1 tablespoon red pepper flakes
1 large bay leaf
1 tablespoon fresh thyme chopped
salt and pepper to taste
Chives + Parsley to garnish
Directions
Set your Instant Pot to sauté and add the butter. Once hot, add the onion and sauté until soft, about 3 minutes. Add the beef cubes, season with salt and pepper, and brown on all sides, about 5-7 minutes. Add the garlic and cook until aromatic, about 1 minute. Pour the red wine over top and use a wooden spatula to scrape up any browned bits.
Turn the Instant Pot off and add the remaining ingredients. Screw on the lid and set to High Pressure, Manual for 15 minutes. Release steam when finished cooking. Remove the marrow bones, if using, and the bay leaves.
Serve and enjoy!
Information
Category

Main Dishes, Beef

Cuisine

North American

Yield

6 servings

Total Time

24 minutes, 59 seconds
Nutrition
Calories per serving

222