Low-Carb Chicken Pesto Pasta Salad Recipe
This Low-Carb Pasta Salad Is So Tasty, You'll Want to Make It For Every Party This Summer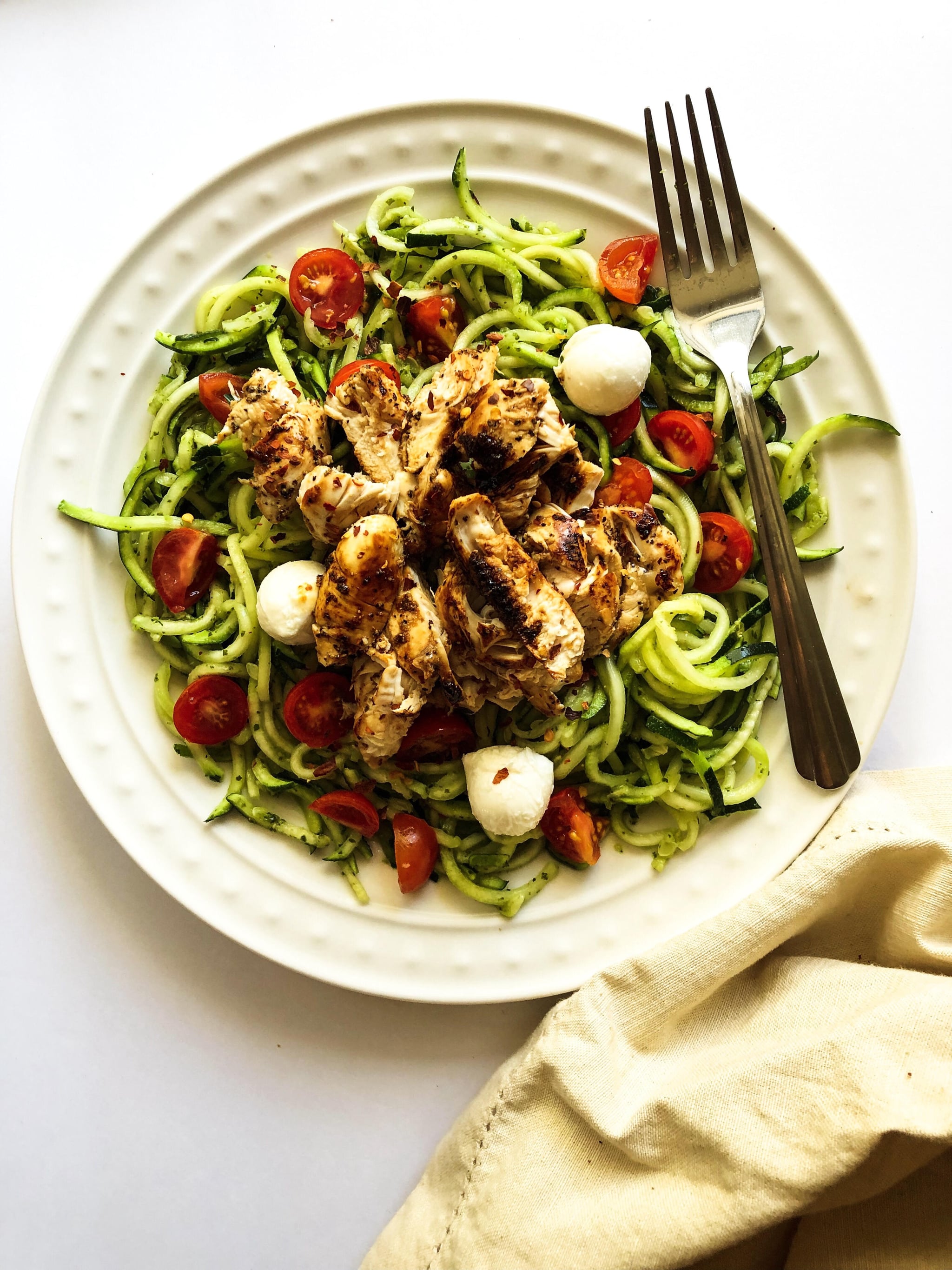 If you follow a low-carb diet, you know holidays and other family gatherings require some creative meal planning. Summertime is no different with its endless array of barbecue, indulgent sides, and sweet treats. Take pasta salad: you could simply swap in some whole-grain noodles, depending on your daily budget for carbs, but this recipe takes it a step further, replacing pasta with zucchini and heavier ingredients like mayo with light and refreshing pesto sauce.
The best part is this dish won't cost you a fortune, even if you're feeding a crowd. There are only six ingredients, which you can find at any grocery store. (That said, if your grocer doesn't carry prepped zucchini noodles, you can spiralize your own.) I picked up these low-carb staples at Trader Joe's.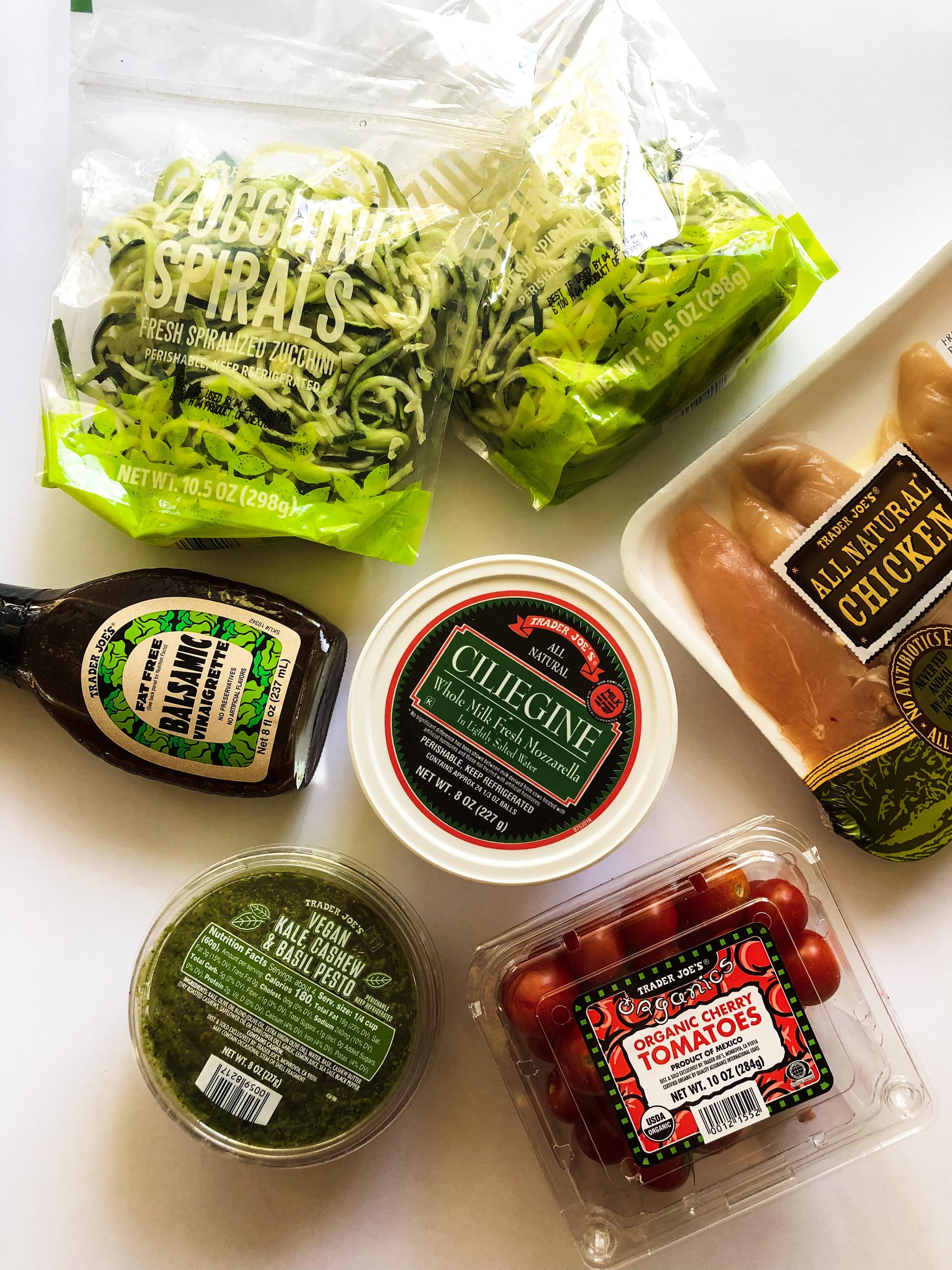 The chicken marinade comes together in less than a minute, using only balsamic dressing, black pepper, garlic powder, and salt. Just watch for added sugars in store-bought dressings and choose one that fits your carbs. For a vegetarian twist, simply substitute tofu for chicken.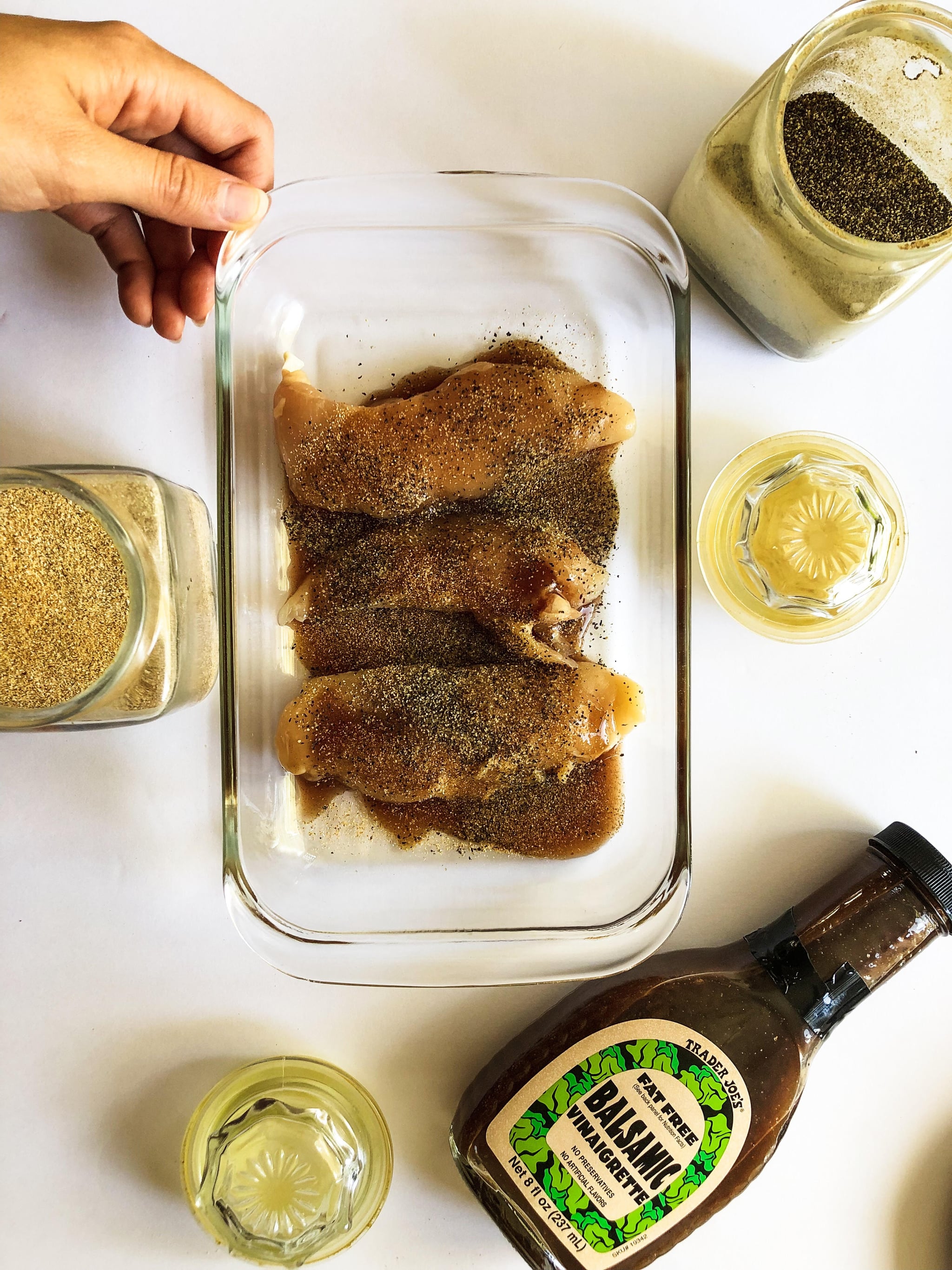 For a pop of color, add diced cherry tomatoes to the mix. You can also toss in any other toppings you prefer, like black olives. Mozzarella balls are also a must for some added fat and texture — they are super creamy and really stand out in this dish. Let's dig in!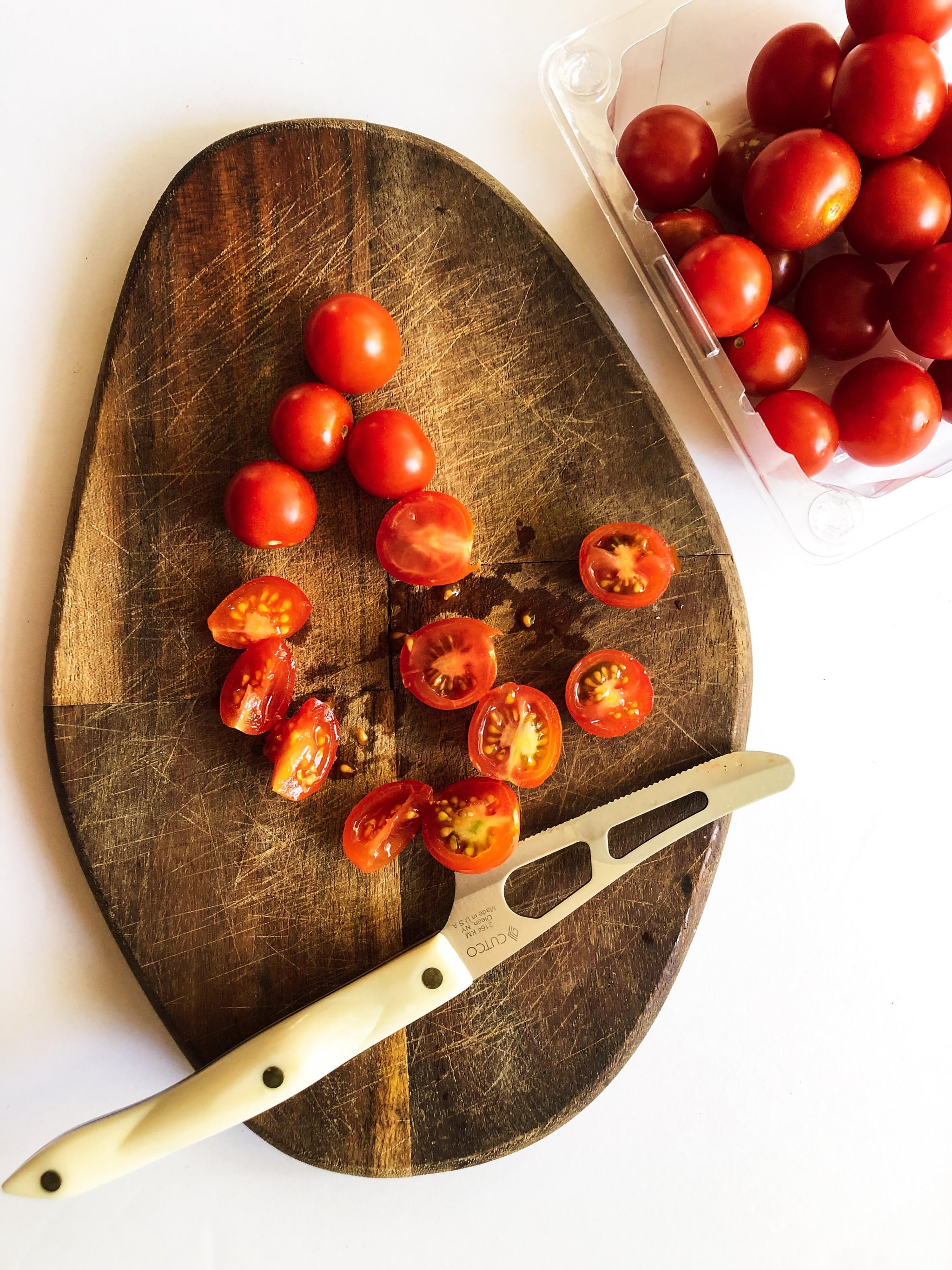 Low-Carb Chicken Pesto Pasta Salad
Original Recipe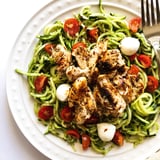 Ingredients
6 ounces chicken tenders
2 tablespoons balsamic dressing
1/2 teaspoon black pepper
1/2 teaspoon garlic powder
3/4 teaspoon salt
3 cups zucchini spirals
1/4 cup pesto
Juice of 1/2 lemon
1/3 cup diced cherry tomatoes
1/4 cup mozzarella balls
Red pepper flakes (optional)
Directions
Prepare chicken tenders by marinating them in balsamic dressing, black pepper, garlic powder, and 1/4 teaspoon salt. Allow them to soak for 10 minutes.
Heat a pan or skillet over medium-high heat. Add the chicken tenders to the pan, and fry on each side until golden brown and cooked all the way through, about 4 minutes on each side.
Take the chicken off the heat, and allow to cool.
In a large bowl, add the zucchini spirals, pesto, lemon juice, and 1/2 teaspoon salt. Toss to evenly dress the noodles. Add diced tomatoes and mozzarella balls.
Chop the chicken, and add to the pasta salad. If you like spice, top with chili flakes.
Serve immediately as a main or a side salad, or store in the fridge a few hours to get extra cold. The zucchini will soak up the pesto dressing and get extra flavorful.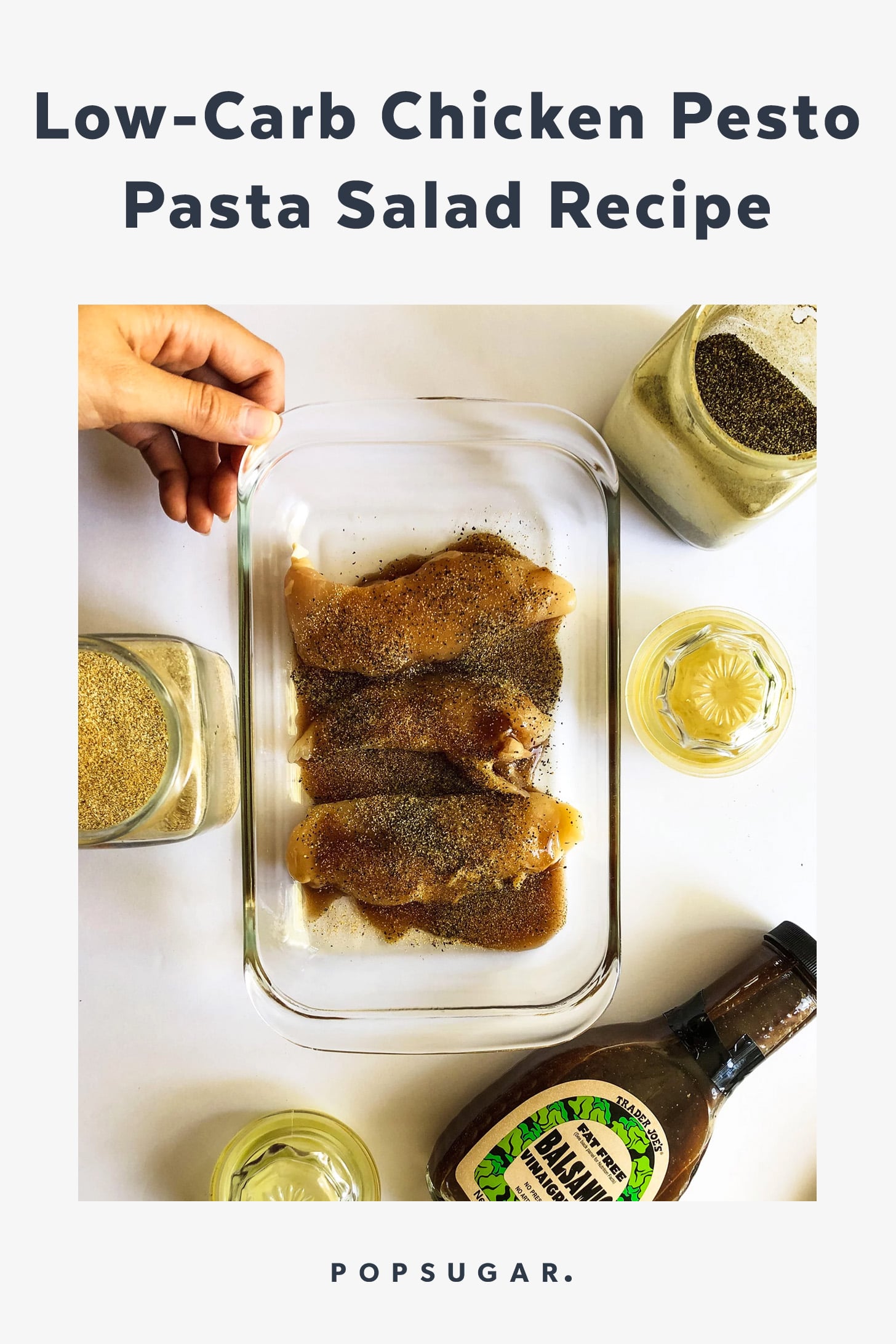 Information
Category

Pasta, Main Dishes

Yield

1-2

Prep Time

15 minutes

Cook Time

10 minutes

Total Time

24 minutes, 59 seconds