Man Shovels Boston Marathon Finish Line During Blizzard
In 1 Anonymous Act, This Man Showed Us What #BostonStrong Looks Like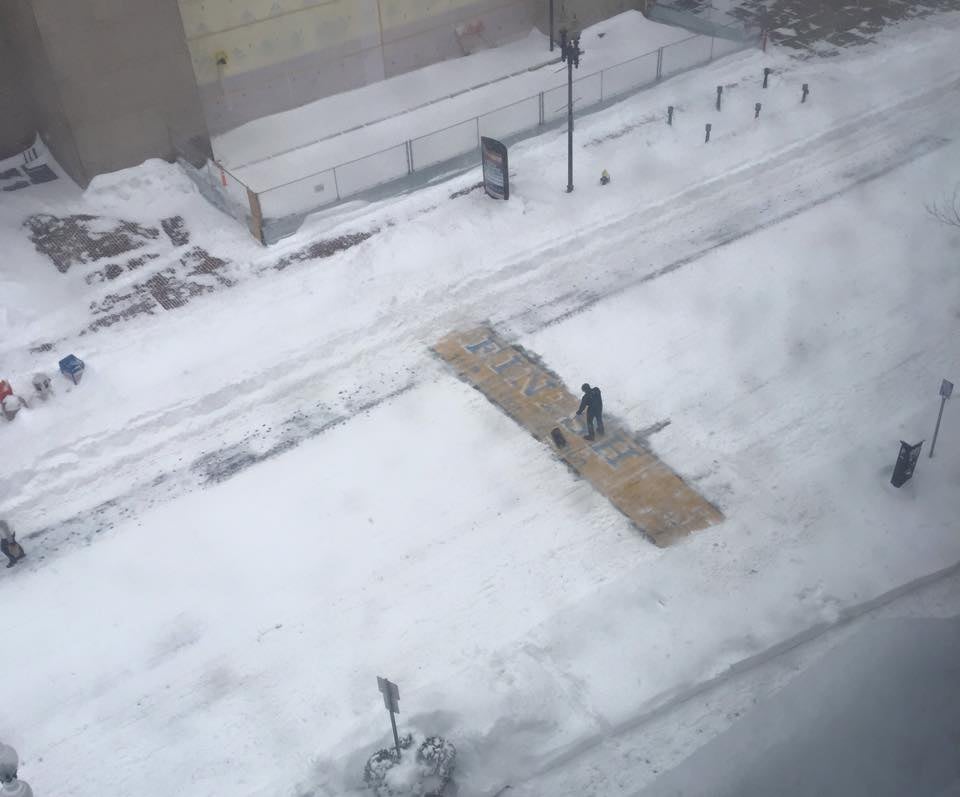 While most New Englanders try their best to avoid the biting cold of Winter, one citizen braved Tuesday's Nor'easter blizzard to shovel the Boston Marathon finish line. Much to the shock of Philip Hillman (who noticed the man shoveling the street below from the comfort of his hotel room), the man went relatively unnoticed, performing the remarkable deed anonymously. Determined to discover the identity of the noble citizen, Hillman and his friends took to Twitter, asking "#whoshoveledthefinishline." Unsurprisingly, other Bostonians became intrigued by the anonymous act of respect, and soon there was no stopping the city from unmasking the good samaritan.
Powerful photo, taken by my friend @PhillyIdol1017 - let's find the guy in the photo! #whoshoveledthefinishline pic.twitter.com/HO9WrxeHnI

— Gabrielle Henken (@AroundTownGabby) January 28, 2015
After many hours spent searching for the name of this unsung hero, a local bar tweeted the identity of the finish line snow shoveler to a Boston news station.
Do you know #WhoShoveledTheFinishLine during yesterday's blizzard? http://t.co/rMWtxLEkME #fox25 pic.twitter.com/3WVYcgRStK

— Boston 25 News (@boston25) January 28, 2015
Chris Laudani, the bartender who cleared snow from the Boston Marathon's finish line, was not seeking glory when he set out to shovel the snow. "I only did it to send a message . . . I love the Boston Marathon and everything it stands for, the finish line doesn't deserve to be covered in snow," he told the Boston Magazine once his identity was revealed. "I think it's cool that so many people feel the same way, but I saw the word 'hero' being tossed around and that I don't like. I'm no hero, I'm just a nut who loves the marathon." While he may not like being called a hero, there's no denying that Laudani inspired the people of his city with his act of respect for the marathon, which has become a symbol of strength in the aftermath of 2013's brutal bombing. It's this type of everyday action that represents #BostonStrong, and it proves that the city will not be held down.