Megan Rapinoe's Victory Speech Video
Megan Rapinoe's Speech, Addressed to Haters and Supporters, Will Make You Want to "Be More"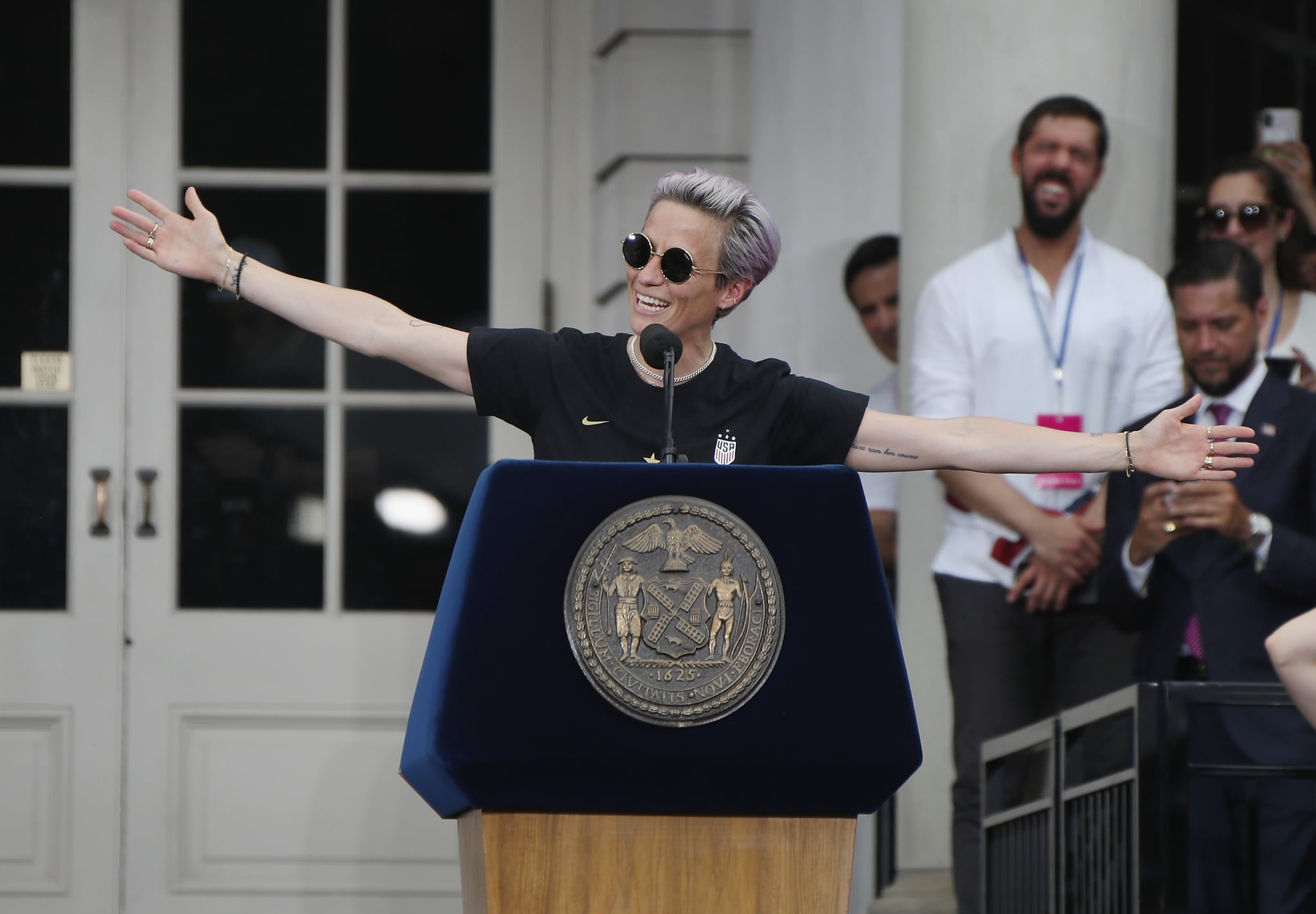 The US Women's National Team is unapologetically living their best lives after their record-breaking World Cup win, and Megan Rapinoe is leading the charge. She won awards as the tournament's top player and top goal-scorer. She's yelling "I deserve this" while holding the World Cup trophy and popping a bottle of Champagne, the complete embodiment of a capital-M Mood. And she fired up huge crowds in New York City and across the world with a poignant, empowering speech imploring unity and love.
The speech followed a ticker-tape parade through New York City in which the team and the crowds were showered with Champagne and pounds of confetti under the bright New York sunshine. (The pictures are amazing.) The celebration concluded at City Hall, where Megan's fellow cocaptains, Carli Lloyd and Alex Morgan, as well as coach Jill Ellis, recognized the team and thanked fans for their support. Megan was last up, delivering a speech that channeled the team's ebullient energy and humor even as they pressed for something more serious. Not just equal pay, for which the USWNT's fight has been well-documented, but for togetherness, courage, and the belief that every single person can do more and be more, speaking to both those who supported the team and those who didn't.
"This is my charge to everyone," she told the crowd. "We have to be better. We have to love more, hate less. We've got to listen more and talk less. This is everybody's responsibility, every single person here. Every single person who's not here, every single person who doesn't want to be here. Every single person who agrees and doesn't agree. It's our responsibility to make this world a better place."
Megan went on to ask, "How do you make your community better? How do you make the people around you better? Your family? Your closest friends?" She and her teammates are athletes, Megan said, "but we're so much more than that. You're so much more than that."
She even addressed, if somewhat obliquely, the recent controversies surrounding the team before and during the World Cup. "There's been so much contention these last few years," she said. "I've been a victim of that. I've been a perpetrator of that." Referencing the team's lawsuit against US Soccer, Megan apologized for some of the things she'd said. "Not all of the things," she added with a smile. But she seemed to suggest that the time for being at odds was over. "It's time to come together," she said. "This conversation is at the next step. We have to collaborate. It takes everybody."
Megan closed by entreating listeners to "be more. Be better. Be bigger than you've ever been before." Watch the video below to hear her full speech, by turns hilarious and tear-jerking.
Image Source: Getty / Bruce Bennett / Staff