Nina Dobrev Les Mills Workout
I Trained With Nina Dobrev For a Day — and She Kicked My Butt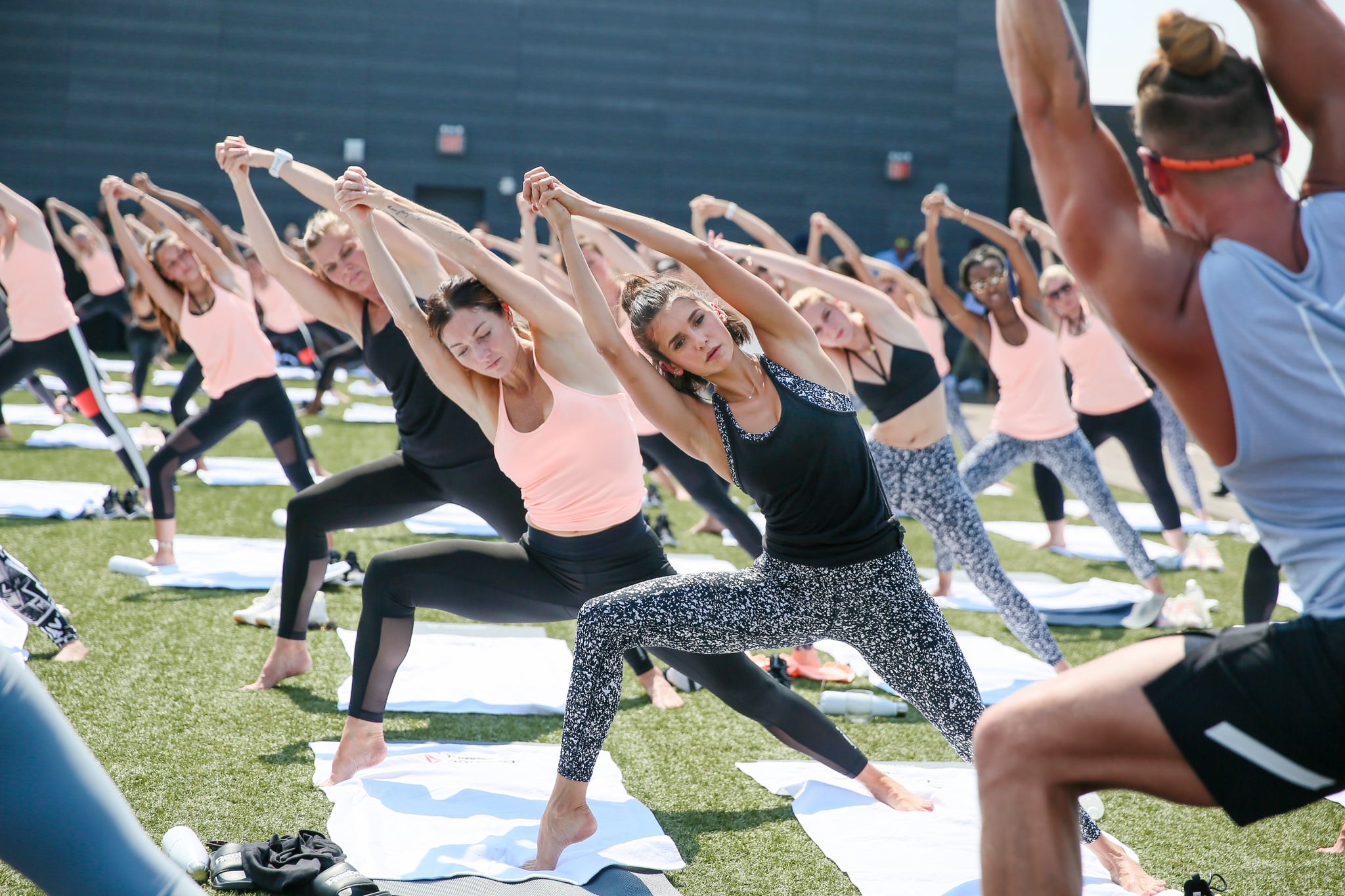 What did I do when I got a once-in-a-lifetime opportunity to work out with Nina Dobrev? I took it. The star, who is the face of the Reebok x Les Mills collaboration, had promised an "epic workout adventure" complete with brunch, dinner, and a stay at the swanky William Vale. I was so excited (mainly to check out the hotel's rooftop bar — kidding, sort of) that I didn't think twice about what kind of workouts we would be doing. I'm on ClassPass, so I figured I'd breeze through (maybe even excel) at the two fitness sessions on the schedule, make some new friends, and then relax for the day. Well, I was wrong. Nina and our instructors James Thomas, Julea Cecil, and Lissa Bankston, kicked my butt.
Our morning started on the hotel's roof with the Les Mills's BODYFLOW class, which was a mix of yoga, tai chi, and Pilates. The weather had hit 90-something degrees, I was sweating off my sunscreen, and I had already chugged two water bottles. I was slowly losing all motivation until I saw Nina from the corner of my eye. She had even brought her pup Maverick along for the experience. After making a quick introduction, Nina took her spot up front.
The music began and the mood turned purposeful and calm. I still felt like I was being cooked inside an oven (it was hot!), but I also felt challenged by the bends and twists in the yoga sequence. We moved together in a sweaty unison and no one was shamed for making adjustments. Nina powered through the workout with us and even gathered "her squad" (what she called us) in the end for a celebratory photo. I'm the one doing the sorority squat in the front row.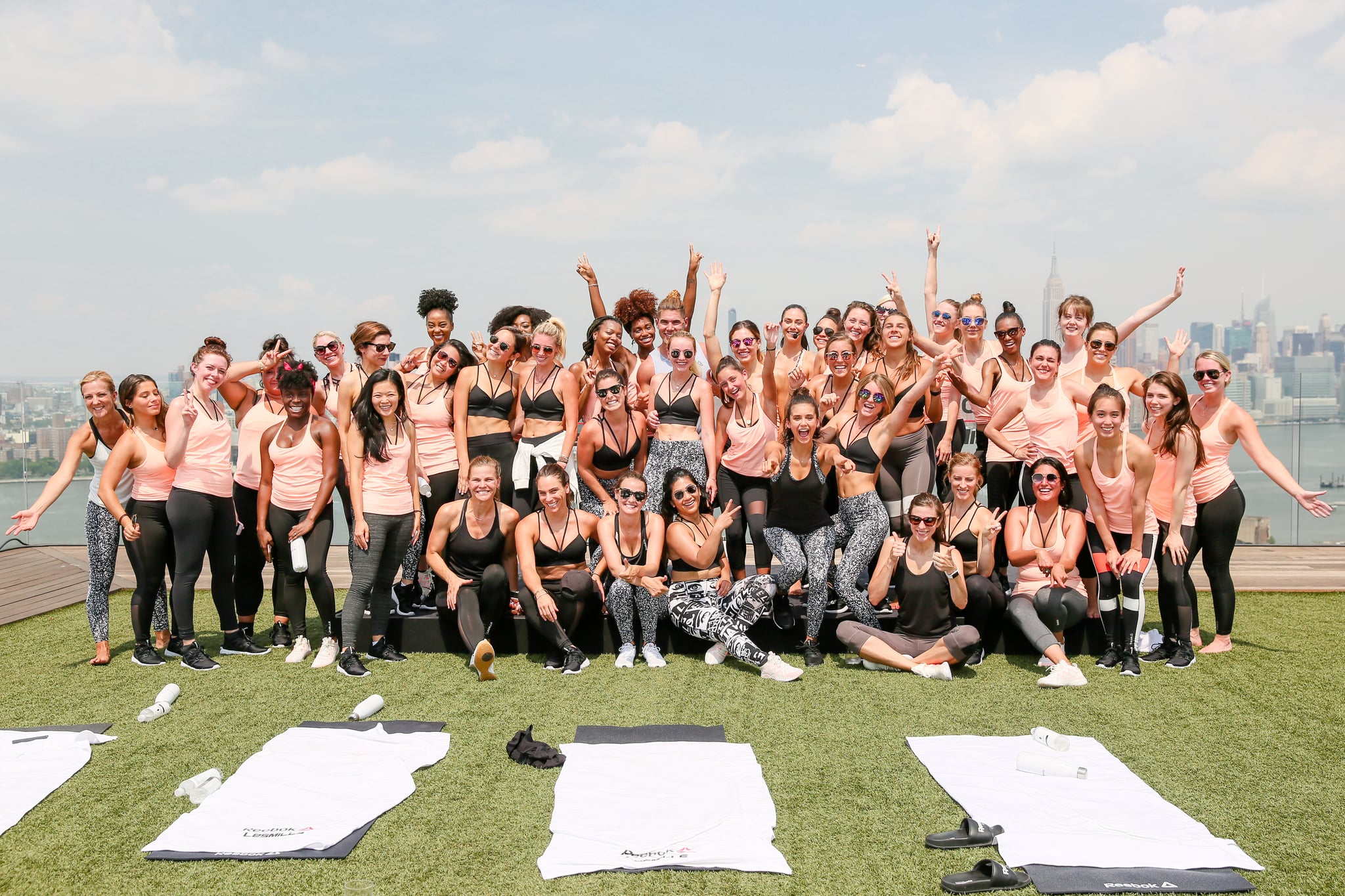 Post-workout, we all grabbed brunch together and then prepared for our second and final workout. It was Nina's favorite: Les Mills's GRIT, a 30-minute high-intensity interval training (HIIT) class. We would be completing the session on a custom-built moving barge on New York's Hudson River. I scarfed down an extra lox bagel to mentally and physically prepare me for this unconventional class and prayed I wouldn't get seasick. After a fresh outfit change and a quick boat ride from the pier, I climbed aboard the barge, took some 'grams, and was greeted with a row of individual steps complete with a barbell.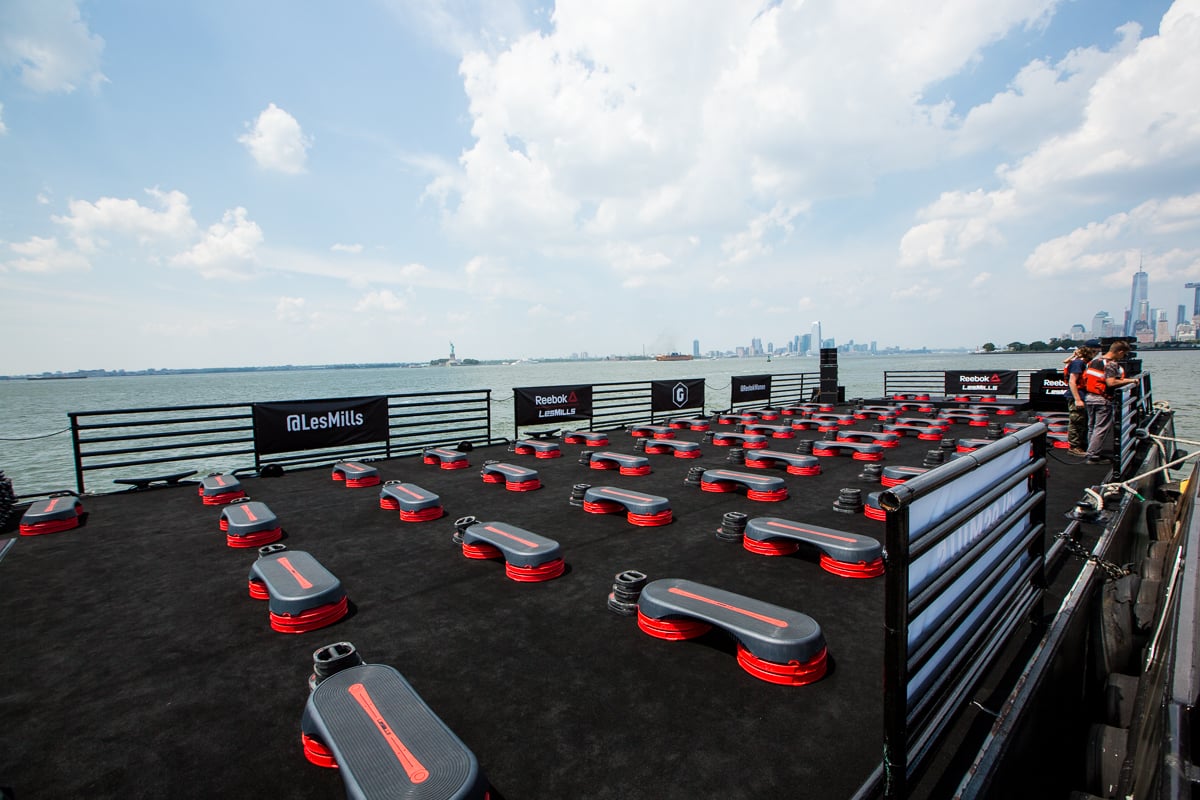 The amazing 360-views of New York, river breeze, and pumping playlist (tip: add "Awoo" by Sofi Tukker to your workout track) energized me as I loaded up my barbell with weights to begin a series of squats, lungs, donkey kicks, you name it. All the moves were aimed toward strengthening the body. I took breaks when I needed, but I also pushed myself harder than ever before. Because, how many chances does one get to work out on a barge?
The water was thankfully calm that day, so none of us fell overboard, and by the end of the 30 minutes, we all made it through. Nina ran down the rows, giving us high-fives, and in that moment, I realized how awesome it was for her, a celebrity, to not give a sh*t about how sweaty she looked or tired she felt. She served as our motivator and partner in both workouts, not once complaining. I worked up the nerve to ask her for a post-workout photo and we chatted about how my eyeliner hadn't budged the entire day. You know, girl talk.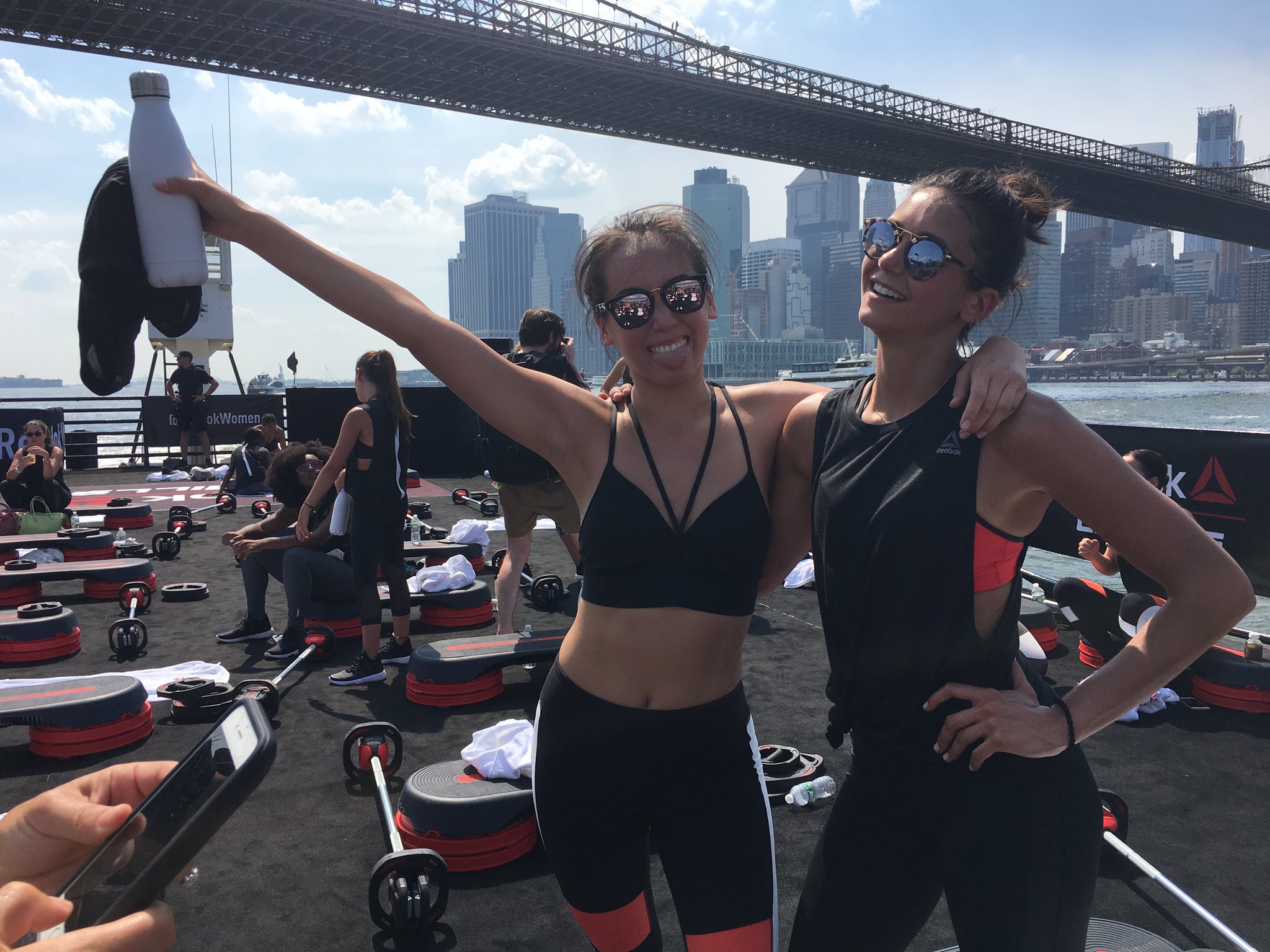 Although both my workouts were more challenging than I anticipated, I felt invigorated, happy, and tired by the end of day. (FYI: I had the best sleep that night.) I felt a sense of accomplishment after the struggle and I was glad to know Nina was in the same boat as us (literally). If you ever need a little motivation to get up and go work out, think of it like Nina does: "You're doing something for yourself and it's your 'you time,' which is so necessary and so important when we're constantly connected to our devices."
Travel and accommodations were provided by Reebok x Les Mills for the purpose of writing this post.
Image Sources: Courtesy of Reebok x Les Mills and POPSUGAR Photography/Marina Liao