Outdoor Voices and Peloton Gray Set
This Gray Set Survived a Supersweaty Indoor Cycling Class, So I'm Convinced It's Magic
As POPSUGAR editors, we independently select and write about stuff we love and think you'll like too. POPSUGAR has affiliate and advertising partnerships so we get revenue from sharing this content and from your purchase.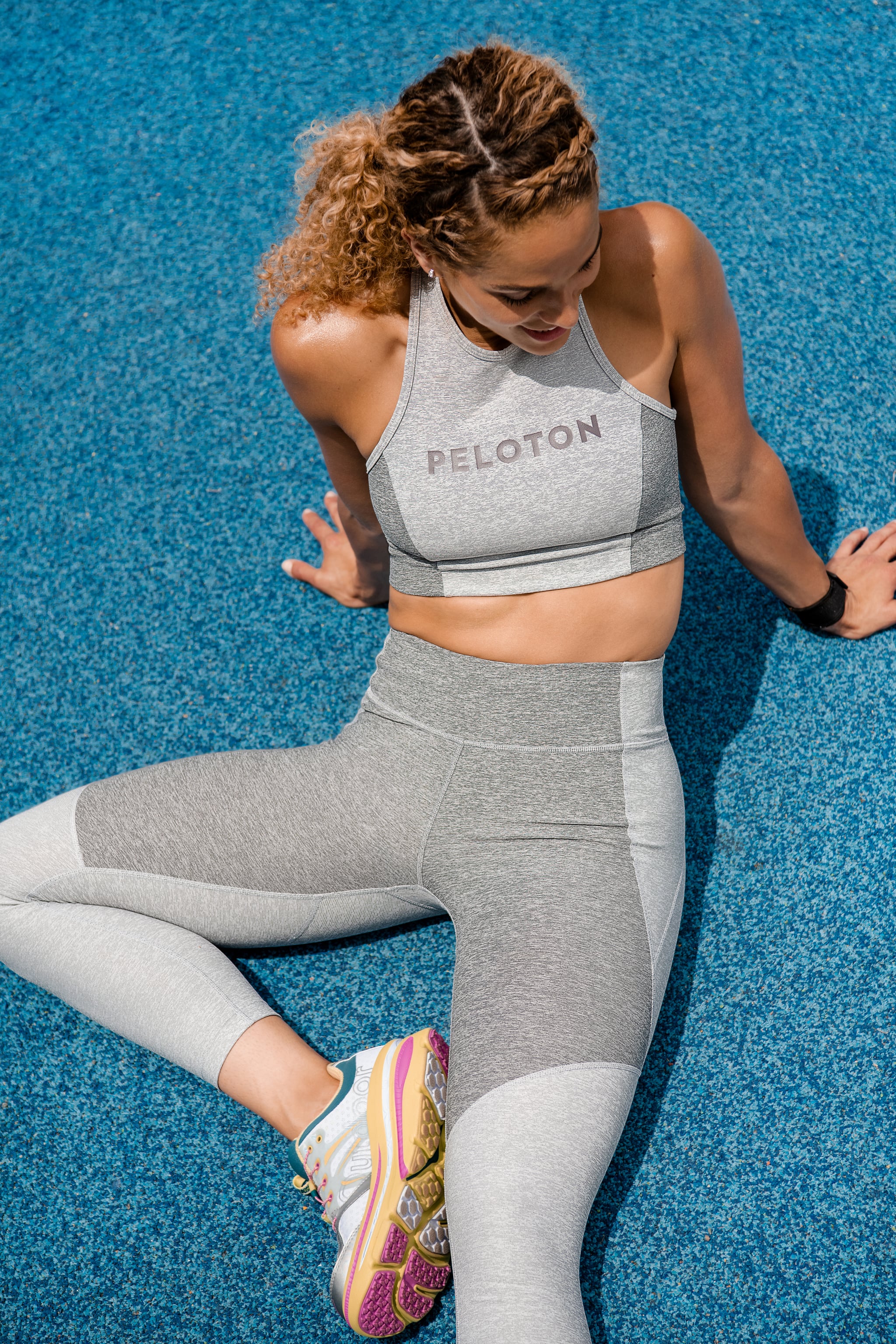 I want to start off by saying that most of the time, I stray away from wearing gray because, well, sweat. The contents in my two (OK, fine, three) drawers of workout clothes are mostly black in color or covered by a pattern in all the right places so I don't have to worry about perspiration making a big exclamation point on my leggings. Because I'm not, by any means, about that life.
Though I know that I should be proud of exercise-induced sweat marks, you can understand my concern when I went to an indoor cycling class at Peloton's cycling studio wearing a light gray (light gray!) set from the brand's limited edition collection with Outdoor Voices. I clipped into bike number 32, took a swig of water, and hoped for the best.
The 45-minute class featuring pop songs like Gavin DeGraw's "Chariot" and "Break Up With Your Girlfriend, I'm Bored" by Ariana Grande, was no joke, and given that I hadn't done indoor cycling in about two years, my quads were begging me to quit after the warmup. Did I sweat? Why, thanks for asking. I did — buckets. Sweat dripped down my face and neck. It coated my back and pooled in that awkward crease between your bicep and forearm. My crotch, I thought, surely looked like I'd peed myself — I couldn't actually tell because the studio lighting was so dim, but boy did I feel it. I was a mess.
When Peloton Bike instructor Jess King told us our time was up, miraculously, something happened. I returned my shoes, inspected myself in the locker room mirror, and saw virtually no sign of sweat on my clothes. Despite the fact that my skin had a glazed doughnut shine and some people might have thought I'd just dunked my head to bob for apples, the gray polyester/spandex material (light gray, may I remind you) of both the leggings and bra had no dark spots. The clothes themselves did feel damp, but not even the crotch area or my butt, which I'd been sitting on for the past 45 minutes, showed any indication of that.
The verdict was this: the Peloton 3/4 Two-Tone Leggings ($85) and Peloton Two-Tone Athena Crop Top ($45) could withstand pools of sweat during a workout I hadn't done in a long, long time. I was sweaty — but by the looks of my attire, you couldn't tell — and I was shocked. Very shocked.
You can check out more of the Outdoor Voices for Peloton collection at apparel.onepeloton.com. Everything is available for a limited time in Peloton showrooms and online. And, if you're a sweater, take it from me when I say that you shouldn't be afraid of that gray set. Go for it like you'd go for the very last push on your bike before the clock runs out.
Image Source: Courtesy of Peloton