Paleo Carbonara Zoodles
You'll Love This Low-Carb Twist on Spaghetti Carbonara
If you're a "zoodler" but also a bacon-lover, then this is the recipe for you! Our friends at PaleoHacks combine the mouthwatering taboo food with a few veggies for a perfectly healthy dish.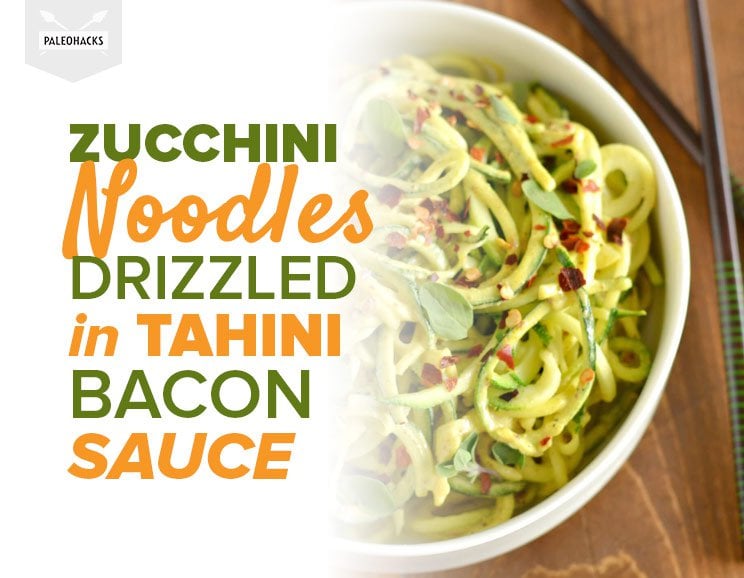 Think a creamy tahini sauce with bits of salty bacon drizzled over a bed of fresh zucchini zoodles. If you haven't zoodled yet, this is the perfect recipe to get started!
Whenever I make something, I think to myself, "I could put bacon in that," because bacon gives everything (even ice cream) a decadent, savory touch. Following that thought, this Tahini Bacon Zoodles recipe was born.
There's nothing better than a creamy tahini sauce over fresh zucchini noodles and getting salty, crunchy bacon in every bite. Just add your cooked bacon to a blender or food processor along with the other tahini sauce ingredients and blend until smooth.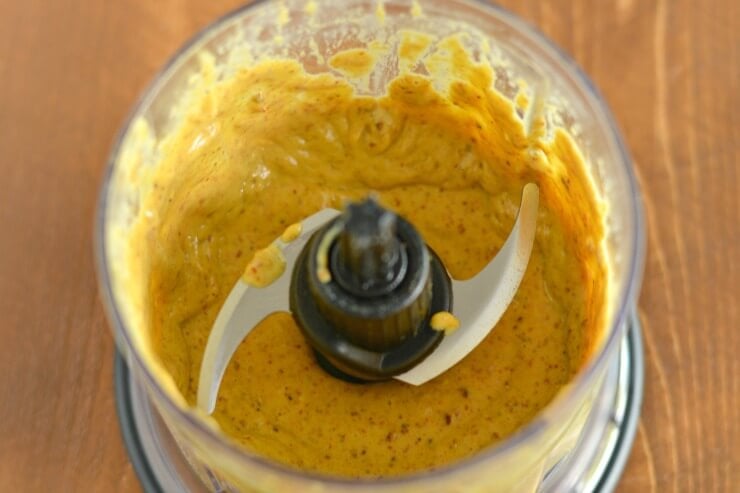 Then get your spiralizer and transform your zucchinis into noodles. If you haven't spiralized before, it's a quick and easy way to turn veggies into Paleo-approved "zoodles."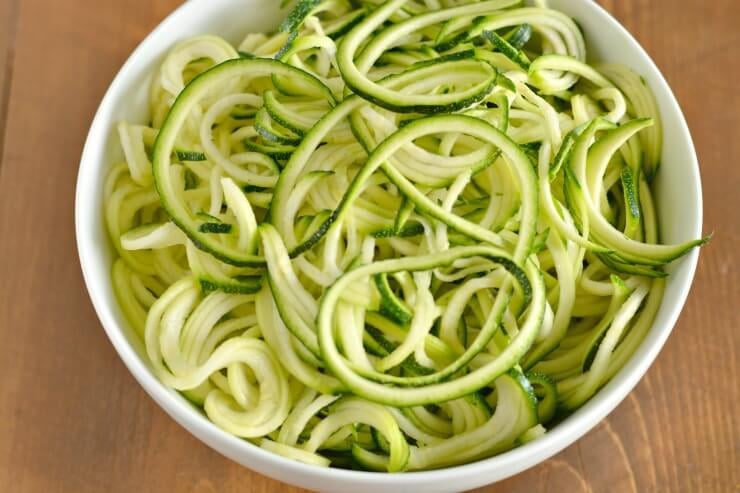 After that, you add the zoodles to a pan with the tahini bacon sauce and warm a few minutes to combine the flavors. You can also try this recipe with cold zoodles for a more refreshing dish. Also, feel free to experiment and try the sauce out with sweet potato, beets and spaghetti squash noodles!
Finally, top your Tahini Bacon Zoodles with a few red pepper flakes and you have yourself a light and tasty meal!
Zoodles in Tahini Bacon Sauce
From PaleoHacks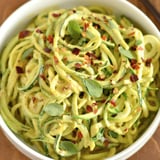 Ingredients
4 slices cooked bacon
5 tablespoons tahini
1 tablespoon extra virgin olive oil
2 tablespoons lemon juice
3 teaspoons coconut aminos
1 clove of garlic
1/2 teaspoon dried turmeric
Salt and pepper to taste
1/4 cup water (start with less and then gradually add more to thin the sauce as needed)
4 medium zucchini
Red pepper flakes for topping
Fresh marjoram or basil for topping
Directions
Add cooked bacon and other ingredients for the tahini bacon sauce to a blender or food processor.
Blend together until combined. If the sauce is too thick, add another 1/4 cup of water to thin.
Next, spiralize the zucchini. Any size blade works.
Bring a skillet to medium-low heat, add zucchini noodles and tahini bacon sauce. Using tongs, coat the zucchini noodles completely with the sauce.
Transfer to a bowl, top with red chili peppers and fresh marjoram or basil.
Information
Category

Pasta/Noodle, Side Dishes

Cuisine

North American

Yield

2 Servings

Total Time

14 minutes, 59 seconds