Pumpkin Pie Cookie Sandwich Recipe
Vegan, Gluten-Free, and Paleo Pumpkin Sandwich Cookies You'll Want to Hoard to Yourself
If you're looking for a holiday treat that won't pack on more calories than your holiday meal, look no further. Our friends at Sprouted Routes have an appetizing recipe for the perfect after-dinner treat.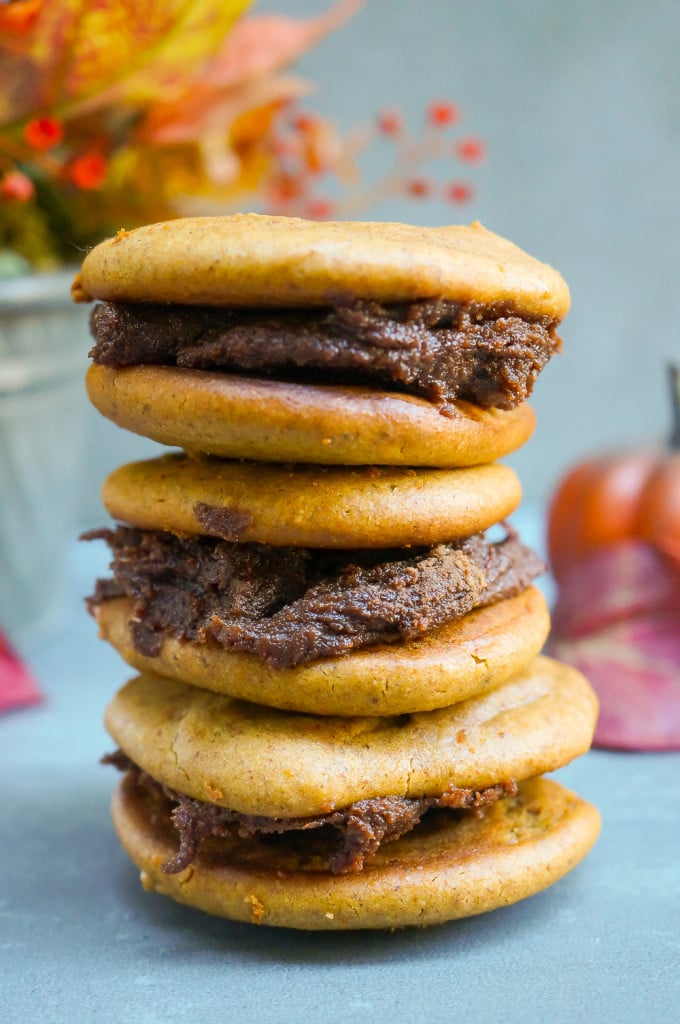 These are officially my new favorite treat. Let's start with the cookie, shall we? Vegan, gluten free, paleo, AND refined sugar free, these little guys taste exactly like pumpkin pie filling. The insides are gooey and decadent, with a crispy crunch on the outer edge.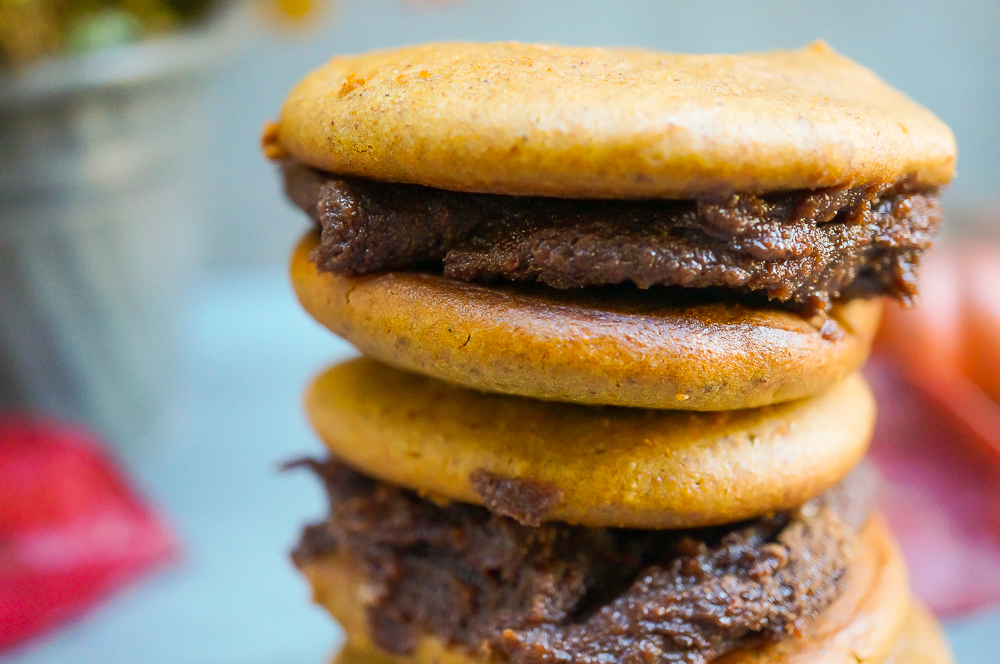 They're then stuffed with the creamiest, most divine chocolate cinnamon frosting ever. Full disclosure: all of the frosting most definitely did NOT make it into these cookies. My fiancé looked over at one point when I was guiltily licking my fingers and chastised me to stop; "you'll have none left for the photos," he said. "Arghwagabugga," I said, my mouth full of cinnamon chocolate goodness. I swallowed, cradling the bowl protectively against my chest. "Go away."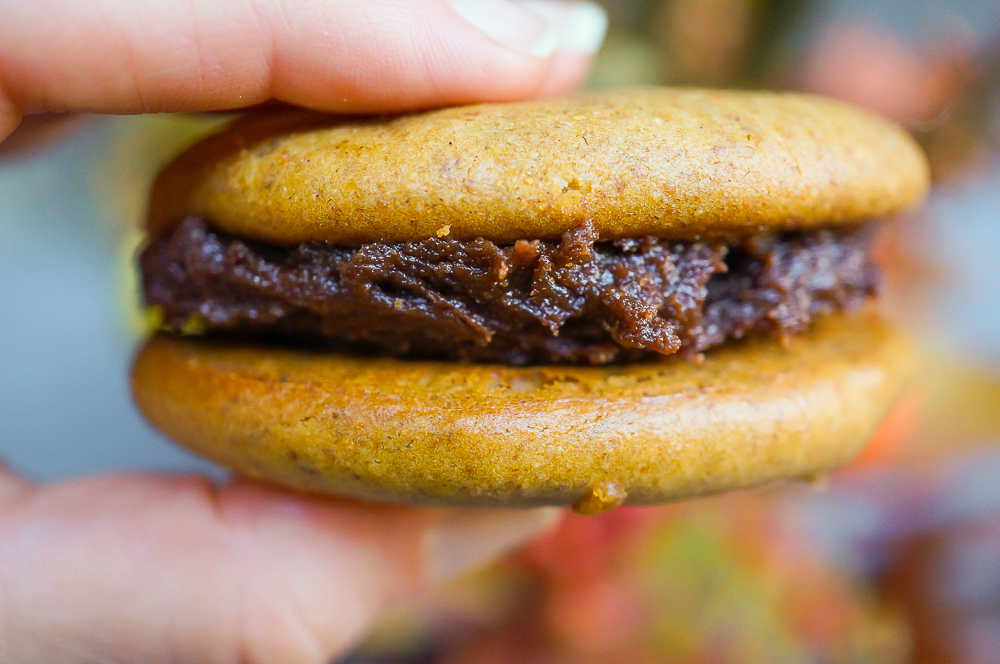 Spices add a ton of amazing flavor to this recipe, but they also have INSANE health benefits. I've always considered spices to be the original superfoods (OG, wha?!), and I seek them out often in even my healthiest recipes, like green smoothies, for their potent effect of both my tastebuds and my body.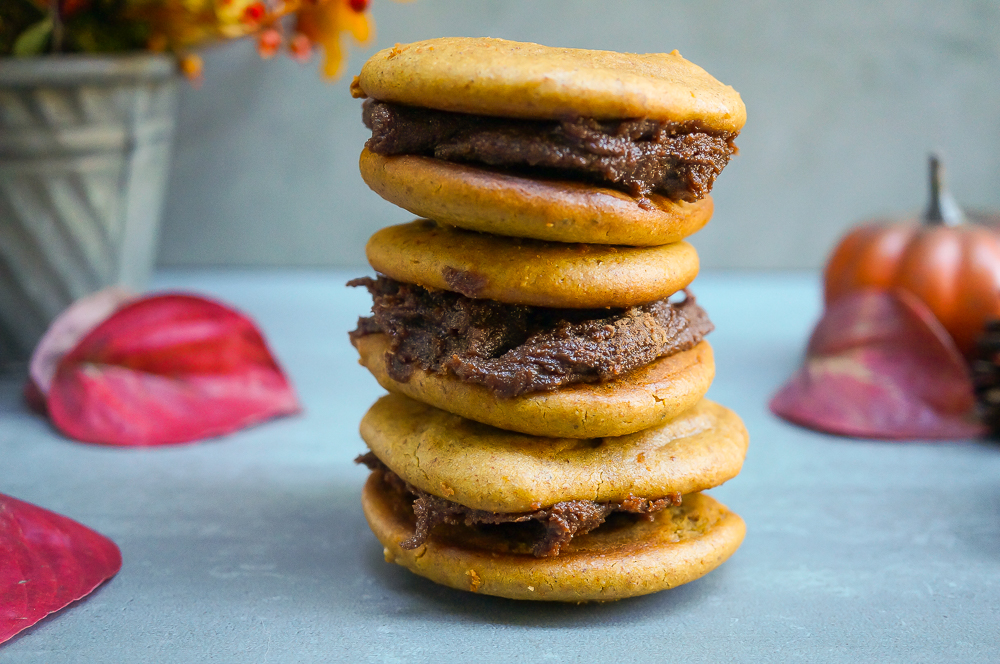 Pumpkin Pie Cookie Sandwiches With Chocolate Cinnamon Filling
From Sprouted Routes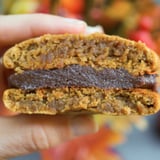 Ingredients
Cookies:
1 cup creamy, unsalted almond butter
1/2 cup pumpkin puree
1/4 cup + 1 tablespoon maple syrup
1 teaspoon vanilla extract
2 teaspoons ground cinnamon
2 teaspoons ground ginger
1/2 teaspoon ground allspice
1/2 teaspoon ground nutmeg
1/8 teaspoon ground cloves
1/2 teaspoon salt
Chocolate Cinnamon Filling:
1 cup raw cashews, soaked in water for 1 hour then drained well
1 teaspoon vanilla extract
1 1/2 teaspoons ground cinnamon
3 teaspoons maple syrup
2 tablespoons cocoa powder
Pinch of salt
Directions
Preheat the oven to 350°F.
Mix together all the cookie ingredients until well combined, then drop by the spoonful onto a parchment lined baking sheet (these don't spread much, so they can be quite close).
Bake for 15 minutes, then remove cookie sheet from oven and let cool completely before removing cookies from sheet.
Meanwhile, use a food processor to combine all the filling ingredients until very creamy. Once cookies are cool, spread a thick layer of filling on top of one cookie, then press another cookie on top to make a sandwich.
Information
Category

Desserts, Cookies

Cuisine

North American

Yield

6-8 sandwiches

Total Time

29 minutes, 59 seconds