Quick Vegetarian Dinners For After Memorial Day
5 Fast Vegetarian Dinners to Remedy Your Meat Hangover
If your Memorial Day Monday was decidedly less than meatless, you may be in the mood for something that wasn't butchered, marinated, and charred on the grill. Here are five quick vegetarian meals (that take less than 30 minutes to make) for dinner tonight!
Spinach Veggie Wraps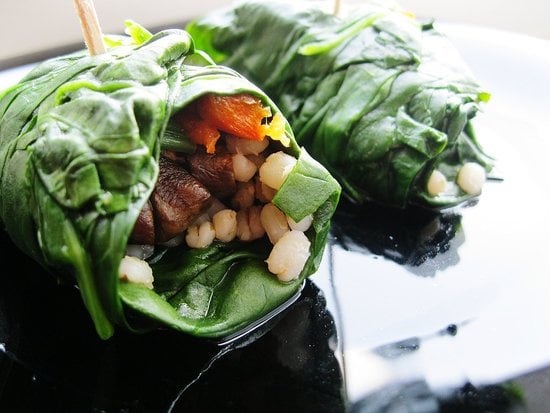 Source: POPSUGAR User prepel
These spinach, barley, and veggie wraps need only a few minutes — and ingredients — to prepare. You can add veggies and spices to your liking; these wraps would be delicious served alongside a comforting bowl of soup.
Broccoli and White Bean Soup

Source: Gen Y Foodie
Speaking of, want something hearty and creamy without all the calories? Try this broccoli and white bean soup — it's filling, fast, and only 125 calories!
Kale and Edamame Salad

Source: Shockingly Delicious
Nothing says detox quite like a bowl of kale. The addition of chickpeas, edamame, mint, cranberries, and basil ensures your taste buds will be satisfied with this kale and edamame bistro salad.
Skinny Spaghetti in White Wine Sauce

Photo: Lizzie Fuhr
This low-calorie recipe for spaghetti in white wine sauce from The Skinny Bitch cookbook is a comforting way to ease back into your routine after a long weekend. At under 230 calories per serving, it's a guilt-free way to enjoy a hearty dinner.
Cucumber Avocado Caprese Salad

Photo: Jenny Sugar
The hard part in this refreshing cucumber avocado caprese salad recipe is the chopping; after that, just give your veggies a toss in a tangy balsamic vinaigrette, and enjoy immediately.