Quinoa Breakfast Recipes
Fuel Up For Breakfast With 4 Quinoa-Filled Recipes
Anyone who thinks that quinoa is just for lunch and dinner needs to use this ancient grain in their breakfast routine. Versatile, protein-packed quinoa is a delicious resource when creating a satisfying and healthy start to your day. Let these four quinoa-filled recipes inspire you to get creative in the kitchen.
Quinoa, Egg, and Spinach Scramble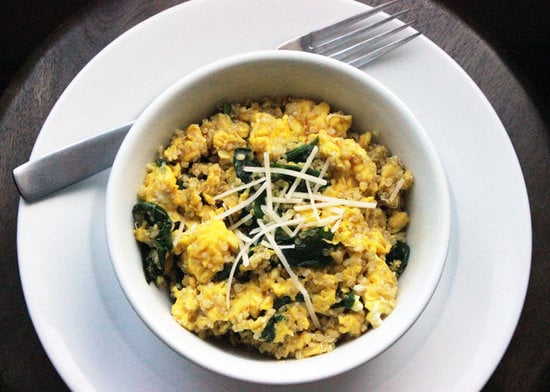 Bulk up your breakfast with some ancient grain power in this quinoa and egg scramble. It looks gourmand, but as long as you've precooked your quinoa, this recipe takes just a few minutes from prep to plate.
Quinoa Pancakes
For a satisfying weekend brunch, take the time to whip up these delicious quinoa flapjacks. The twist on the tradition offers more folate, protein, and fiber than standard pancakes.
Quick Quinoa Bowl
This fruit-filled breakfast quinoa bowl is a fun spin on your standard cereal breakfast, and it also travels well for the healthy commuters out there. Just dollop on the yogurt right before you leave for work. This way you can enjoy a healthy breakfast at your desk.
Cinnamon Quinoa Bake
Bake up a big batch of this cinnamon quinoa bake early in the week so you don't have to worry about cooking every morning. This sweet treat is a no-stress meal to start off your day.